MLB.com Columnist
Richard Justice
Yankees get much-needed win before hitting road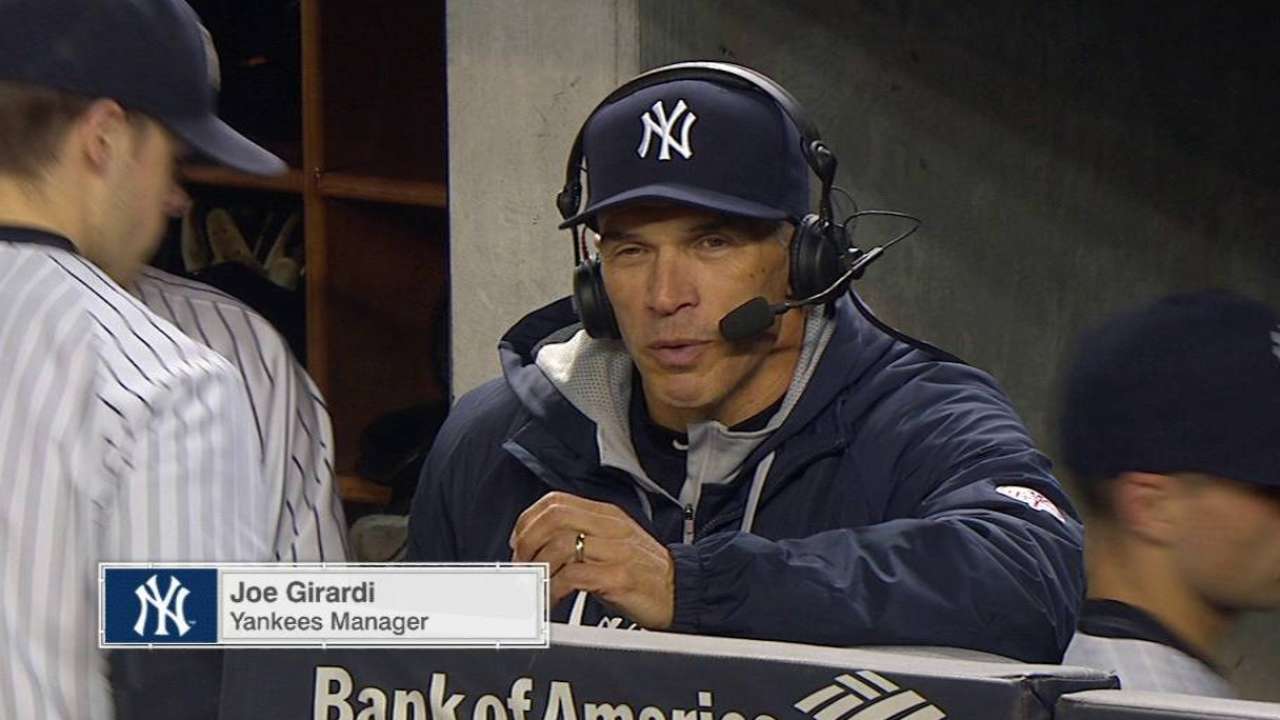 NEW YORK -- Maybe the New York Yankees will look back and see that this was the night something finally clicked. Or maybe the big picture doesn't matter. Not after a tough opening week. Not with a difficult schedule ahead.
The Yankees had a night when they finally could exhale a bit as they rolled past the Boston Red Sox, 14-4, on Sunday night at Yankee Stadium. This is the same team that had lost four of its first five games at home while scoring a total of 17 runs. This is the team leading the Majors in errors and struggling at times to do the simplest things.
"We would like to have won more than two [games], but all we can do is win the game that's in front of us," Yankees third baseman Chase Headley said. "We'll enjoy tonight and be back at it tomorrow. It's kind of a weight off the back."
One Yankee, second baseman Stephen Drew, speculated that opening a season at home with so many new players might have cranked the pressure up tighter than normal.
For at least one night, the team they hope they'll be was on display in taking a 7-0 first-inning lead and collecting 16 hits, including home runs by Headley, Brian McCann and Drew. Alex Rodriguez continued his comeback tour with a three-run double and two walks, raising his batting average to .300, highest among Yanks regulars.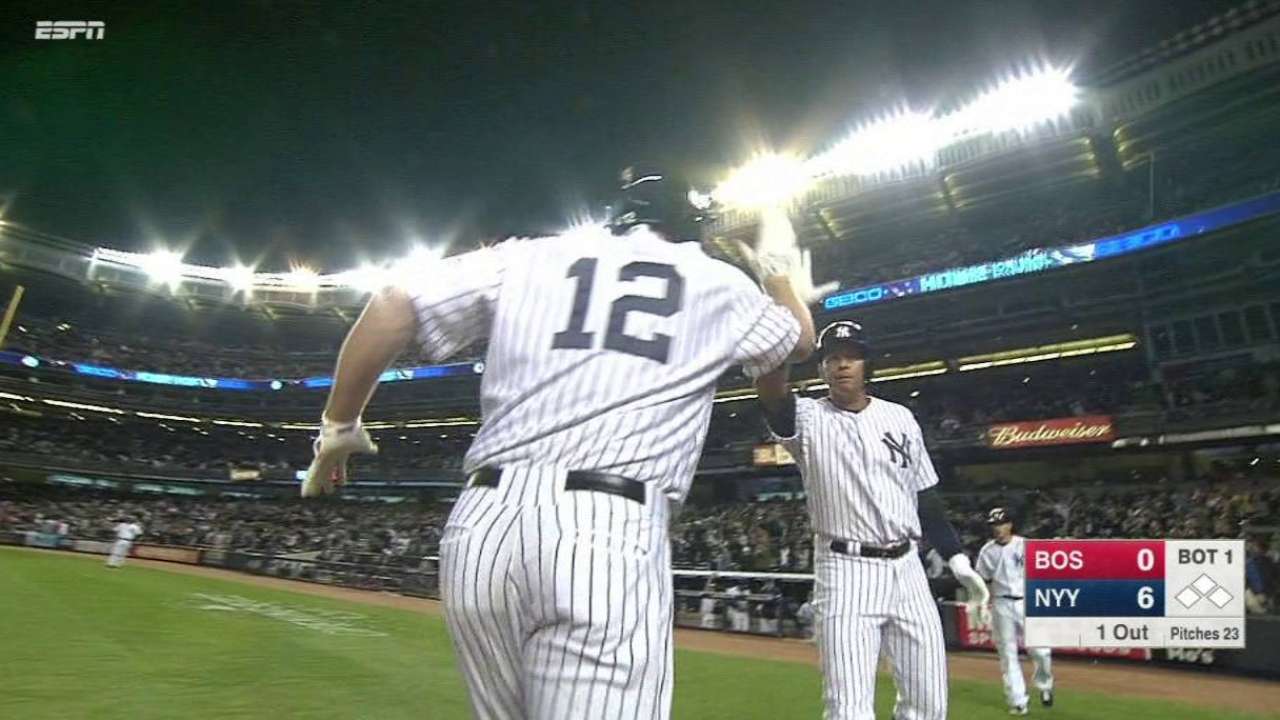 For a team that will play 15 of its next 25 games on the road, this night arrived just in time to perhaps loosen the pressure valves a bit.
"I really haven't had a problem with our approach," Yankees manager Joe Girardi said. "We just haven't gotten a lot of hits. Guys feel a lot better about their swings now going on the road."
McCann pointed to the past few days. To sum up, they were weird. After that six-hour, 49-minute marathon on Friday, the Yanks struggled through Saturday's loss. Finally, Sunday came after a full night of rest. Maybe this was the reset button they've needed.
"It was important to get going and have a game like this, where everybody hits," McCann said. "We needed it. We know we have a good offense."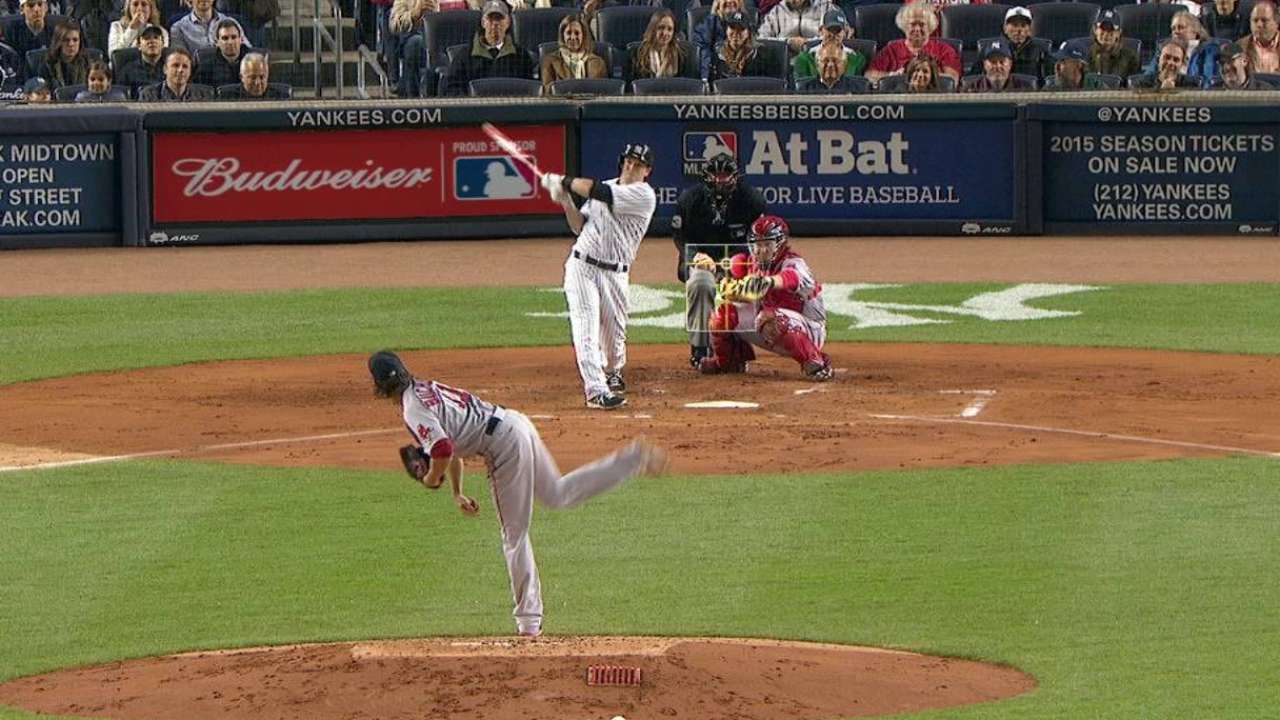 This game had an interesting story line involving the two starting pitchers: Masahiro Tanaka vs. Clay Buchholz.
The Red Sox gave Buchholz their Opening Day assignment and hoped this would be the season he stays healthy and realizes the promise they've long had for him. He followed up a nice Opening Day performance with a tough one, allowing nine earned runs in 3 1/3 innings. After two starts, Buchholz's ERA is 7.84.
Tanaka? He got through five innings. He needed 97 pitches to do it and allowed three earned runs and four hits. He walked three and threw two wild pitches.
But Tanaka's ERA dropped from 9.00 to 7.00. If that's not exactly ace stuff, it was at least a step in the right direction. He's clearly a guy trying to figure out how to get hitters out with less arm strength and a potentially troublesome elbow.
Tanaka's fastball was nothing special, but he has a very solid splitter and sinker. To repeat: He has Major League stuff. Plenty of very good pitchers don't have his weapons.
But like hundreds of other big league pitchers, Tanaka has to be precise with his location and aggressive in the strike zone. He also must change speeds better than he has been doing. Tanaka may eventually get there, but he's got a ways to go.
Tanaka sailed through three innings, but when the Red Sox began laying off the sinker in the fourth inning, he almost gave away a 7-0 lead.
If the Yankees are looking for a silver lining, it's that Tanaka gave up three runs in the fourth inning, but rallied to strike out Ryan Hanigan and Mookie Betts with runners on second and third to end it.
"That was the best his offspeed stuff was," Girardi said.
Girardi said Tanaka's fastball was better than it had been in his first start, but he was less precise with his other pitches.
"The next step is to put the two together, and we'll have Tanaka," Girardi said.
Tanaka wasn't helped by his defense, which made its ninth error of the season, this one by Drew. But Tanaka got through the fourth and finished the fifth despite allowing a Hanley Ramirez homer in his final inning.
Like a lot of things about these Yanks, Tanaka is a work in progress. If his elbow holds up, his stuff is good enough to win. Whether Tanaka can completely figure it out or not remains to be seen.
And the same can be said of the Yankees. They've got questions up and down the roster. For one night at least, they looked like the team they believe they are.
"Hey, we've played six games," Headley said.
Richard Justice is a columnist for MLB.com. Read his blog, Justice4U. This story was not subject to the approval of Major League Baseball or its clubs.