Nieves slams ex-batterymate in homecoming start
Catcher homers off Peavy nearly 13 years after first game with San Diego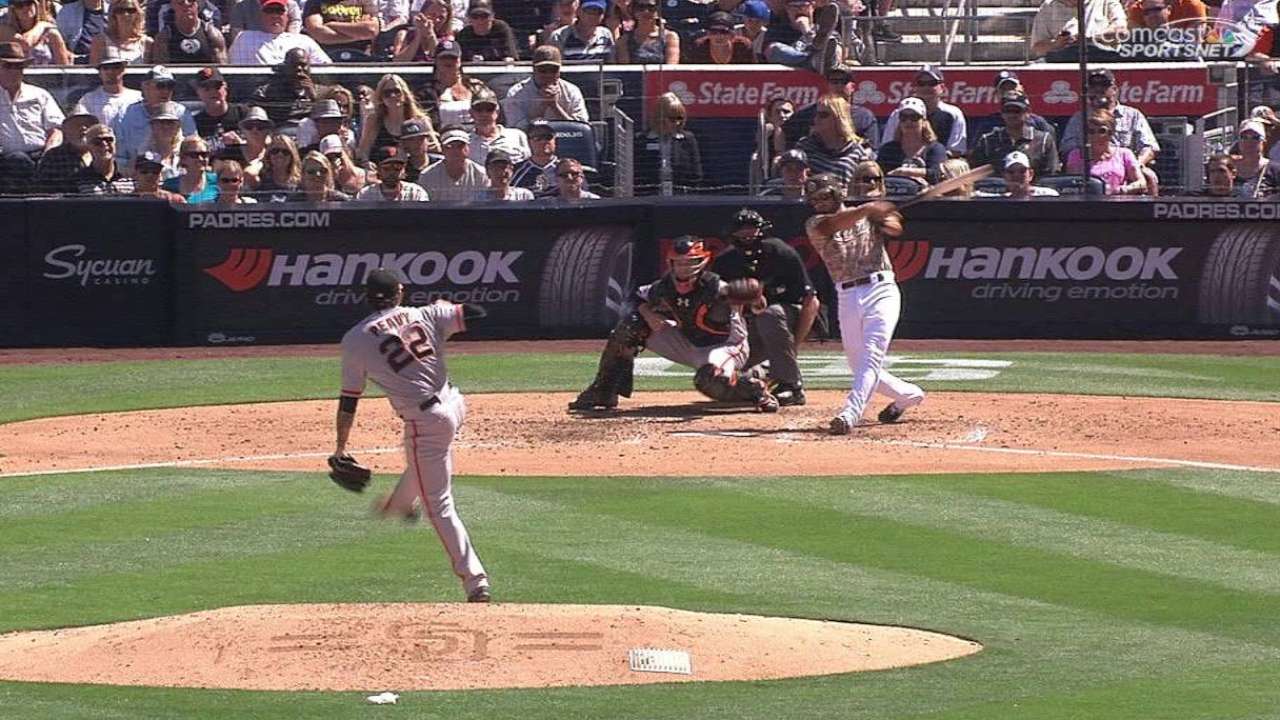 SAN DIEGO -- Wil Nieves had to wait a long time between making starts for the Padres -- more than 12 years -- but the veteran catcher made his reunion with the team especially memorable.
Nieves got the call to make his first start at catcher for San Diego since September 2002 and hit a grand slam to help power the Padres to a 6-4 win over the Giants in Sunday's series finale.
Coincidentally, the home run, Nieves' first career grand slam, came against the pitcher for whom he caught in his Major League debut on July 21, 2002: former Padres pitcher Jake Peavy, who made the start for the Giants.
"I was excited," Nieves said. "I know my No. 1 job when I'm catching is to call a good game, and anything I can do with the bat is a plus. Peavy made a mistake and I put a good swing on it, and thankfully it went out of the ballpark."
Manager Bud Black said Nieves showed well in Spring Training after the leading candidate for the backup catcher role, Tim Federowicz, suffered a knee injury.
"For Wil, he's been at this a long time," Black said. "He's going to be fine. We saw him catch very well in Spring Training."
Black also said Nieves' blast brought the dugout to life when the 37-year-old veteran catcher returned from rounding the bases.
"There were a lot of fist pumps, a lot of smiles," Black said. "Guys jumped. That was good stuff. The grand slam is a special play in our game. You don't see it every day."
Nieves made quite a few stops along the way back to San Diego, having played parts of 11 seasons with the New York Yankees, Washington, Milwaukee, Colorado, Arizona and most recently Philadelphia. Despite the time elapsed between stints with the Padres, Nieves feels a sense of comfort in San Diego.
"The good thing is that I feel comfortable here," Nieves said. "A lot of the same guys are here, the training staff, the coaches. It makes me feel like I never left."
Black put Nieves in the lineup Sunday to give starter Derek Norris a break after catching six consecutive games and said he appreciates giving his bench players opportunities to play in addition to resting some of his regulars.
"It's great for Wil," Black said. "As a veteran player, he's good on the team. He's doing his work every day. It's good to see contributions from the bench -- guys who were making their first starts of the year."
Tim Powers is a contributor to MLB.com. This story was not subject to the approval of Major League Baseball or its clubs.