Cabrera continues to torment Indians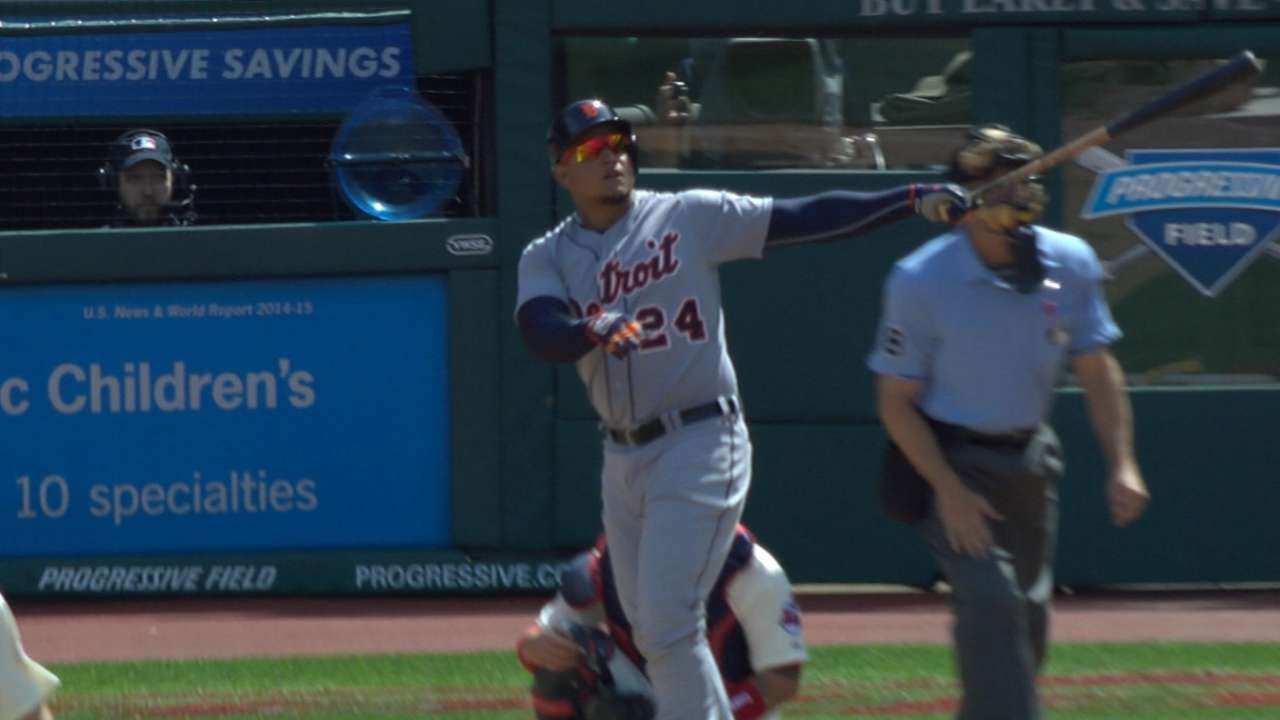 CLEVELAND -- Remember when there was a question whether Miguel Cabrera could get enough at-bats to be ready for the season?
Hard as it is to believe in hindsight, it was a legitimate concern not that long ago. Cabrera's recovery from offseason surgery to repair a stress fracture in his right foot lingered into March, and even he wasn't completely sure whether a truncated Spring Training schedule would be enough for him.
As his second home run in Sunday's 8-5 win carried an estimated 415 feet onto the left-field plaza at Progressive Field, five feet longer than the first, the answer was fairly emphatic. But Cabrera always seems to be ready for Cleveland.
"I don't think it's just us," Indians second baseman Jason Kipnis said. "I said it to maybe Ian Kinsler or someone on second: I was like, 'I'm glad we got to lock him back in.' He was like, 'You think you're the only team that locks him back in?'"
Kinsler has a point.
"He's special, man," Kinsler said. "He's fun to watch. The game should be sold out just because of him. People should just want to come watch him hit."
Clevelanders have seen enough over the years. Cabrera has seemingly hit enough home runs onto that plaza over the years that he arguably deserves his name on it. While the Indians built their social space in the opposite corner, complete with a bar and restaurants, Cabrera has a claim to the rest of the outfield dimensions.
He has hit 23 home runs at Progressive Field, his most in any ballpark he hasn't called home, and the most of any player with 100 games or fewer played here. Twelve of them have gone out to left or left-center.
When the Tigers roughed up Corey Kluber last Labor Day, spoiling Cleveland's postseason hopes, Cabrera hit one there. Sunday wasn't quite the same, but it was a similar statement: As well as the Indians feel like they can match up with the Tigers, Cabrera looms large.
When asked about the naming idea, Cabrera smiled.
"No chance," he said.
After the two homers there, he nearly claimed the new seats in front of the bullpens as his territory, too. His sixth-inning drive headed that way before bouncing up against the wall for a two-out double.
"Too low," Cabrera said.
He has hit some out in that direction, too, as Indians right-hander Danny Salazar can attest.
"When you're hitting in the same place often, you get familiar, especially with the background," Rajai Davis said. "You get used to the surroundings. It's familiar. You get comfortable. It seems like he's comfortable everywhere though."
Cabrera is comfortable now. After going 2-for-11 with two RBIs and three strikeouts in the season-opening three-game series against the Twins at Comerica Park, Cabrera went 11-for-14 in the three-game sweep of the Indians, including back-to-back four-hit games to close it out. He stole his first base since 2013 when nobody was paying attention to him, and he did it without a throw. Sunday marked his first two home runs of the season.
Thus, after one week, Cabrera is 13-for-25 with two doubles, two homers and eight RBIs. He has walked four times, and struck out once.
"I feel very good," he said. "I feel like I'm seeing the ball very good, try to get my pitches and try to put a good swing on the ball."
Cabrera fell a triple shy of the cycle. Even with a surgically-repaired foot, the Indians weren't going to give him a chance to try. With a 7-3 Tigers lead and a runner on first base in the eighth inning, the Tribe had a mound meeting to decide what to do as Cabrera stepped to the plate. After a lengthy discussion, they intentionally walked him -- his first of the year -- and pitched to Victor Martinez instead.
"That's no disrespect to Victor," Indians manager Terry Francona said, "but any time we thought we could walk him, we were going to -- even to the point where, runner on first.
"He's that good of a hitter, and when he feels that good at the plate, that's a bad feeling."
Jason Beck is a reporter for MLB.com. Read Beck's Blog and follow him on Twitter @beckjason. This story was not subject to the approval of Major League Baseball or its clubs.