Francona: Gomes injury 'a baseball play'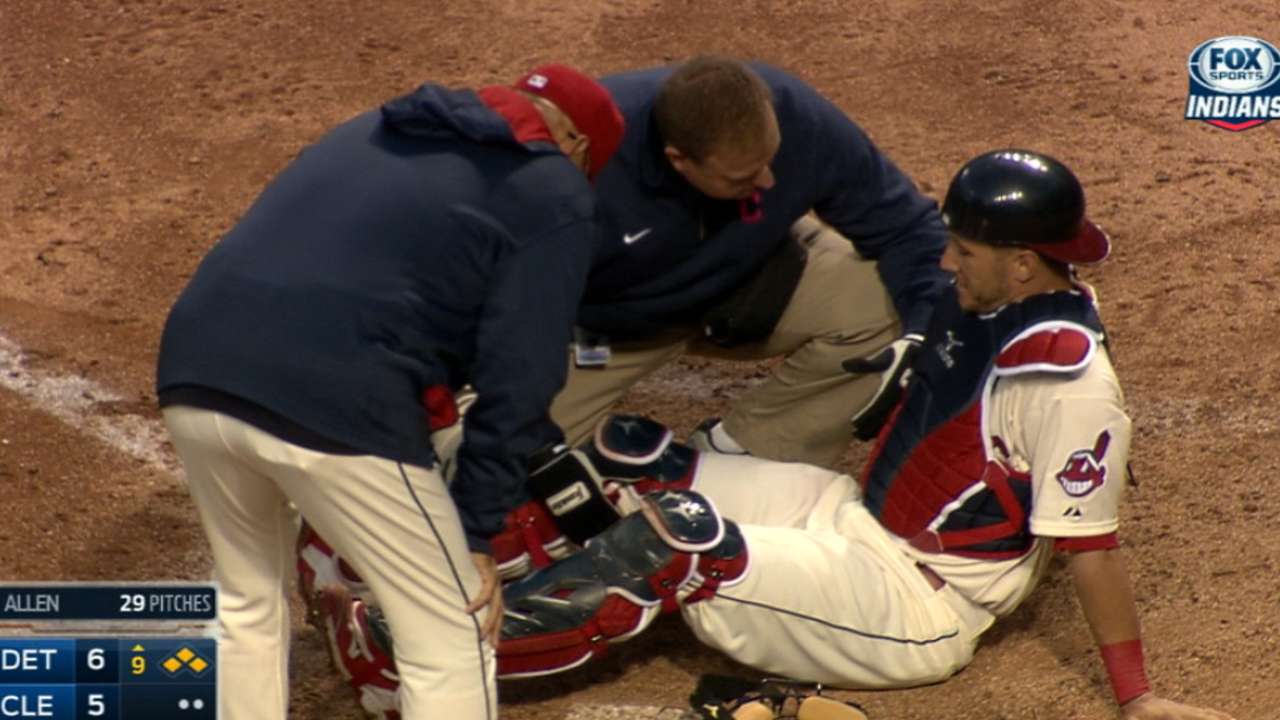 CLEVELAND -- One day after Indians catcher Yan Gomes was injured on a play at the plate, no one inside Cleveland's clubhouse took issue with the slide that did the damage.
In the ninth inning of Saturday's 9-6 loss to the Tigers, Rajai Davis slid through home plate, striking Gomes' right foot and jarring the catcher's knee. The Indians placed Gomes on the 15-day disabled list prior to Sunday's game, but understood that Davis found himself in a tough spot.
"It was just a baseball play," Indians manager Terry Francona said. "He just clipped his heel. I watched it live. That was just baseball."
With the bases loaded, Detroit's J.D. Martinez chopped a pitch to first baseman Carlos Santana, who gloved the ball and quickly fired it to Gomes at home. The catcher had his right foot positioned in the middle of the plate and was stretched out in a similar manner as a first baseman. Davis had little choice but to slide through the plate.
"What can you do?" Davis told reporters. "We were both there at the same time. I don't know how you avoid that. It just is what it is."
Indians first-base coach Sandy Alomar Jr., who spent 20 years in the Majors as a catcher, said Gomes' technique on the play was good.
"He started going forward," Alomar explained. "He started from the back [of the plate] in case the throw goes to the lateral side, you can cover the back side. It's a forceout play. It's one of those plays that is very dangerous play for the catcher, because you expose your leg. You're stretched out. You normally go with your toe in case you get clipped, it goes.
"What made it difficult was the speed of the runner. Davis is fast. He's going to put a lot of torque into that leg. If it was a slower runner, maybe it wouldn't happen, but the fact that he planted it completely, that may have had something to do with it. But then again, if you go on your toes, it might've been worse. Who knows? It's not an easy play for a catcher."
Alomar added that while the end result was unfortunate for the Indians, it was a clean play.
"He just went to tag home plate and Gomer's leg was there," Alomar said. "He went through the base. He wasn't trying to hurt anybody."
Tigers manager Brad Ausmus echoed that response.
"He didn't try to hit him. He was just trying to beat the play," Ausmus told reporters. "It's just unfortunate that Gomes would get injured on the play. Gomes didn't do anything wrong, either. He was just trying to keep his foot on the plate and catch the ball."
Jordan Bastian is a reporter for MLB.com. Read his blog, Major League Bastian, and follow him on Twitter @MLBastian. This story was not subject to the approval of Major League Baseball or its clubs.