MLB.com Columnist
Lyle Spencer
Lopes appreciative of those who came before him
Dodgers first-base coach understands the struggles of game's trailblazers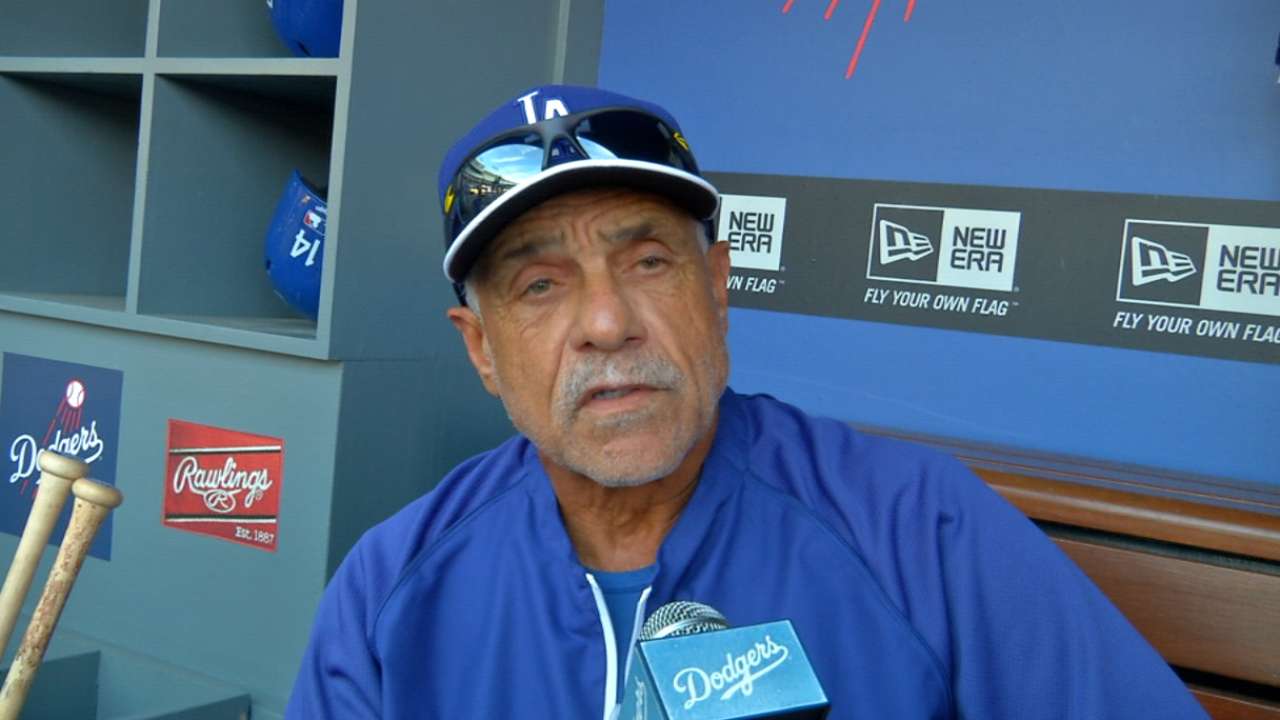 The 2015 Civil Rights Game between the Seattle Mariners and the Los Angeles Dodgers will be played at Dodgers Stadium on Jackie Robinson Day, Wednesday, at 10:10 p.m. ET. Get complete coverage here.
LOS ANGELES - Davey Lopes' relationship with the Dodgers goes back to his childhood in East Providence, R.I. They were Brooklyn's team in those days, but they were also "America's Team" in a very personal sense for having integrated the sport with Jackie Robinson's society-changing 1947 breakthrough.
Men, women and children all across the land grew up cheering for Jackie and his team.
"I remember watching those 'Boys of Summer' guys on TV,' staying home from school to watch them in the World Series," said Lopes, who will turn 70 on May 3. "They were our team, and it all started with Jackie."
Drafted in the second round by the Dodgers in 1968 out of Washburn University in Topeka, Kan., Lopes was an athlete in need of experience and refinement. The Dodgers took the swift center fielder and turned him into an infielder, as they also did with Bill Russell, his double play partner for nine seasons in the heart of the Dodgers' remarkably durable, productive infield.
Ten of Lopes' 16 seasons as a player were spent as the Dodgers' leadoff catalyst and second baseman. He has been back with his original organization since 2011, taking the long way home after coaching the Orioles, Padres, Nationals and Phillies, while also managing the Brewers.
Virtually all of Lopes' philosophies and perceptions about the game are rooted in his early days at Dodgertown and from conversations with the greats of earlier generations.
He interacted with Roy Campanella, Don Newcombe and Duke Snider from the 1950s, Sandy Koufax, Maury Wills and Jim Gilliam from the '60s. But there was one glaring exception, the man he most wanted to share some time with: Jack Roosevelt Robinson.
"I met all the great players, but I never had the opportunity to meet Jackie," Lopes said. "I didn't get to tell him what he meant to me personally -- and to so many other people.
"It was great talking with Campy, and Newk's been around forever. He's a conduit to all those guys from his era."
It was largely through Newcombe and Gilliam -- Lopes' coach and mentor before Gilliam's death in 1978, nine days shy of his 50th birthday -- that Lopes became aware of all the grim and dehumanizing details that Robinson and those early baseball pioneers experienced.
"Jackie had the most difficult task -- because of the conditions of the time -- any man could be faced with," Lopes said. "There was so much at stake, so much on his shoulders. He was doing it for everyone, a whole race. He needed all the strength and courage he had to open so many doors. It was awesome, really.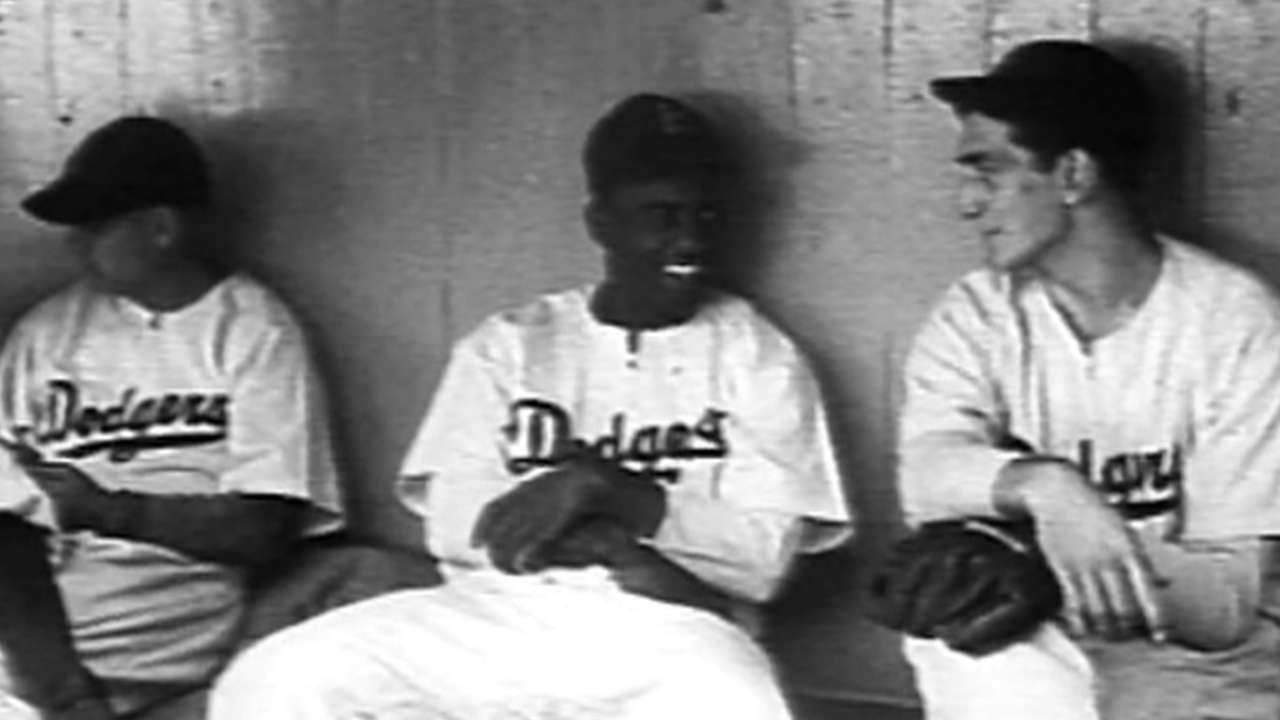 "Before Jackie, people of color had to hold up, they knew they weren't able to speak out [without fear]. Because of the way he handled everything, he changed all that. He gave everyone the [sense of] freedom to speak up. You couldn't ask for a better man to do it."
Lopes hopes the new generation of players has an awareness of the sacrifices of those who paved the way, such as Robinson, Larry Doby, Campanella and Newcombe, along with Minnie Minoso and Roberto Clemente.
"I don't know how much today's player understands what those guys went through," Lopes said. "I realize it's hard to comprehend something you haven't experienced or can't even imagine going through.
"They had to basically hide, keep quiet when their manhood was challenged. It was a very difficult time, and it took some incredibly strong men to do what they did.
"Jackie kept quiet [in his early seasons] so we could speak out, so we could express ourselves if we weren't being treated properly. No one should have had to endure what he went through, but he knew it was his purpose, his mission -- and it took it on for all of us."
Lopes wore No. 15 in his Dodgers playing days, but had No. 42 on his back, in honor of Robinson, when Major League Baseball decreed in 1997 that Jackie's number would be retired throughout the game. There were 13 players wearing No. 42 at the time, the last to grace it was Yankees closer Mariano Rivera, who retired after the 2013 season.
"I was coaching [the Padres] when [MLB] retired Jackie's number, and I would still probably be wearing it if I could," Lopes said. "I don't believe in retiring numbers, personally.
"I understand why they did it, and I know it's a great honor -- so no one else will ever wear it. Rivera was the last. But I also know how good it feels to wear the number of someone who meant so much to you. It gives you a connection to that person every day you pull the uniform on."
Lyle Spencer is a national reporter and columnist for MLB.com. Follow him on Twitter @LyleMSpencer. This story was not subject to the approval of Major League Baseball or its clubs.