'Really, really good' Shields gets first Padres win
In rematch with Giants, new San Diego ace hurls seven stellar innings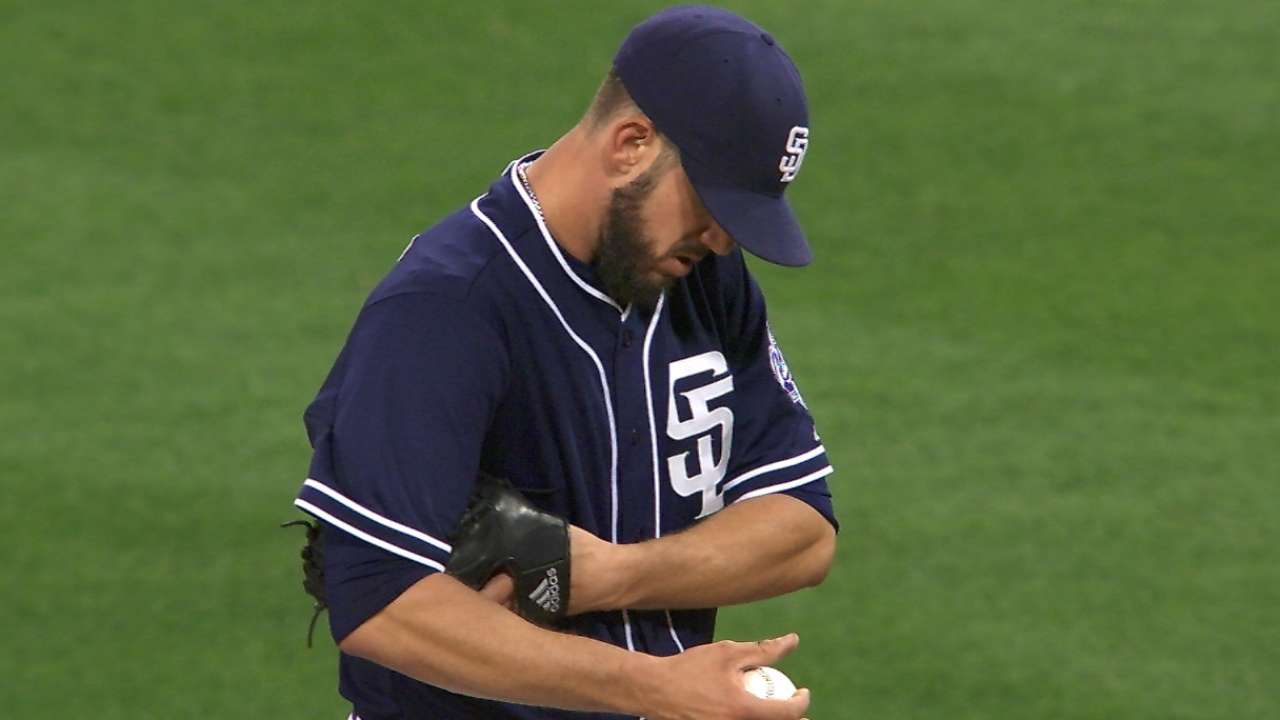 SAN DIEGO -- James Shields, who two months ago signed the largest contract in franchise history, won his first game for the Padres on Saturday and was convincing in doing so.
Shields, who signed a four-year, $75 million contract, allowed one run over seven innings and finished with seven strikeouts.
"He was really, really good," said Padres center fielder Wil Myers, who had a nice vantage point for the work Shields put in.
That said, Shields' night essentially became an afterthought -- not that he minded at all -- after the team finished with 20 hits on the way to a 10-2 victory over the Giants.
After losing twice to Giants pitcher Madison Bumgarner in the World Series last season when he was still with the Royals, Shields (1-0) was asked if it was nice to come out on the other end.
"Nah, it's a new team. My job is to duel whoever I'm opposed to. I don't care who I'm facing, whether it's the Giants, the Dodgers or anyone else," Shields said. "My job is to get a win. Luckily, we got one tonight."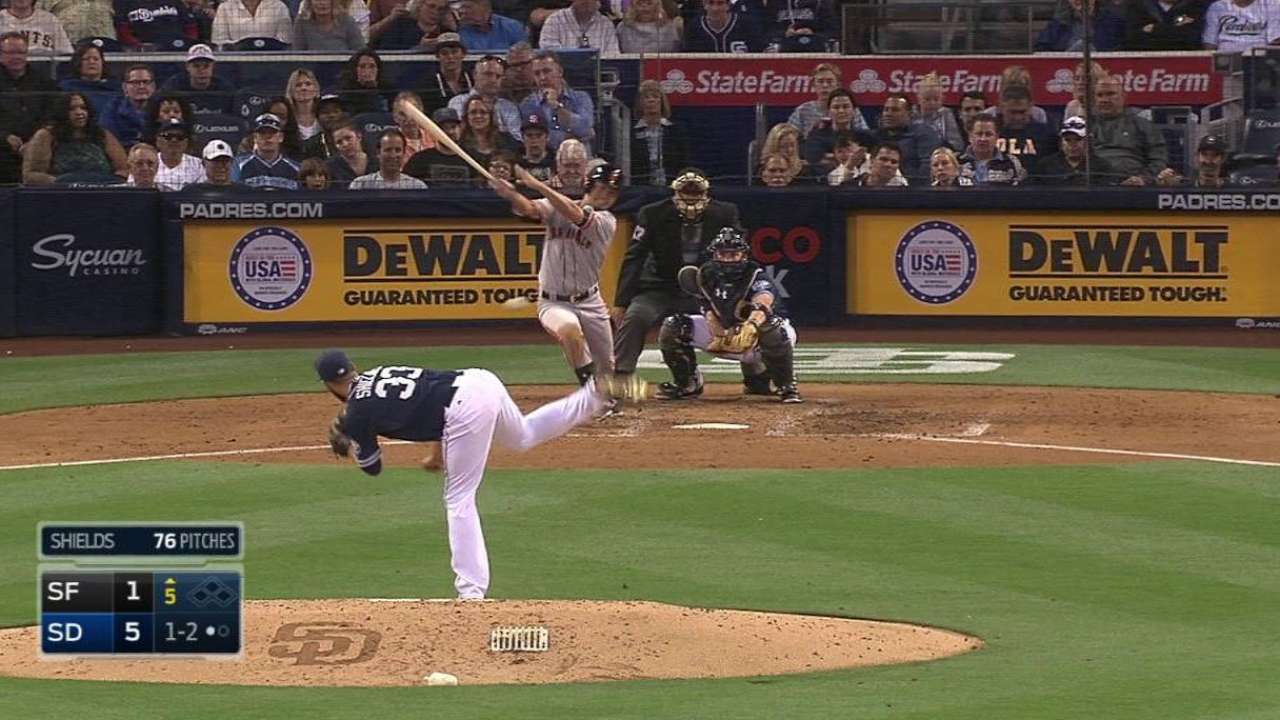 There didn't seem to be much luck involved, as Shields pitched his way around two Padres errors, had a firm grasp on all his pitches and competed in the true sense of the word, said teammate Matt Kemp.
"He's definitely a competitor, very emotional. He shows it out on the field. That's what I like. Those are the guys you definitely back up," said Kemp, who had four hits. "... You know he has your back, and you want him to know you have his back. He pitched a helluva game, and we got some runs for him."
Shields, who got a no-decision on Opening Day against the Dodgers when he allowed two runs over six innings, was sharp from the start Saturday, showcasing his entire arsenal of pitches.
"We talked last night about the weapons [Brandon] Morrow has, but Shields has his own weapons, too. Fastball, fastball command at the bottom of the zone was good. The changeup, the cutter, slider mixed in, the overhand curve, he mixed pitches well," said Padres manager Bud Black.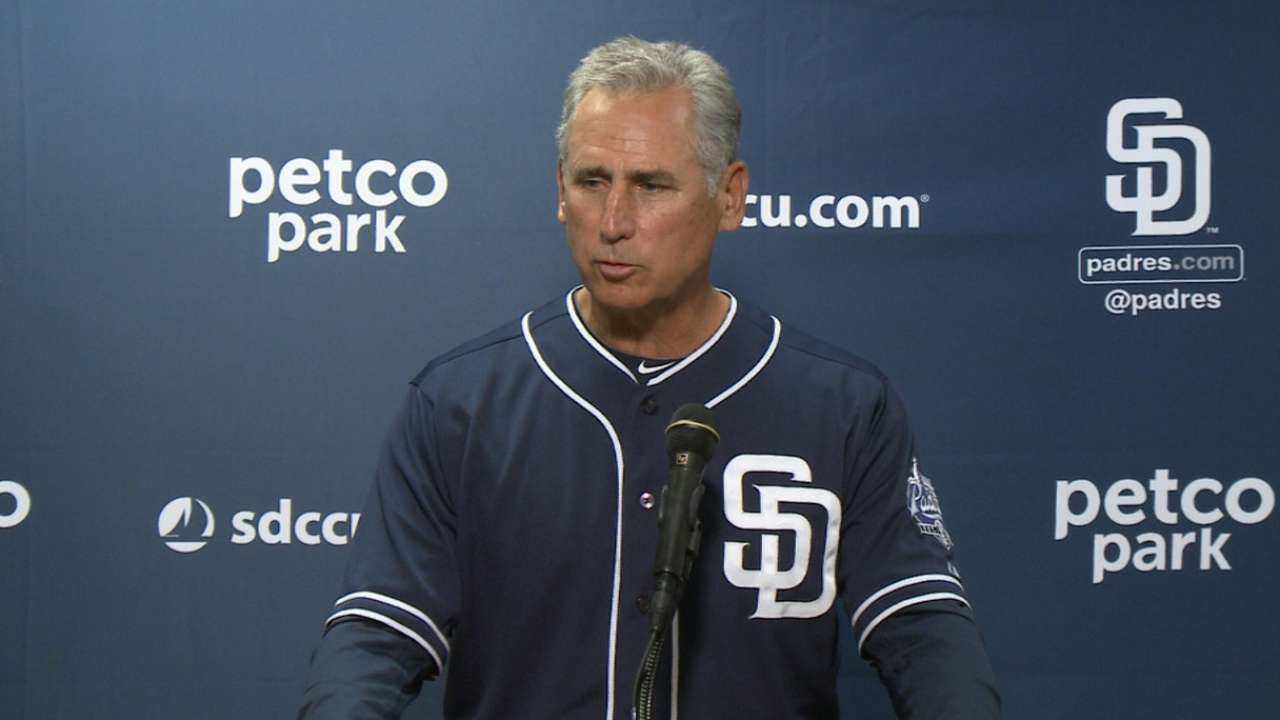 The only run that Shields allowed was a home run to Joaquin Arias in the fourth inning. But even that, said Myers, was a good pitch, a breaking ball down.
"It's nice being out there in center field, it's fun to watch these guys," Myers said. "Just the way that he executes, he doesn't leave any balls out over the plate. Even the home run wasn't on the bad pitch. He was really good."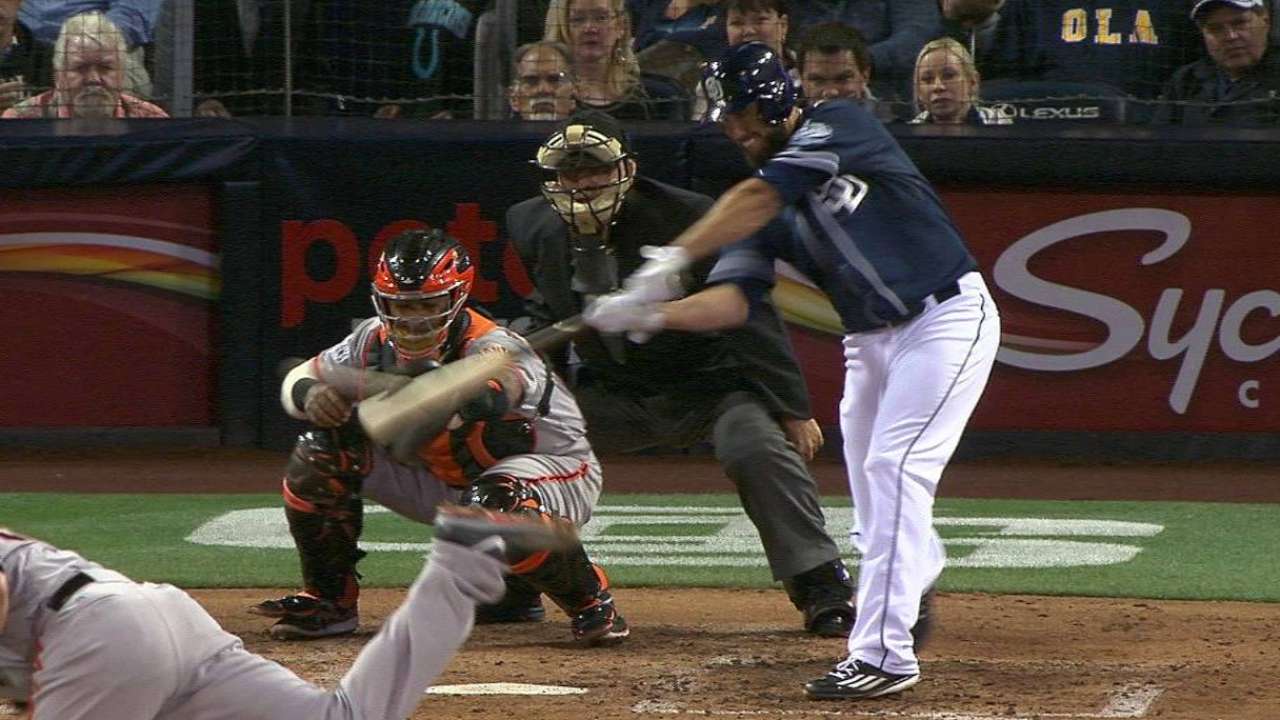 Shields even got his first hit with the Padres, a clean single on a hit-and-run in the sixth inning that sent Clint Barmes all the way to third base, from where he later scored.
"I liked my pitching a little better than my hitting," he said. "I'm not too great at hitting, but I'll take it."
Corey Brock is a reporter for MLB.com. Keep track of @FollowThePadres on Twitter. This story was not subject to the approval of Major League Baseball or its clubs.