MLB.com Columnist
Fred Zinkie
DraftKings picks: Votto, Bruce, Heyward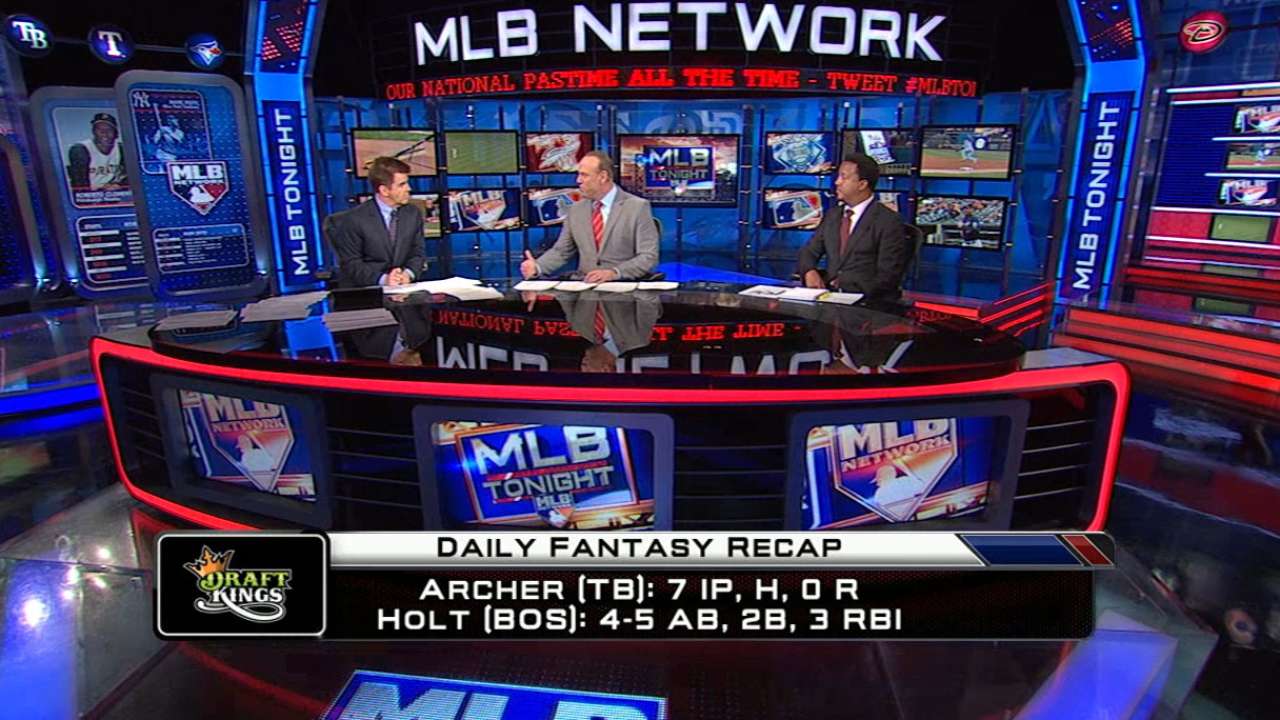 Zeros could be prevalent on Major League scoreboards Sunday, as an army of aces will take to the mound. But with a few clubs set to play behind their fifth starters, DraftKings participants should have a handful of hitters to target. Here are some players who deserve a close look.
Joey Votto (Reds): Cardinals right-hander Carlos Martinez has allowed a career .301 batting average and an .823 OPS to left-handed hitters. The lefty-swinging first baseman Votto -- who owns a career .982 OPS vs. righties compared to an .888 mark off lefties -- could give Martinez plenty of trouble.
Jay Bruce (Reds): The outfielder with a career .818 OPS vs. right-handers and a .726 mark against left-handers is another left-handed swinger who could be a problem for Martinez. Bruce could even supply DraftKings participants with a sneaky stolen base, as he has recorded 39 of his 48 career steals with a right-hander on the mound.
Jason Heyward (Cardinals): Like Adams, Heyward is a left-handed bat who could prove troublesome for Iglesias, as the outfielder's career .836 OPS vs. right-handers far exceeds his .660 mark off lefties. DraftKings participants could create a Cardinals stack against Iglesias by combining Adams and Heyward with Matt Carpenter and Matt Holliday, who both also have a career OPS above .800 against righties.
Chris Davis (Orioles): The first baseman owns a career .850 OPS vs. right-handers (.729 against lefties), which makes him a formidable opponent for Drew Hutchison. The Blue Jays right-hander has a propensity to allow fly balls, and that is a recipe for trouble at hitter-friendly Camden Yards.
Bryce Harper (Nationals): The outfielder has a lifetime .868 OPS against right-handers, compared to a .704 mark vs. lefties. On Sunday, he could have an outstanding game against Philadelphia's Sean O'Sullivan, who has notched a 5.91 ERA with a 1.57 WHIP during his big league tenure.
Micah Johnson (White Sox): On Sunday, the lefty-swinging second baseman will face a pitcher-catcher battery -- Phil Hughes and Kurt Suzuki of the Twins -- that often struggles to control the opposing running game. As a result, Johnson, who had 84 steals in the Minors in 2013, could contribute in considerable fashion with his legs.
Colby Rasmus (Astros): Rasmus could take Colby Lewis deep at hitter-friendly Globe Life Park in Arlington, as the outfielder has posted a career .789 OPS against right-handers (.647 vs. lefties). Lewis has struggled to handle left-handed batters to the tune of a career .828 OPS.
Miguel Montero (Cubs): Having slugged 81 of his 97 career homers off right-handers, Montero is a strong option against Jordan Lyles (career .820 opponents' OPS vs. left-handed batters) Sunday at homer-happy Coors Field.
David Ortiz (Red Sox): Amid injury concerns, Yankees right-hander Masahiro Tanaka did not display his previous level of dominance in his Opening Day start against the Blue Jays. If Tanaka cannot get on track against the Red Sox, Ortiz could be primed for a big game at Yankee Stadium, which is friendly to left-handed power. Notably, the designated hitter has notched a career .973 OPS vs. right-handers (.820 against southpaws).
Max Scherzer (Nationals): Facing off vs. the journeyman O'Sullivan and an underwhelming Phillies offense, Scherzer -- who has posted a 10.4 K/9 rate since the start of 2012 -- could record a high strikeout total and a win on Sunday.
Chris Sale (White Sox): Sale will make his season debut against a Twins lineup that was silenced by the Tigers during Opening Week. As many DraftKings participants know, the lefty is coming off a dominant 2014 season in which he went 12-4 with a 2.17 ERA, a 0.97 WHIP and 208 K's across 174 innings.
Tyson Ross (Padres): Few pitchers thrive in their home venue to the same degree as Ross, who has posted a 1.93 ERA and a 0.99 WHIP in 154 career innings at Petco Park. Facing Jake Peavy (who compiled a 9.64 ERA during an injury-affected Spring Training) and the Giants, Ross could come away with a strong outing and a win.
Henderson Alvarez (Marlins): The right-hander does not boast a high strikeout rate, but he could have an effective outing against Nathan Karns and a Rays lineup that will have to work without a designated hitter. Alvarez has recorded a 2.44 ERA and a 1.06 WHIP in 155 career innings at Marlins Park.
Alex Wood (Braves): Like Ross and Alvarez, Wood has excelled at his pitcher-friendly home park to the tune of a 2.67 ERA, a 1.17 WHIP and 142 K's in 124 2/3 innings. On Sunday, the right-hander should post plenty of whiffs and low ratios against a light-hitting Mets lineup.
All statistics are accurate through the completion of Friday's games.
Fred Zinkie is a senior fantasy baseball writer for MLB.com. Follow him on Twitter at @FredZinkieMLB.
This story was not subject to the approval of Major League Baseball or its clubs.