Outs at home, pair of replays foil A's against Mariners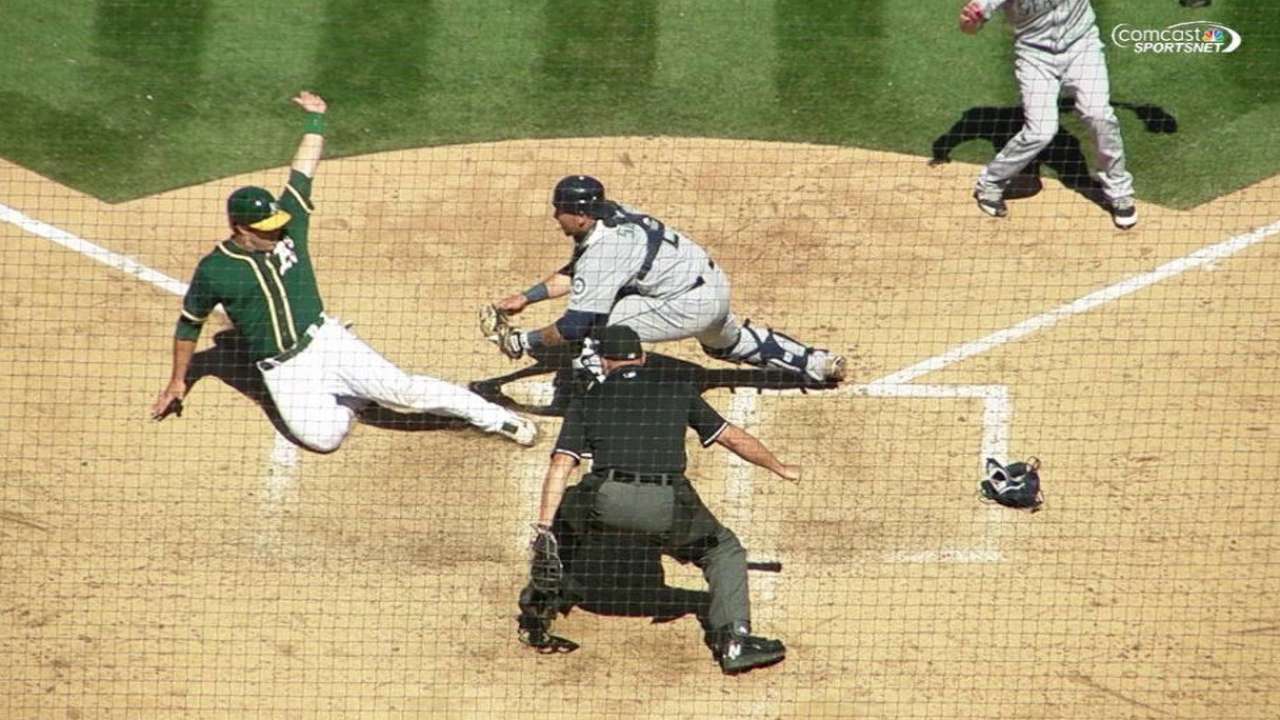 OAKLAND -- There was a laundry list of game-changing plays that could've gone the A's way but didn't in Saturday's 5-4, 11-inning loss to the Mariners, including a pair of replay reviews that went in Seattle's favor, along with two close run-ins at the plate that took away at least two runs.
"There are just so many things you could look back on this game that could've decided it one way or the other, probably for both teams," said A's manager Bob Melvin, "and they just got one more big hit than we did."
Long before Mariners shortstop Brad Miller doubled off Fernando Abad to bring in the go-ahead run in the 11th, the A's carried a one-run lead in the seventh and hoped to tack on another by way of a squeeze bunt. But they couldn't execute it, as reliever Danny Farquhar quickly fielded the bunt from Tyler Ladendorf and flipped it to catcher Jesus Sucre in time to tag Josh Phegley.
The A's challenged the call, but the out stood to keep Seattle within one run, and replay officials also determined there was no violation of the home-plate blocking rule.
Melvin sensed hesitation in Phegley, who acknowledged he didn't get the greatest break.
"I would have liked to get a better jump, but it was a tough read and just wasn't an ideal bunt," said Phegley. "But he did his job and I did my job. I made it close. It was close. They showed it about 100 times on the screen there."
The other replay might've been shown 200 times.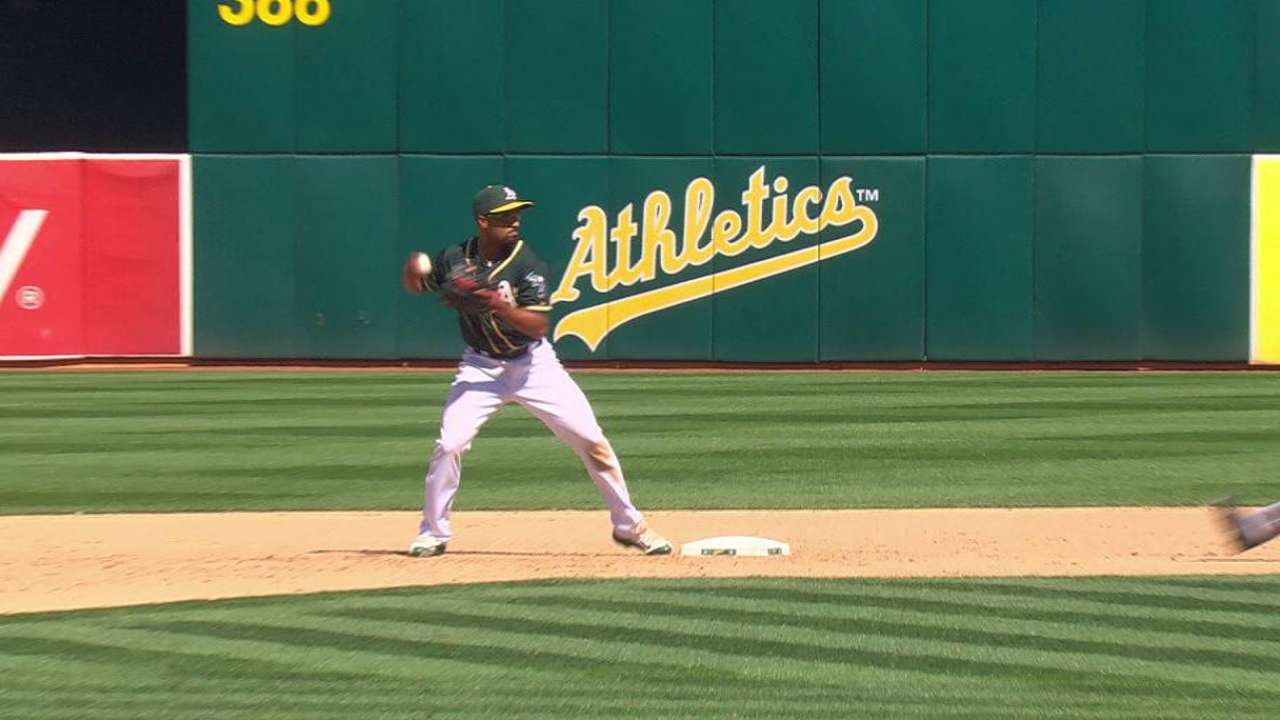 With one out and Austin Jackson on first in the eighth, A's lefty Eric O'Flaherty fielded a grounder from Justin Ruggiano and threw wide to second for an attempted force, and shortstop Marcus Semien appeared to stop just short of the bag before throwing to first. The out call at second was overturned, and one out later, Nelson Cruz launched a go-ahead home run off Dan Otero.
"It was a bad throw. It was on me 100 percent," said O'Flaherty. "We work on that all spring, and I messed it up."
That the play was even reviewed, though, was surprising, since it appeared to qualify as a neighborhood play. It didn't, though, according to crew chief Brian Gorman, "because the throw pulls [Semien] off the base."
"It's gotta be a true throw to second in order for it to be categorized as a neighborhood play," said Gorman. "Since the throw was a little bit to the left, and then he has to step on the base, it turns it into a reviewable play."
O'Flaherty proceeded to induce a groundout from Robinson Cano, setting up a crucial decision: Intentionally walk Cruz to load the bases for Kyle Seager, or bring in Otero, with the lefty Abad standing by in the bullpen for Seager, just in case.
"It was a tough call either way," said Melvin. "Dan probably didn't get the pitch where he wanted to."
"I told Phegley we were just going to try to throw balls, make [Cruz] hit a ball, with first base open," explained Otero. "I made two decent pitches to get it to 1-1 and then tried to come in 1-1, which is kind of what I like to do, and it just stayed there, it didn't really move in. It wasn't a terrible pitch, but it just stayed there, and he was obviously looking for it."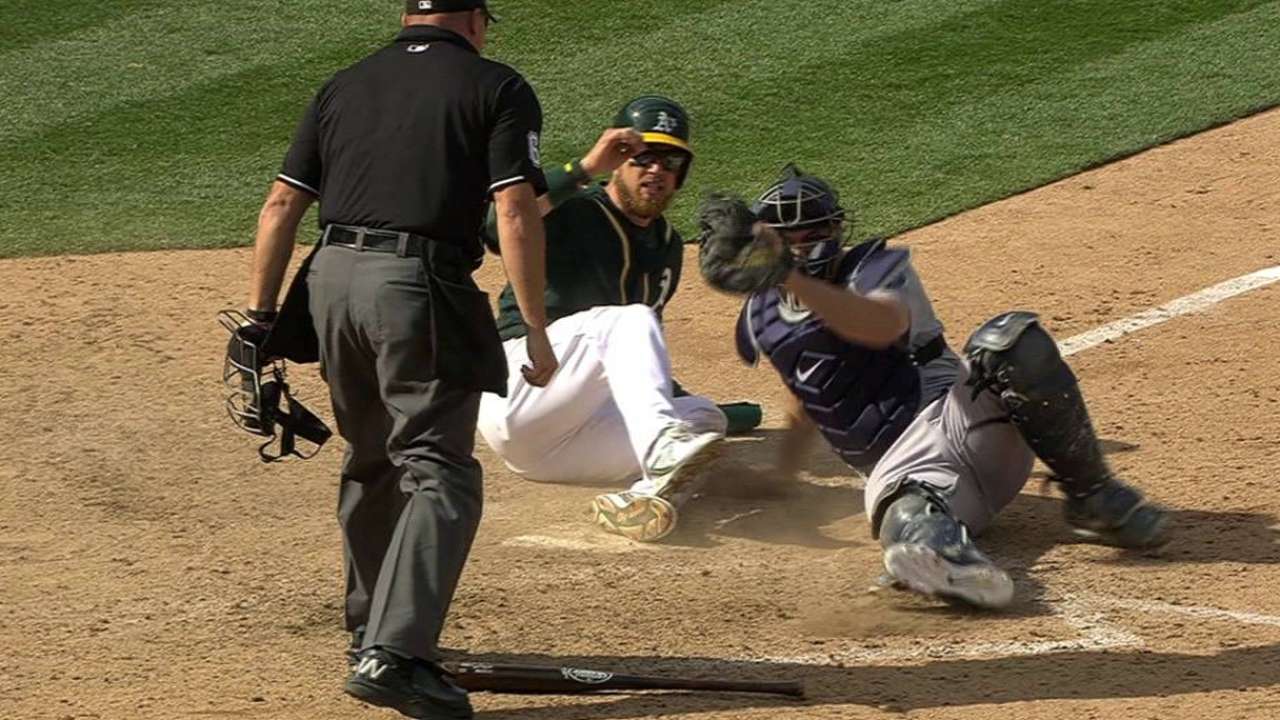 The A's nearly untied the game in the 10th, when Ben Zobrist led off with a base hit and came around third on an Ike Davis double, only to be thrown out on an exceptional relay throw from Jackson to Miller to catcher Mike Zunino.
"I thought he had it," said Melvin. "It took a perfect throw to get him, as close as it was, and we had some off-matchups coming up behind him. I don't ever second-guess [third-base coach Mike Gallego]."
Jane Lee is a reporter for MLB.com. Read her blog, Major Lee-ague, and follow her on Twitter @JaneMLB. This story was not subject to the approval of Major League Baseball or its clubs.