Nelson dazzles with debut of curveball
Right-hander dished a career-high nine K's in win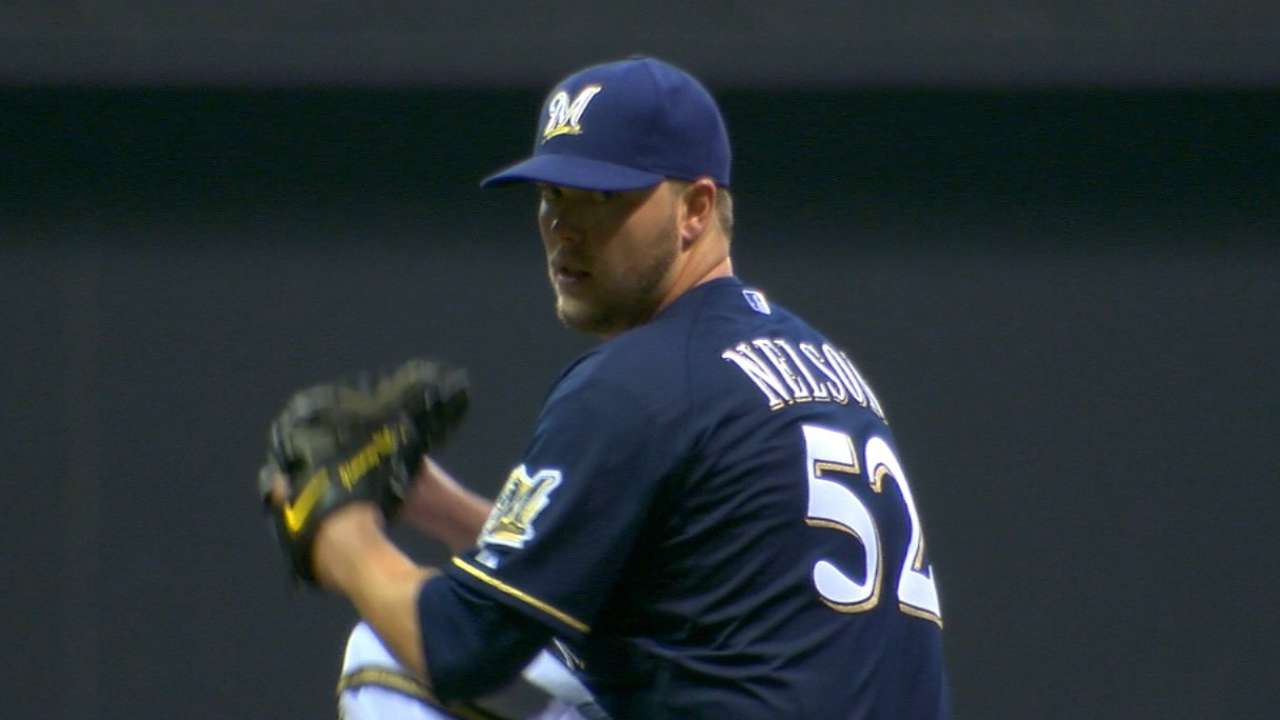 MILWAUKEE -- If this is what Jimmy Nelson looks like with a curveball, his second season in the Major Leagues has a chance to be a lot better than his first.
The 25-year-old right-hander showed it only sparingly during a shaky Spring Training, but went to that new pitch early and often over seven scoreless innings against the Pirates. Nelson set a career high with nine strikeouts and allowed only two groundball singles in a 6-0 victory for the previously winless Brewers.
"Obviously, he came out of Spring Training with a curveball," said Pirates manager Clint Hurdle. "It showed up big-time tonight and was a separator."
"That's almost like a second pitch now, how good it is," Brewers catcher Jonathan Lucroy said. "He used it as an 'out' pitch, he used it to get ahead in the count. That's a pretty good pitch, man."
Nelson learned his curveball grip several years ago from fellow Brewers farmhand Hiram Burgos but did not begin to work on it seriously until this past offseason, after he dominated the Triple-A level but found mixed results in the Majors. Nelson was 2-9 with a 4.93 ERA in 12 starts and two relief appearances with the Brewers.
The results were worse this spring, when Nelson surrendered 12 earned runs and 26 hits in 17 1/3 Cactus League innings. Those numbers didn't include a 10-run outing in Minor League camp.
"I didn't question anything at all, I just stuck to the process," Nelson said. "I was still getting a lot of ground balls and stuff. After leaving my hand, I can't do anything about it. I was pretty happy with the work I've put in. Hopefully it'll stay right there. I'm just happy we got this one for the team, really."
Relievers Will Smith and Jonathan Broxton finished the 46th shutout victory of two or fewer hits in Brewers history. Three of those wins have come against the Pirates.
Nelson faced the minimum number of batters through four innings before facing his biggest challenge in the fifth, when he walked Starling Marte and Pedro Alvarez to start the frame. After a visit from pitching coach Rick Kranitz, Nelson put a first-pitch slider on the hands of former Brewer Corey Hart, who grounded to third base for a double play. Nelson then retired Andrew Lambo to erase the threat.
"To come out there when we needed a win, he made some big pitches," Brewers manager Ron Roenicke said. "We did a lot of good things today."
The Pirates will not have to wait long to get more swings against Nelson. His next scheduled start is Friday at PNC Park in Pittsburgh.
"It's nice [to get the team's first win]," Nelson said. "Everybody in here has been working hard, both in Spring Training and since we got here. It's nice to kind of see everybody relax and I think it's going to help us a lot. I'm excited to see how we play now."
Adam McCalvy is a reporter for MLB.com. Follow him on Twitter at @AdamMcCalvy. This story was not subject to the approval of Major League Baseball or its clubs.