Gilmartin gets 2 tough outs in his MLB debut
Mets reliever, who was drafted by the Braves, faces Markakis, Freeman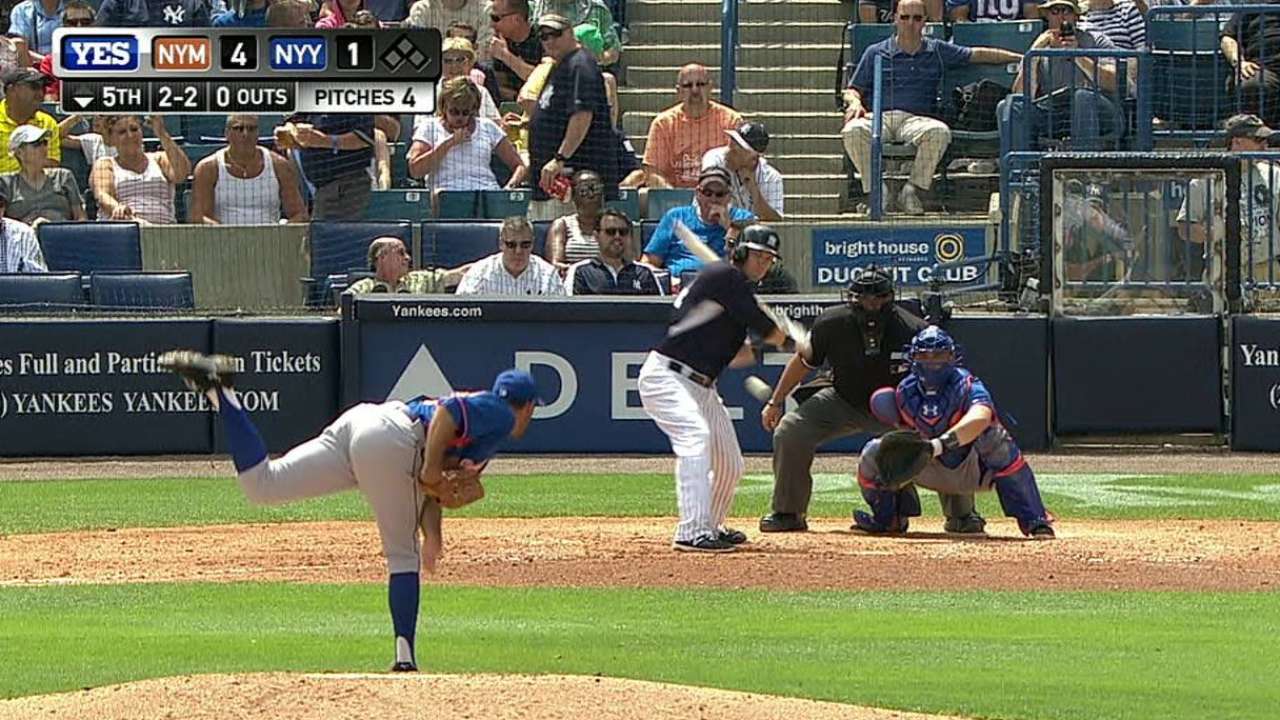 ATLANTA -- Hours before Friday's game against the Braves, Mets manager Terry Collins dedicated a few moments -- as he so often does at Turner Field -- to praising Freddie Freeman, quipping that his pitchers "haven't gotten [Freeman] out in four years."
Then he asked Sean Gilmartin to do precisely that in his big league debut.
A former first-round pick of the Braves, Gilmartin entered baseball's eternal encyclopedia for the first time in the seventh inning of a tie game, tasked with retiring a pair of lefties: Nick Markakis and Freeman. Such is life as a left-handed reliever.
"I wasn't really too concerned about the situation that was out there," Gilmartin said. "I was more just ready to go, anxious to get out there, ready to get the first one out of the way."
For Gilmartin, that "first one" was the culmination of a four-year journey through the Minor Leagues, spanning three organizations (Braves, Twins and Mets). Needing lefty relief depth, the Mets took a Rule 5 flyer on Gilmartin, who had spent all four of his professional seasons as a starting pitcher.
The Mets figured that in short spurts, Gilmartin might prove effective, using his changeup to neutralize right-handed hitters as well as he does lefties. Pitching coach Dan Warthen also asked Gilmartin to move to the extreme right side of the pitching rubber, hoping to make him more deceptive versus same-sided batters. And while a pair of April plate appearances may be too small a sample size to draw meaningful conclusions, there is evidence to believe the adjustment might work.
"I was very happy for him," Collins said. "That was a good situation to get his first game, and he did a good job. I was glad he came in and right out of the gate, first-pitch strike. Those are keys."
For now, Gilmartin is simply enjoying the ride. The left-hander's parents followed the team from Washington to Atlanta, eager to see their son pitch in the big leagues for the first time. And Gilmartin enjoyed something of a homecoming in Atlanta, about a half-hour south of his offseason home. For him, the fact that his first appearance came against his old organization -- and specifically against Freeman, who works out with him in the offseason -- was more of a bizarre coincidence than a source of stress.
"It's kind of crazy, but everything happens for a reason," Gilmartin said. "I'm just thankful for the opportunity."
Anthony DiComo is a reporter for MLB.com. Follow him on Twitter @AnthonyDiComo. This story was not subject to the approval of Major League Baseball or its clubs.