Norris finding home batting 2nd for Padres
Catcher seeing better pitches hitting in front of Kemp, J. Upton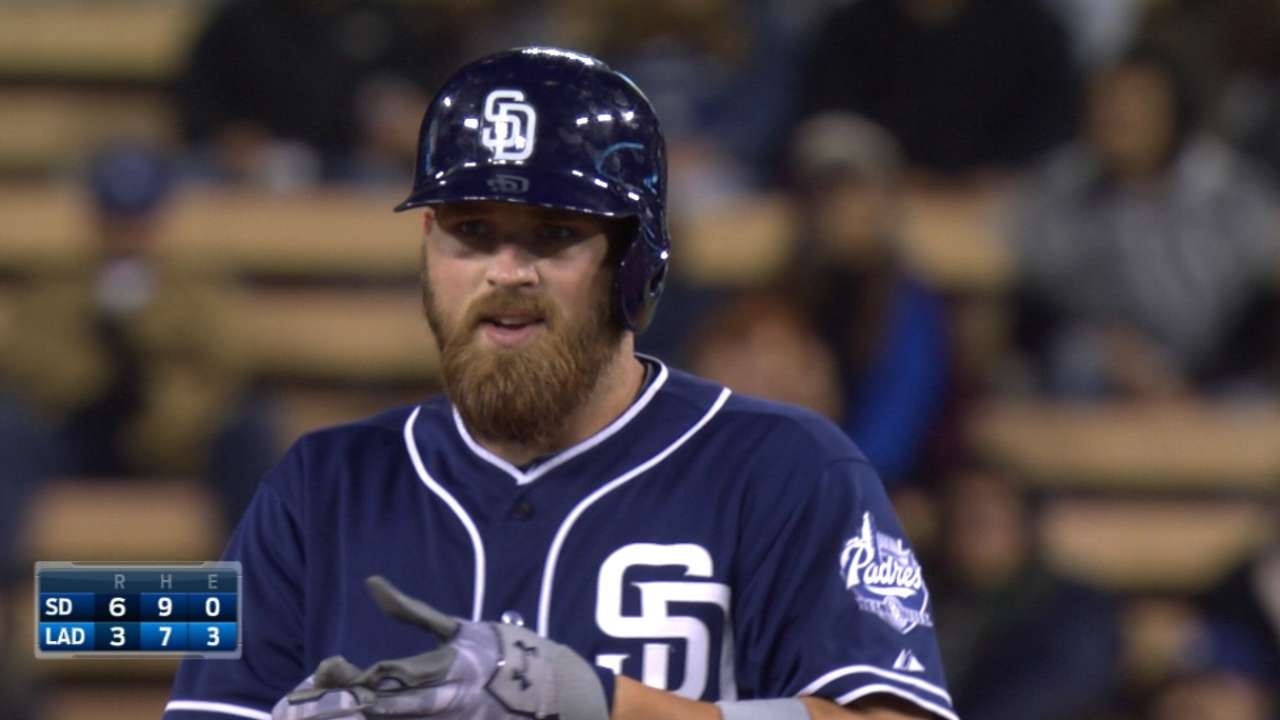 SAN DIEGO -- Derek Norris doesn't have the most extensive resume when it comes to hitting second in the lineup, though that could very well change this season for the Padres catcher.
Going into Saturday's game against the Giants, Norris had hit second in four of the first five games and had done well there, hitting .333 in 18 at-bats.
Norris, who has primarily hit fifth, seventh or eighth in his big league career, has feasted on fastballs -- and a lot of that has to do with the guys hitting behind him, Matt Kemp and Justin Upton, he said.
"This lineup is a little bit different for a two-hole hitter," Norris said. "When you have guys like Matt and Justin hitting behind you, [opposing pitchers are] not going to give you many free passes. They are going to be less careful with you.
"Instead of 3-2 burying a slider and risk putting you on with a walk, they're going to give you a better pitch to hit. I think, ultimately, you're going to get better pitches to hit more often."
Norris is seeing 58.8 percent of pitches inside the strike zone, according to PITCHf/x, compared to 49.5 percent a year ago. His contact rate (84.4 percent) is also up from last season (81.5).
Prior to this season, Norris had only 59 at-bats hitting second in his first three seasons in the big leagues. He might exceed that by the end of the month.
Norris hit fifth Saturday, as the Padres loaded up on right-handed hitters against the left-handed Madison Bumgarner of the Giants.
San Diego manager Bud Black has liked how Norris has performed early on hitting second and might set up as the ideal candidate for that spot moving forward.
"He's got a good career on-base percentage before we get to the number 3-4-5 hitters," Black said. "He's not a free swinger. He's not afraid of the count or hitting with two strikes. He's got good foot speed for a catcher."
Corey Brock is a reporter for MLB.com. Keep track of @FollowThePadres on Twitter. This story was not subject to the approval of Major League Baseball or its clubs.