With little margin for error, Cosart gets 'fastball-happy'
Marlins righty laments throwing heater too many times in sixth inning, when he allowed lone run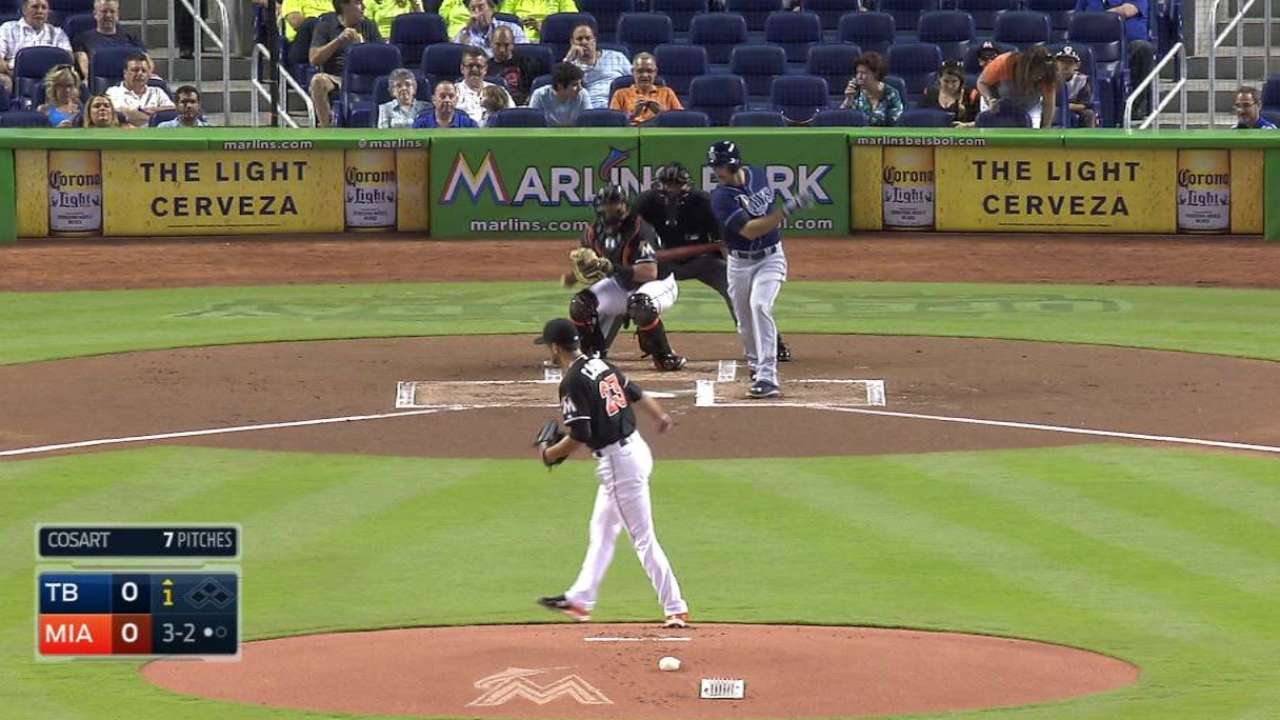 MIAMI -- On a day when runs were going to be scarce, Jarred Cosart was kicking himself for having a moment of predictability. The right-hander relied heavily on throwing heat in the sixth inning Saturday, and he felt he got burned.
Asdrubal Cabrera had a two-out triple and Evan Longoria followed with an RBI double that opened the scoring in the Rays' 2-0 win over Miami at Marlins Park.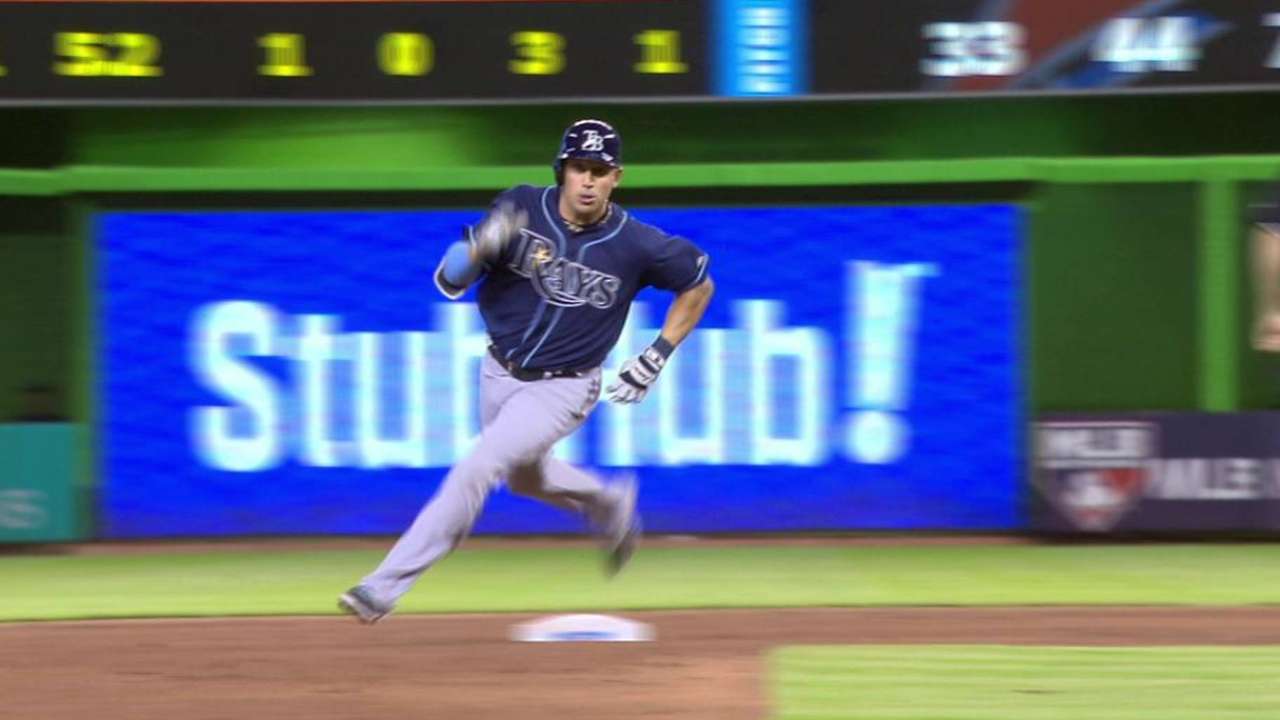 "In short, I got fastball-happy in the sixth inning," Cosart said. "I think I threw nine, 10 in a row to two really good hitters. I threw a lot of good pitches today and I made two bad ones."
Even after Cabrera's triple, Cosart had a chance to escape unscathed. But Longoria laced a 95-mph 1-1 offering into the gap in right-center.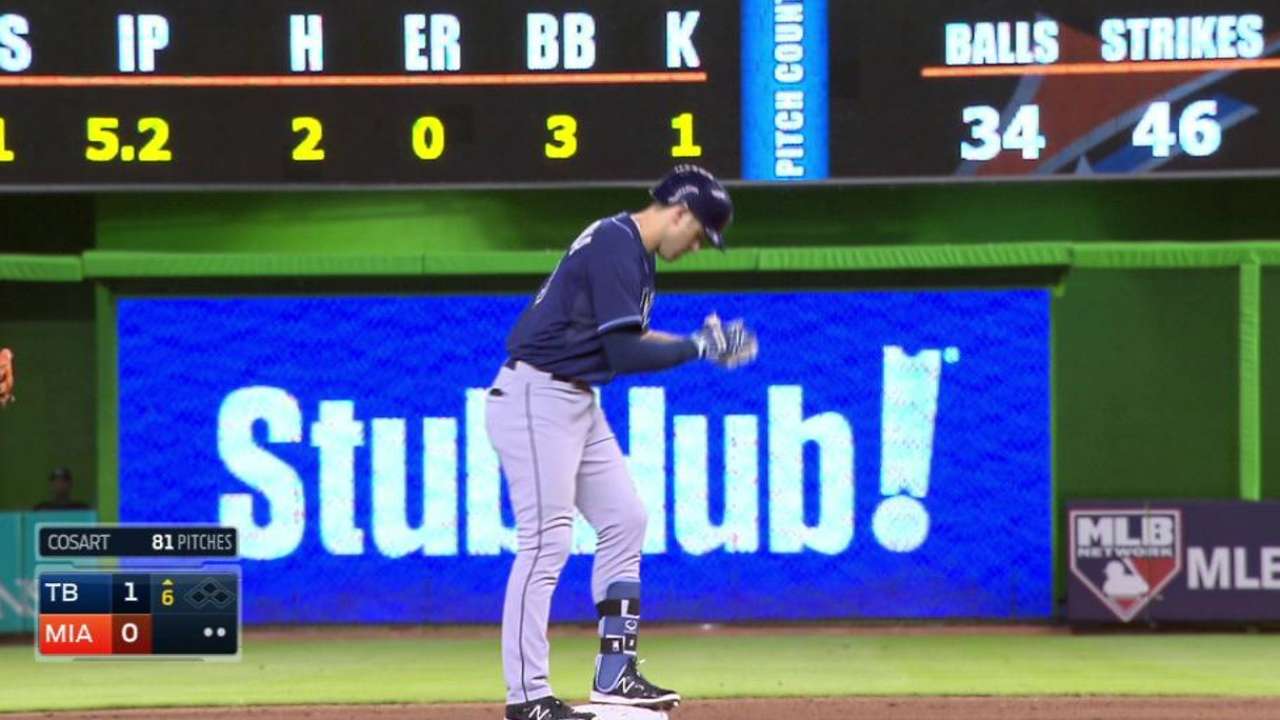 "Again, if I could have one pitch back it would be to Longoria," Cosart said. "I pitched him pretty much the same the whole game. He's an All-Star. You start getting in a pattern, he will notice. He went out there and got it, and put a good swing on it. It was pretty much all she wrote for me."
The one run aside, Cosart still had a very encouraging first start. The right-hander dealt with a small cut on the outside of his right hand early in the game. In the dugout he was applying pressure on the hand to stop the bleeding, but he continued pitching, and did so effectively.
Cosart gave up one run on three hits and logged 86 pitches.
"I liked his focus. He was really locked in," manager Mike Redmond said. "Really, just made a couple of mistakes. If he pitches like that, we'll win a lot of those games. I was really happy with the way he pitched. We just didn't do anything to help him out offensively."
To Cosart, Miami's 1-4 start is nothing to be alarmed about. The team has plenty of time to hit its stride.
"There is no need to press the panic button," the right-hander said. "We obviously had a lot in Spring Training about bonding and everything. It really counts now. It's going to take a little time.
"Today you saw a guy [Chris Archer] 97 [mph] down in the zone with two other-plus pitches. Any time you go up against those guys, it's going to be tough. It's our job to try to keep us in. I tried my best."
Joe Frisaro is a reporter for MLB.com. He writes a blog, called The Fish Pond. Follow him on Twitter @JoeFrisaro. This story was not subject to the approval of Major League Baseball or its clubs.