Fowler gets warm welcome in 'emotional' return to Coors
Cubs outfielder spent first six seasons in Colorado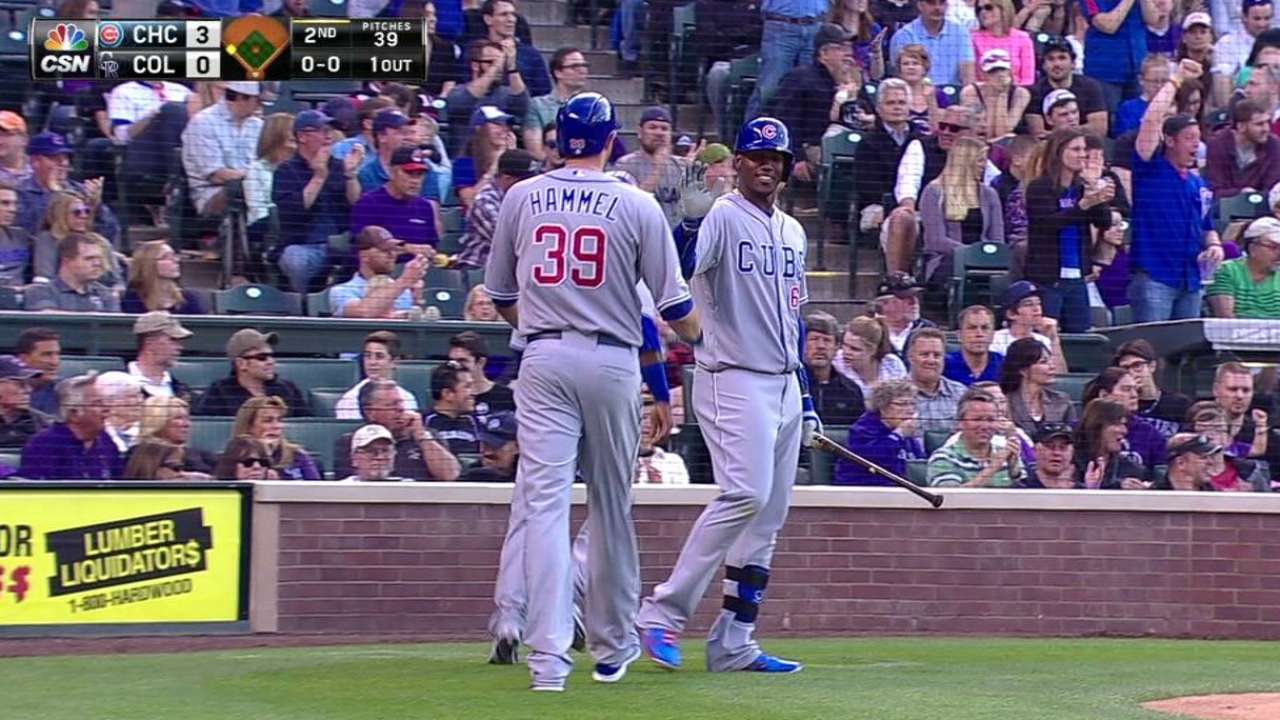 DENVER -- Cubs outfielder Dexter Fowler appreciated the applause from the fans at Coors Field when he was introduced on Friday for the Rockies home opener. After all, he called the ballpark home for six seasons.
"Everybody was awesome," Fowler said Saturday. "Everybody was like, 'We miss you.' It was kind of an emotional day. It was weird. I'm glad we got the first day over with."
He looked right at home Saturday, hitting the first pitch of the game from the Rockies' Kyle Kendrick for a triple. Fowler then tripled again with two on in the second to open a 3-0 lead, helping set up the Cubs' 9-5 win. It was his fourth career two-triple game and first since Aug. 29, 2010, which also was at Coors Field.
"I like triples," Fowler said. "I like hitting triples here."
However, he did forget what happens when you hit a triple in the high altitude. He was joking with Rockies third baseman Nolan Arenado after the first one that he was out of breath. He tried to pace himself on the second one.
"I can't slow down," Fowler said, laughing.
Manager Joe Maddon appreciates what Fowler brings to the team, and it's not just his ability to fill the lead-off spot. Fowler is the right age -- 29 -- at the right time.
"That's when they have a chance to come into their own," Maddon said. "The game slows down and they understand it better. I think at that point, they're truly just about winning. He's trully dedicated to the game now. He's wanting to get to that next level."
The Rockies dealt Fowler to the Astros in December 2013 for pitcher Jordan Lyles and outfielder Brandon Barnes, and Houston then traded him to Chicago in January for pitcher Dan Straily and third baseman Luis Valbuena. He had not been back to Colorado since the trade to the Astros.
The hardest part was just finding his way. Fowler had never been in the visitor's clubhouse at Coors Field.
"It was weird -- five years, you're used to walking straight [to the home clubhouse]," he said. "It's a new chapter in my life, I'm a Cub now and happy to be here.
"It's awesome seeing everybody -- the people who still work here, the people who work on the field who I saw every day. It is weird coming here and taking a bus to the field. Usually I'd drive up and go to the players parking lot."
Carrie Muskat is a reporter for MLB.com. She writes a blog, Muskat Ramblings, and you can follow her on Twitter @CarrieMuskat. This story was not subject to the approval of Major League Baseball or its clubs.