Archer trusts 'the process,' builds on opener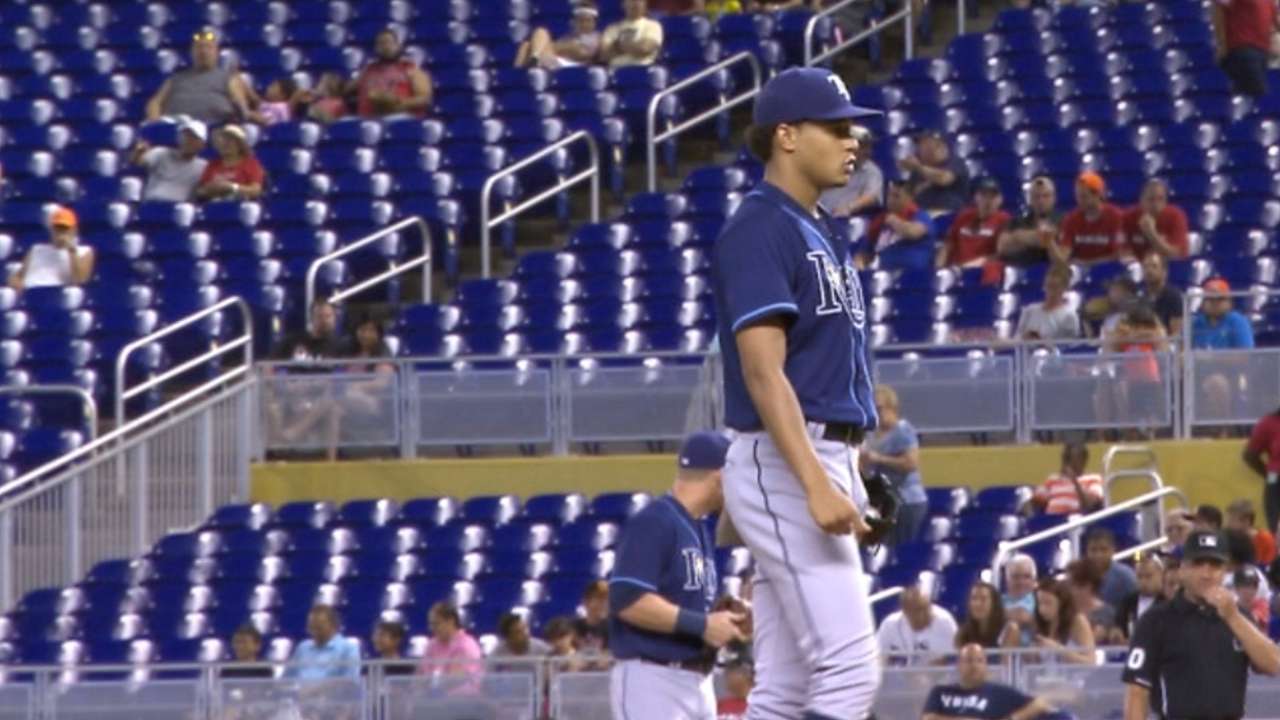 MIAMI -- Chris Archer told reporters he would have a nice season if he continued to do the things he did during his Opening Day loss to the Orioles.
Don't look for the Marlins to offer an opinion to the contrary after he overpowered them in Saturday afternoon's 2-0 Rays win.
"That's why you can't get too caught up in results," Archer said. "Focus on the process. Trust the process. And, like I said, if I continue to build off of what I did last game, I'm going to be successful. I was in a good place."
Archer allowed no runs on one hit and a walk while striking out five in seven innings to earn his first win of the season.
"Can't say enough about Arch," Rays manager Kevin Cash said. "The way he threw the ball. And what was probably the most impressive about his outing, he did have a little 8-10 pitch glitch there where he lost it. And he was able to regain it and control himself. Really picked us up big time today."
The glitch came in the sixth when pinch-hitter Ichiro Suzuki drew a one-out walk. At that point, catcher Bobby Wilson paid Archer a visit on the mound. When Archer then went 1-0 to the next batter, Dee Gordon, pitching coach Jim Hickey went to the mound.
"I'm happy they did," Archer said. "But if you go back and look, I threw some good pitches to Ichiro. He just laid off because he's a vet. And the umpire, his zone was true. If it was two inches off the plate, he wasn't calling it. ... So I was still 100 percent comfortable with where I was at, because my misses weren't huge misses."
Fastball command continues to be the key to Archer's success. And he has more than an average fastball, hitting 98 mph several times during the day, including his 83rd pitch of the game before striking out Michael Morse with an 89-mph changeup on his 84th and final pitch.
"Everything felt great, and whenever you are locating your fastball, it makes your secondary stuff twice as good," Archer said.
Archer praised Hickey and Wilson.
"Hickey and I went over the lineup," Archer said. "The work they do to educate us on how to pitch, how to use our stuff effectively, is phenomenal. And then having Bobby back there with total confidence, his first start of the year. We worked together a lot during the offseason."
Cash explained that he lifted Archer after 84 pitches because Kevin Jepsen was already loose, and the Rays did not want him to sit and get up again before coming in.
"So our thought was, 'Let's get him in the game right now," Cash said. "Arch had done a tremendous job and we were happy with where he was at."
Added Wilson: "He was pretty impressive today. He threw all of his pitches for strikes, attacked the zone. And when he's pitching like that, it's a lot of fun."
Bill Chastain is a reporter for MLB.com. This story was not subject to the approval of Major League Baseball or its clubs.