Twins vow to pick it up after losing lead to White Sox
Minnesota watches early four-run cushion disappear in loss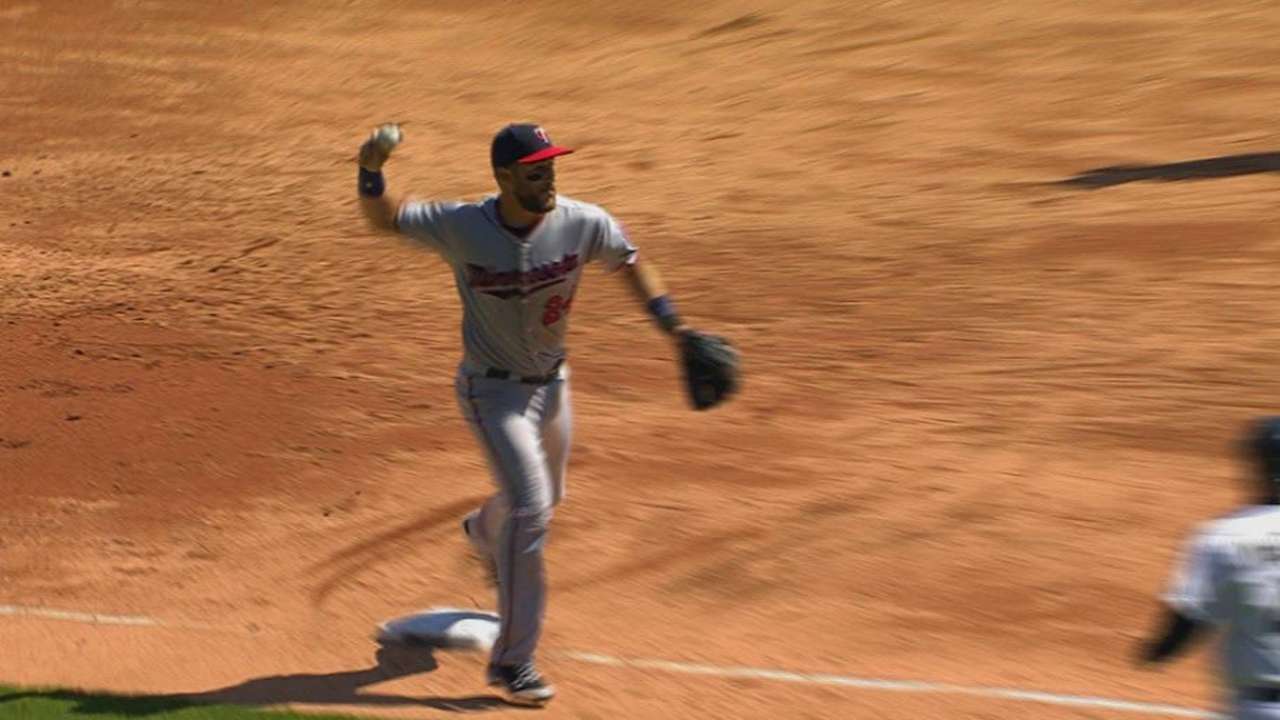 CHICAGO -- Mike Pelfrey allowed four runs in five innings. The Twins had a defensive lapse. And they didn't score after the second inning.
But reliever Blaine Boyer wanted to take all the blame.
Boyer allowed a single to Alexei Ramirez and a double to Conor Gillaspie before pinch-hitter J.B. Shuck drove in the go-ahead run on a single in the eighth inning in the Twins' 5-4 loss to the White Sox on Saturday.
"We were just going to attack him," Boyer said. "I felt really confident that I could go low and away and get him to roll over it. I went away, and it was up.
"That's all on me. This loss is all 100 percent on me. I'll get in there again and close the door the next time."
To start the rally, Ramirez reached on shortstop Danny Santana's high throw to first base. Ramirez was credited with a single.
Twins manager Paul Molitor said Santana made a nice backhanded play on the grounder, but sailed the throw. Santana said he had to move quickly to make the catch and then slow down.
"I'm mad because in that situation I need to make a play," Santana said.
After Gillaspie doubled, the White Sox brought in Shuck, who was 0-for-2 this season. Shuck singled to drive in Ramirez from third, and the White Sox overcame an early 4-0 deficit for their first victory of the season.
Adding to his frustration, Boyer said he felt good.
"This is the best I've felt all week," said Boyer (0-1), who has allowed three runs in three innings this season. "Fastball was jumping out of my hand. I gave them pitches to hit. When it rains, it pours.
"It's time to put an end to this, move forward and try to look at the positives. The team played awesome, guys battled, the bullpen came in there other than me and just shut the door like they're capable of doing. I've got to get better. I'm up here to help this team win."
While Boyer blamed himself, Pelfrey took responsibility. The White Sox chipped away at the Twins' 4-0 lead with two runs in the second, a run in the third and another run in the fourth against the right-hander.
"Anytime you get a 4-0 lead, you have to take advantage of that," Pelfrey said. "That's on me. I did a bad job of that."
Sarah Trotto is a contributor to MLB.com. This story was not subject to the approval of Major League Baseball or its clubs.