MLB.com Columnist
Richard Justice
Tanaka can stifle questions with success
Concerns about velocity, psyche will only stop after strong starts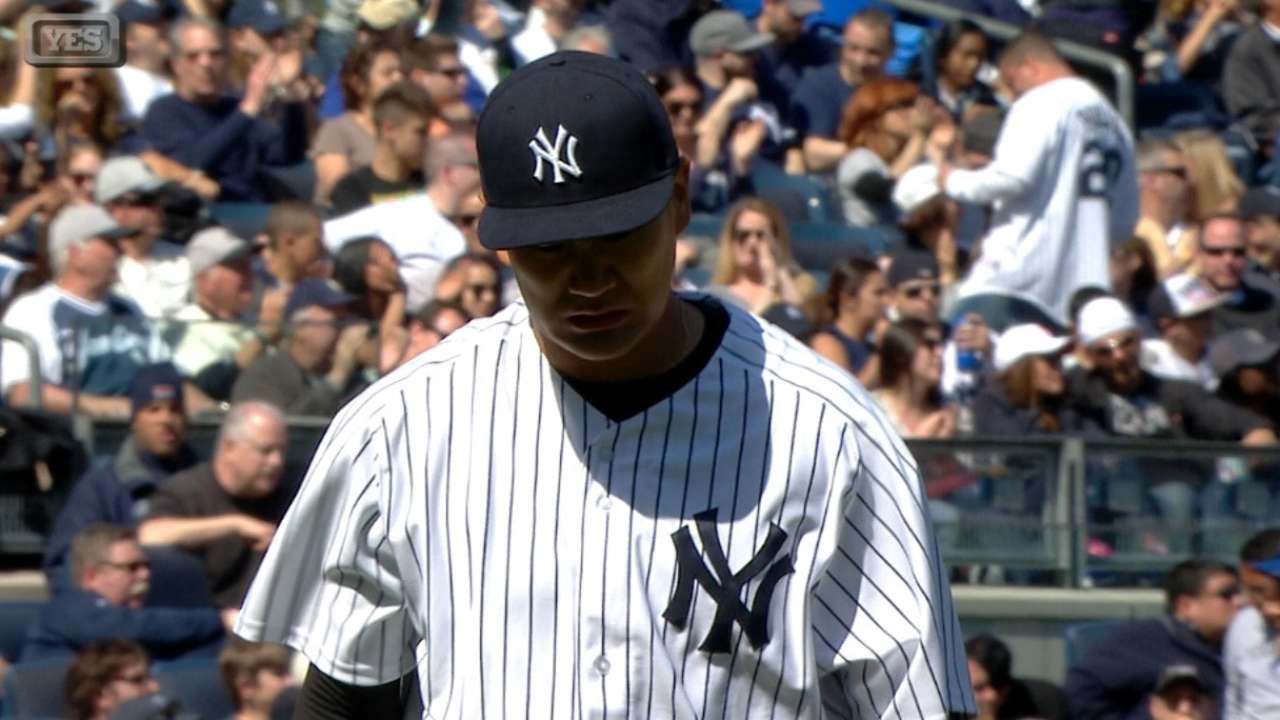 NEW YORK -- Masahiro Tanaka is the only one who can end the speculation, and there's only one way he can do it. Let's not make this thing more complicated than it is. All the Yankees right-hander has to do is pitch well.
In that way, Tanaka's second start of the season -- Sunday night at Yankee Stadium against the Red Sox -- is as much an opportunity as a test. If he performs well, it would go a long way toward quieting a growing cottage industry of talk about his velocity (down), right elbow (fragile) and psyche (shaken).
And there's the larger picture. It's difficult to see the Yankees contending without Tanaka pitching well. He was signed to a seven-year, $155 million contract last offseason to be a rotation cornerstone.
At the time, it was one of the five largest contracts any pitcher had ever gotten. For awhile last season, Tanaka fulfilled every promise. Before tearing a ligament in his right elbow, he compiled a 2.51 ERA in 18 starts. In three starts since -- two last season and one this season -- Tanaka's ERA is 8.18.
The Yanks announced last summer that Tanaka would attempt to rehab the ligament rather than undergo Tommy John surgery. They said they were following the advice of their medical team, and that if surgery had been recommended, he would have had the surgery. Now, they say the recovery has gone well and that Tanaka is methodically regaining his arm strength.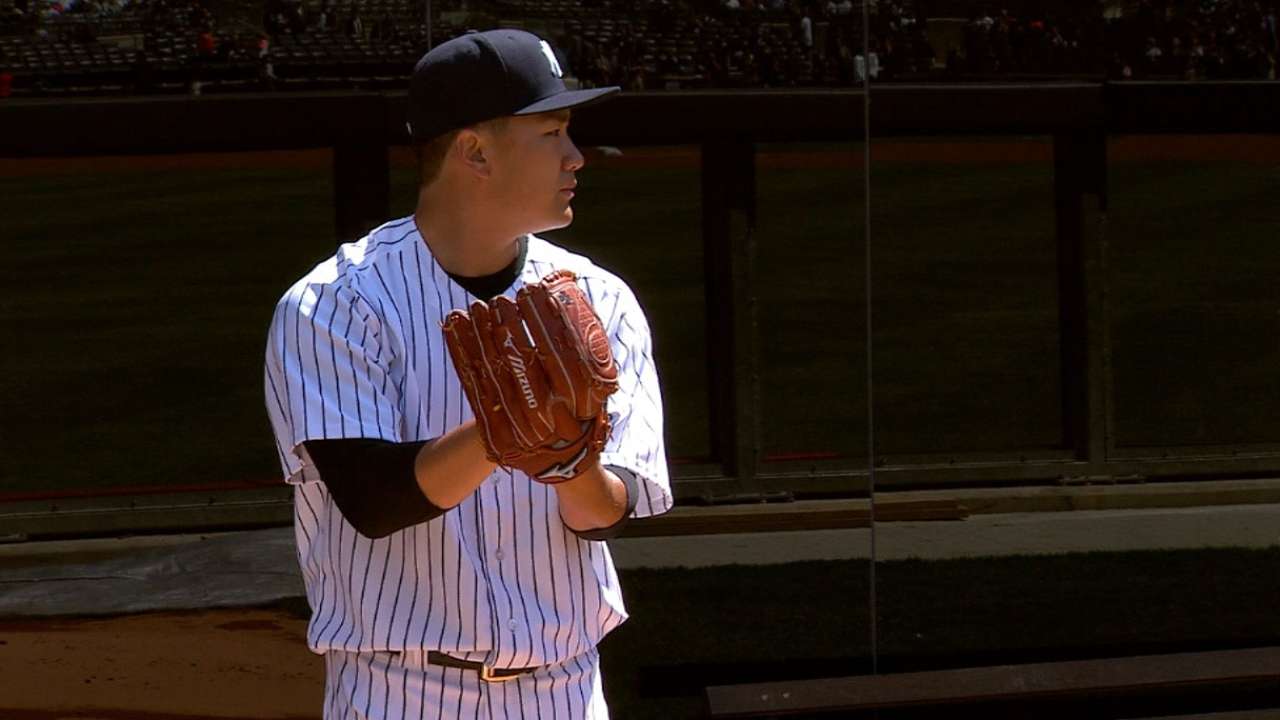 Problem is, Tanaka clearly isn't all the way back. His velocity is down, and his ERA up. Tanaka's fastball was clocked at 91.2 mph last season, 90.3 this season, according to fangraphs.com. That's a slight decrease, but when combined with a lack of crispness on his other pitches, the difference can be significant.
In Tanaka's only start of the 2015 season, he allowed the Blue Jays four runs in four innings and needed 82 pitches to get 12 outs. Afterward, Toronto's players said Tanaka's diminished fastball had made him very hittable.
The Yankees have pointed out that Tanaka's fastball got hit last season and that his split-finger, slider, two-seamer, etc., are all still plenty good enough to win with. Location, they say, is the issue.
"This is not totally shocking," Yanks pitching coach Larry Rothschild said. "I think he's still in the process of building arm strength and everything. His arm strength is not far off. It's just locating it. It's some small things. We went slow with him in Spring Training."
Even without a blazing fastball, Tanaka's stuff is still good enough, right?
"His split is still really good. His slider is really good," Rothschild said. "And the fastball location is going to be good. As long as he's healthy, he's going to be fine. Everybody talks about the fastball, but he didn't pitch with his fastball last year. He uses it, but he's got to locate it and pitch with his other stuff."
Some outside the Yankees' family disagree.
"I know the facts, I've seen what's going on with him," Pedro Martinez told MLB Network last week.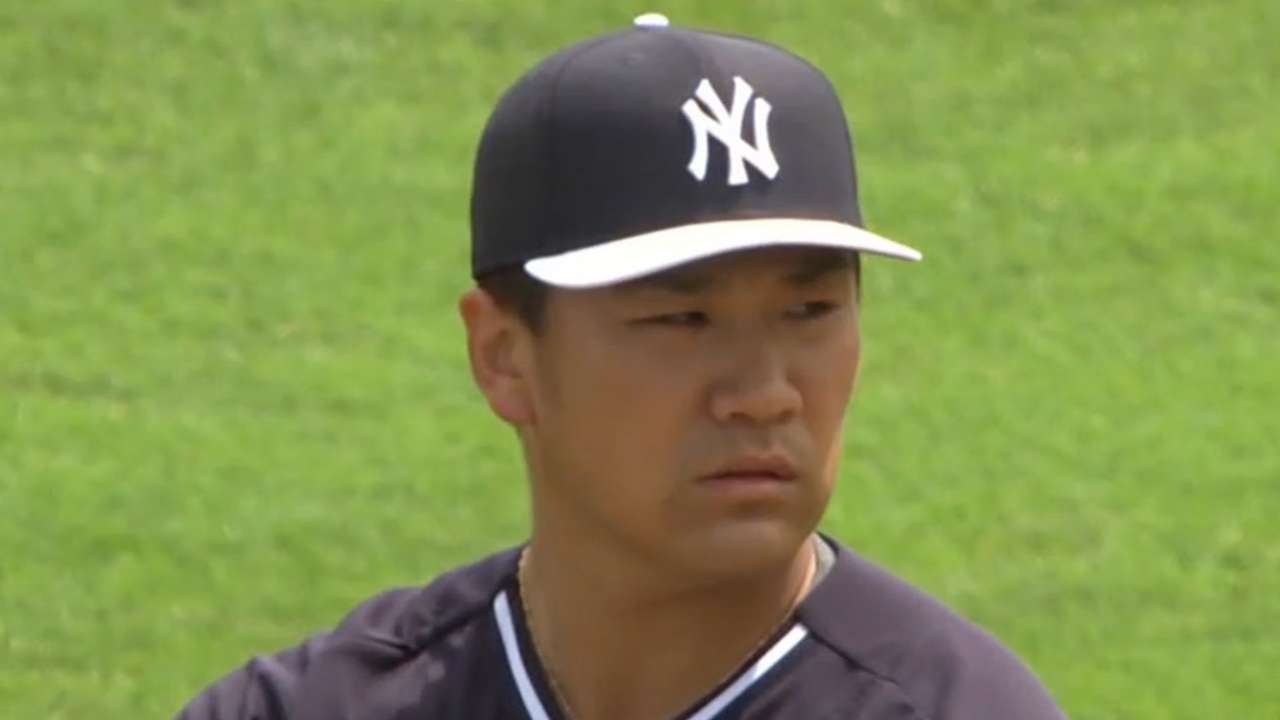 To Martinez, it's easy to see that Tanaka's pitches lack movement and location. He said Tanaka appears to be injured and lacking either confidence or strength. And the Blue Jays seemed to agree with that assessment.
"It's different when you have a pitcher that's throwing 93, 94, 95 mph with that kind of stuff Tanaka has," Toronto shortstop Jose Reyes said. "But when he throws 88, 89, we feel a bit more comfortable, for sure."
Yankees manager Joe Girardi said some of the issues are simply Tanaka searching to make the adjustments every Major League player must make as scouting reports get around and weaknesses are exposed.
"His average velocity the other day was one mph below his average velocity for the whole season last year," Girardi said. "It is only his first start. I think he will continue to develop arm strength as the season goes on.
"Some of it is growing pains, people making adjustments to you. The first time every club sees you, you have an advantage. They don't understand your stuff. That's all part of it, and once you see a guy a few times, hitters start to make adjustments, and pitchers have to make adjustments."
As for Tanaka, he stood stoically in front of his locker Saturday morning and said things that made perfect sense. He said he'd taken the time since his first start to work on some mechanical issues and to review what he threw in certain game situations. Tanaka said that his confidence had not been shaken.
"I needed time to settle down and work on what I had to work on," Tanaka said. "I think the past four days was good for me. I did look into my mechanics through video. I tried to analyze and see what was wrong. I also did look into the situation of the game and kind of went through my mind to see what I could have done better.
When asked if he might, as Martinez suggested, be holding something back because he was hurting, Tanaka answered quickly.
"I'm not holding anything back," he said.
Tanaka needs a string of solid starts to show the world he's OK. Until then, there'll be more questions.
Richard Justice is a columnist for MLB.com. Read his blog, Justice4U. This story was not subject to the approval of Major League Baseball or its clubs.