Mejia suspended 80 games for PED use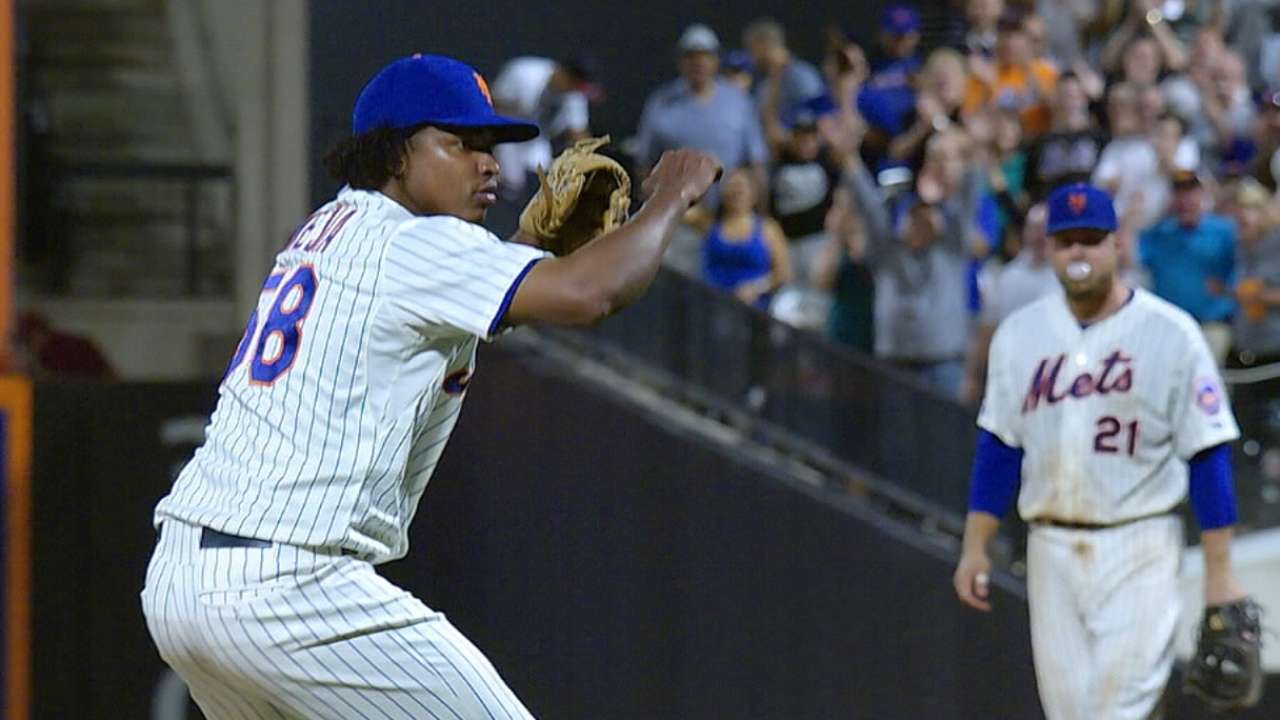 ATLANTA -- Mets closer Jenrry Mejia has received an 80-game suspension without pay after testing positive for Stanozolol, a performance-enhancing substance, Major League Baseball announced Saturday. The suspension is effective immediately.
"I know the rules are the rules and I will accept my punishment, but I can honestly say I have no idea how a banned substance ended up in my system," Mejia said in a statement. "I have been through a lot in my young career and missed time due to injury. I have worked way too hard to come back and get to where I am, so I would never knowingly put anything in my body that I thought could hold me out further. I'm sorry to the Mets organization, my teammates and the fans, as well as my family. In life, I know God puts certain obstacles in your path and this is something else I know I will overcome."
Currently on the disabled list battling right elbow inflammation, Mejia, 25, posted a 3.65 ERA last season with 28 saves. He will not appeal his suspension, according to his agents.
"We were disappointed when informed of Jenrry's suspension for violating Major League Baseball's Joint Drug Prevention and Treatment Program," the Mets said in a statement. "We fully support MLB's policy toward eliminating performance-enhancing substances from the sport. As per the Joint Drug Program, we will have no further comment on this suspension."
"You make a mistake, you're going to be punished," Mets captain David Wright said. "Once Jenrry serves his punishment and comes back, we'll welcome him and do whatever we can to make him feel like he's part of this team. But for right now, he messed up and deserves to be punished."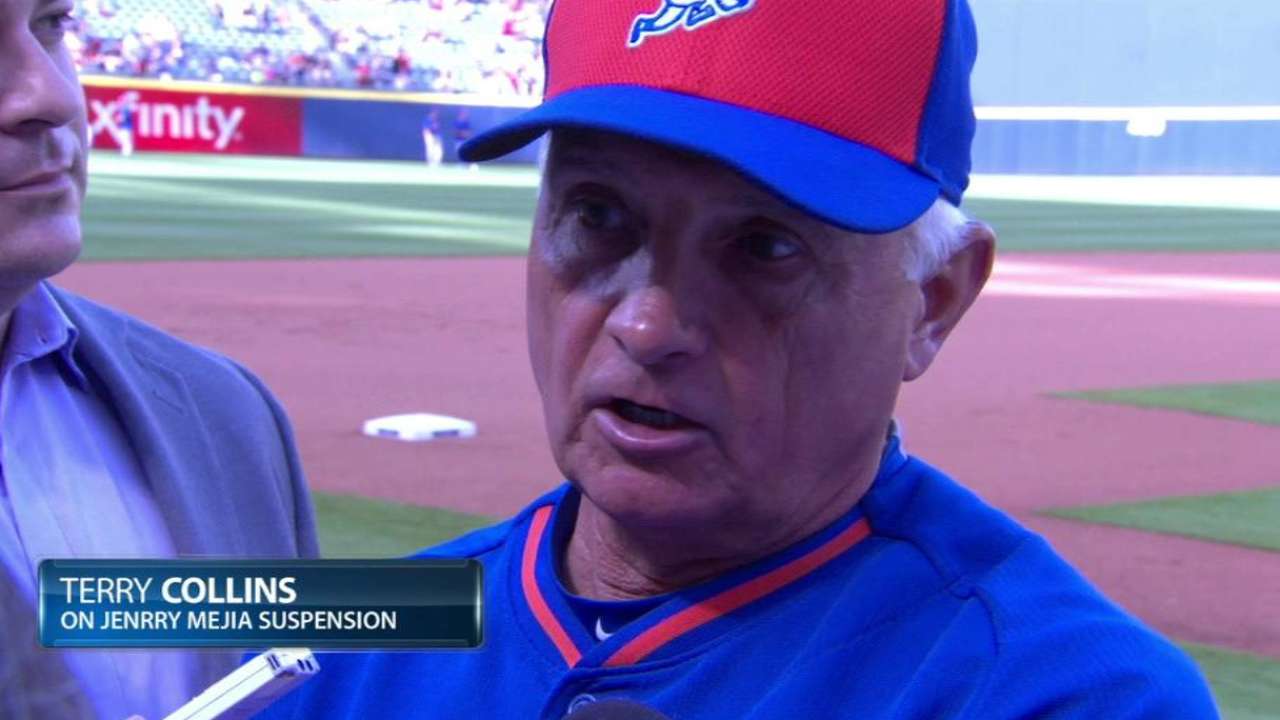 Mejia debuted with the Mets as a 20-year-old in 2010, shuttling between the rotation and the bullpen throughout the next four years. Beginning last season in the starting five, Mejia transitioned to the bullpen after closer Bobby Parnell underwent Tommy John surgery in April. He remained the team's closer until Opening Day this year, when his inability to loosen his arm ultimately resulted in a trip to the DL.
Mets manager Terry Collins, who briefed his team on the situation after learning of Mejia's suspension earlier Saturday, expressed displeasure at having to reconfigure his bullpen on the fly.
"I'm going to be honest: I love this kid," Collins said. "We challenged this guy last year. He stepped up and he did a great job for us. Certainly this is a big disappointment. I always look at it as I understand everything about it -- I really do -- but you know what? There's 24 other guys in that locker room that need him, too. That's why it's real disappointing.
"When you talk about a team, it's about all 25 guys. They've got to pull on the same end of the rope. You know what? Injuries are injuries. We get that. But this is something that we hoped we could avoid obviously through the education that's been given to these guys in recent years. Now all of the sudden, the other guys on this team are saying, 'What are we going to do now?'"
What the Mets will do for now is give save chances to Jeurys Familia, who was already serving as interim closer with Parnell on the DL. The Mets expect Parnell back in early May, and could offer the closer's job back to him once he returns. Or they could let Familia keep it, if he pitches well in the role. The Mets also consider Vic Black, who is currently on the DL with right shoulder inflammation, a future closer candidate.
"We came into this whole thing in Spring Training with huge expectations, the back end of our bullpen being very, very strong," Collins said. "So we're all shocked and disappointed, but we stand by the rules and what Major League Baseball has put down. We'll have to regroup, and get through the next 80 games with somebody else."
Anthony DiComo is a reporter for MLB.com. Follow him on Twitter @AnthonyDiComo. This story was not subject to the approval of Major League Baseball or its clubs.