Brantley out of lineup again with back issue
Francona: I should have been more cautious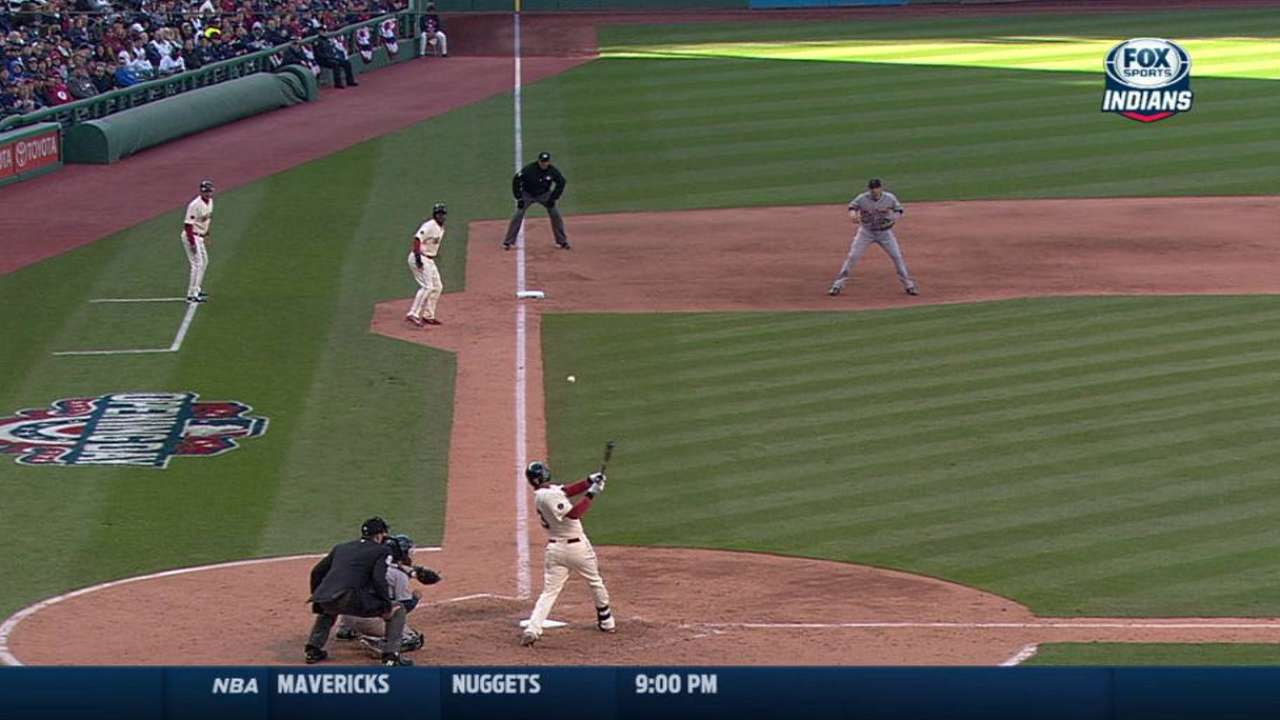 CLEVELAND -- Indians manager Terry Francona admitted on Saturday that he may have made a mistake by allowing Michael Brantley to play in Friday's home opener. The left fielder's ongoing back issue flared late in the game and has cost him a day in the lineup once again.
Francona held Brantley out of Saturday's lineup against the Tigers after sitting the All-Star on both Wednesday and Thursday in Houston. The lower-back issue has been a problem off and on since the start of Spring Training, and Brantley told Francona he felt improved prior to Friday's contest at Progressive Field.
"I probably got a little carried away yesterday," Francona said on Saturday. "I was so excited when he came in and said he could play. I probably should've stepped back and probably said, 'No, you're not playing.' You kind of live and learn."
In the Tribe's 8-4 loss to the Tigers in the home opener, Brantley went 1-for-4 with an RBI double. Francona said the outfielder began to experience back spasms as the game wore on.
"He wants to play so bad," Francona said. "I just think we need to let this thing settle down, whether that's today, today and tomorrow, we'll see. But, we've got a day off on Monday. We just want him to have a chance to go out and play and be himself. I think it's hard for him right now to do that."
Francona said the Indians have discussed placing Brantley on the disabled list to give him time to let the issue calm down, but the medical staff has not felt that move is necessary yet.
"We've talked about everything," Francona said. "I don't think anybody thinks we need to. If we ever did need to, we would. I'd rather try to sit him for a day or two and have him for 12. He's a pretty good player. ... When you're dealing with injuries or things like this, you listen to the medical people, you listen to the player and you try to make good decisions."
Last season, Brantley hit .327 with 20 home runs, 23 stolen bases, 45 doubles, 94 runs scored, 97 RBIs and 200 hits in an All-Star showing for the Indians. After the season was over, the left fielder earned a Silver Slugger Award and finished third in voting for the American League's Most Valuable Player Award.
Jordan Bastian is a reporter for MLB.com. Read his blog, Major League Bastian, and follow him on Twitter @MLBastian. This story was not subject to the approval of Major League Baseball or its clubs.