Hoover's emphasis on improvement paying off
After 10-loss season, reliever racks up two wins in first two appearances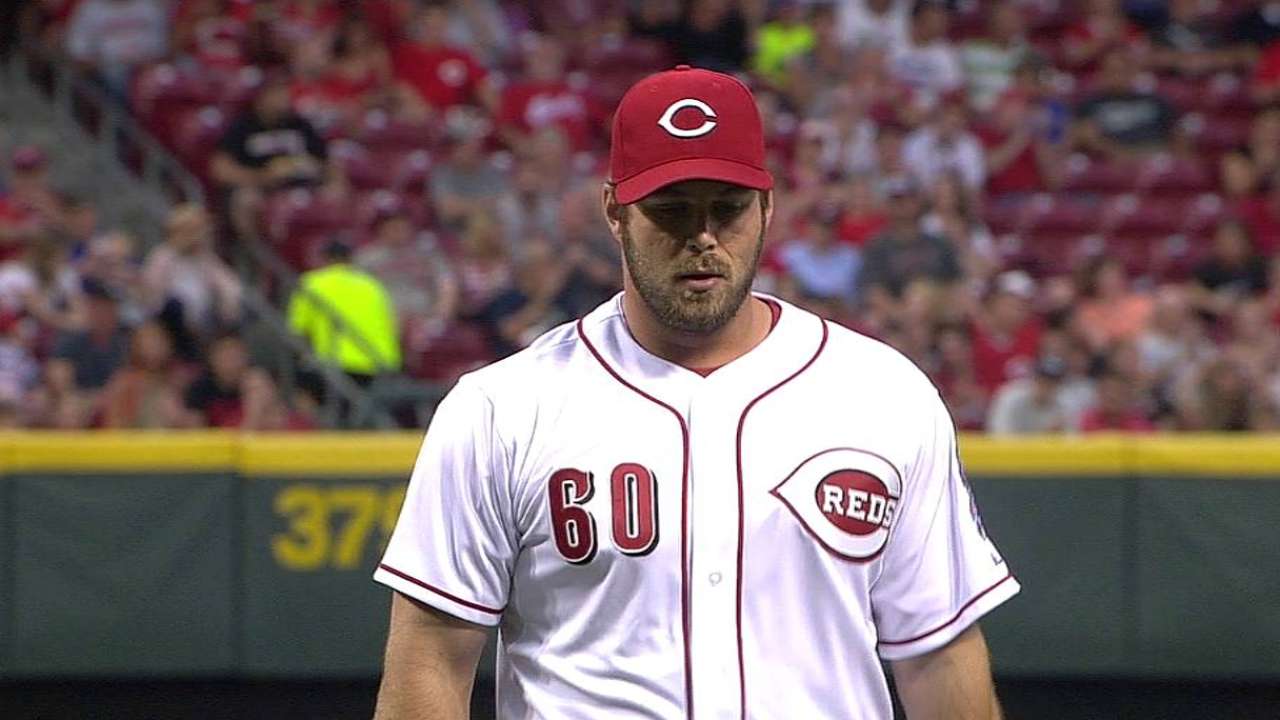 CINCINNATI -- It didn't take J.J. Hoover long to put his disappointing 2014 season out of his mind and turn his focus forward. His turn-the-page approach has paid early dividends in '15.
Hoover had made the Reds' 2014 Opening Day roster for the second straight year and earned the Reds' first win in the second game of the season against St. Louis.
Then the wheels fell off.
"Last year, his fastball was a 50-50 proposition, literally was like a 52, 54 percent strike pitch," Reds manager Bryan Price said. "His first pitch strike percentages were also in about that neighborhood too. That is really well below his standards. It is just not something that would allow him to be effective pitching behind, not being able to locate his fastball."
The 6-foot-3 right-handed reliever lost his next 10 decisions and racked up a 5.27 ERA in 46 appearances, a stat line that resulted in him being optioned to Louisville on August 21. It was his first stint in the Minors since 2012.
His 10 losses tied a Reds' record for most in a single season for a reliever, and the fact that they were consecutive set a record for franchise relievers.
"He had similar stuff, his velocity was the same, his curveball was the same, but the location of his mix of pitches, and particularly his fastball, was really a step backwards last year," Price said.
Well, his focus on righting the ship has paid off.
"Last year, unfortunately, I was not executing pitches as well as I am this year," Hoover said. "That is what I was working on all last season. That is what I worked on all offseason -- pretty much the basics."
Hoover stands at a perfect 2-0 after the first four games of the season and has yet to allow a run.
During the 5-4 victory in the series opener against the Cardinals, during which he earned the win, his reliability was tested, and he earned a passing grade.
Hoover was called upon in the top of the seventh with a pair of runners on and one run already in. He promptly set down Mark Reynolds on a six-pitch strikeout, five of which were fastballs.
In the eighth, he allowed a double by Kolten Wong, but he did not advance any further.
"I am confident when I go out to the mound," Hoover said. "I just want to do the job. There is nothing that a reliever likes more than stranding his buddy's runs. Whenever you can do that, it is a really good feeling."
Jason Haddix is a contributor to MLB.com. This story was not subject to the approval of Major League Baseball or its clubs.