First things first: A-Rod makes debut at 1B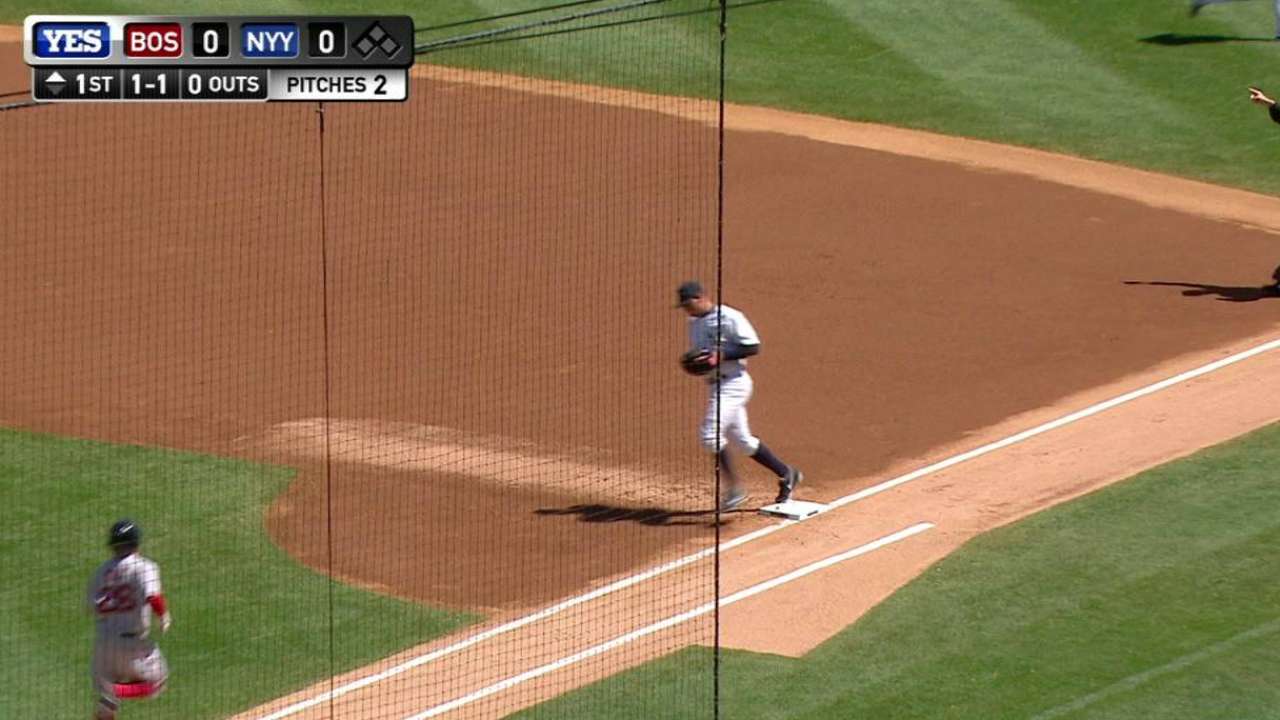 NEW YORK -- The ball seems to have a quirky habit of finding the player who seems least certain about fielding it, and so it was little surprise that Alex Rodriguez stuck his glove down to field the first play of what would turn into a busy afternoon at first base.
Making his first career appearance as a first baseman in the Yankees' 8-4 loss to the Red Sox on Saturday, Rodriguez played nine innings in the field, handled the ball 18 times, committing an error and having his form reviewed on a play in which his foot was shown to have come off the bag.
"There was a lot of action over there today," Rodriguez said. "Not like I needed more evidence to tell you how great Mark Teixeira is and has been for so many years, but ... my head is spinning."
In hopes of adding flexibility to their roster, the Yankees had Rodriguez work out at both infield corners this spring, including playing first base in a pair of Grapefruit League games.
Manager Joe Girardi said that he considers Rodriguez the third option to play the position, behind Teixeira and Garrett Jones (who started in right field on Saturday). Girardi confirmed after Saturday's game that the Yankees plan to use Rodriguez there again this season.
"I can't play Tex 162 days there, I've got to have options," Girardi said. "I believe [Rodriguez will] continue to improve as we put him out there, and he'll become more natural."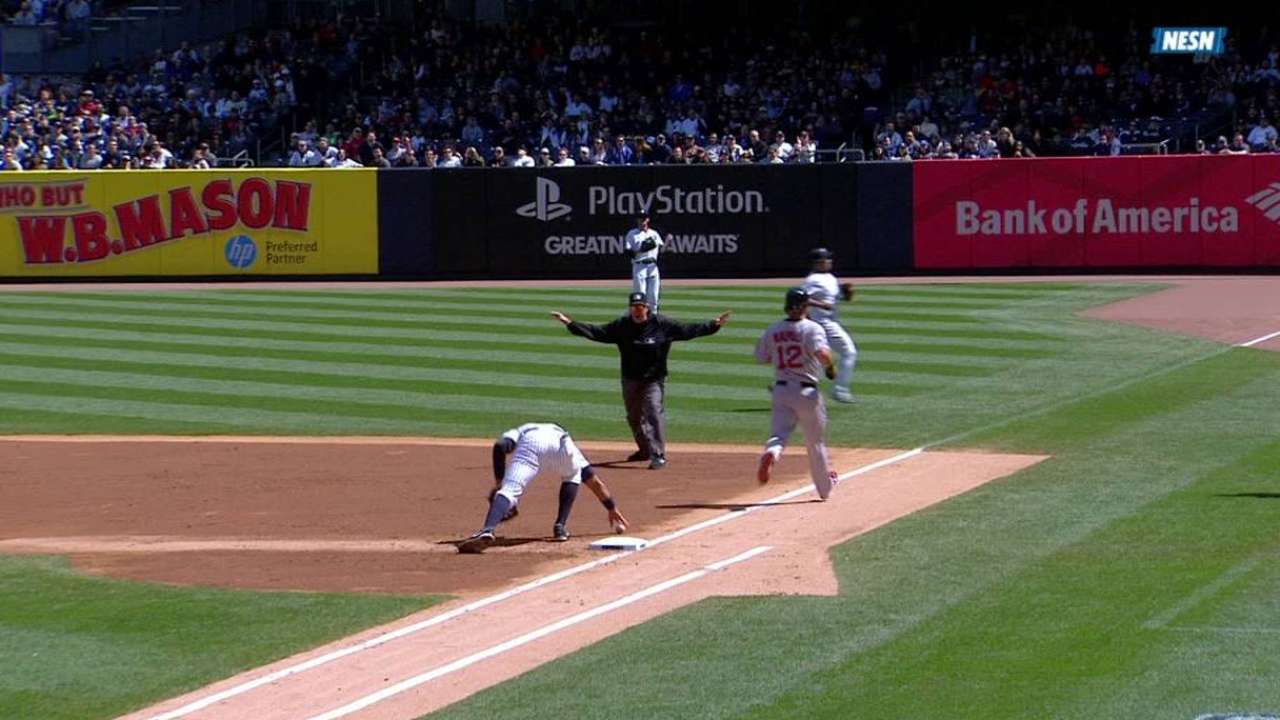 Rodriguez's error occurred in the second inning, when shortstop Didi Gregorius fielded a Mike Napoli grounder and fired to first base. Rodriguez stretched for the throw, but the ball clanged off his glove for an error.
"Just a ball that should be caught, 10 out of 10," Rodriguez said. "I cost Adam [Warren] another 15 pitches in that inning, and that was costly."
From there, Rodriguez was frequently involved in routine plays without incident, though he noticeably opted to receive throws using two hands.
"I've never done it before, probably just like you would do it," Rodriguez said. "I'm just trying to make the play. It's bright out there, too. That's some of the things I was talking to Teixeira [about] -- I thought I made a good adjustment during the game, get in my flex position before they threw the ball, and that actually helped."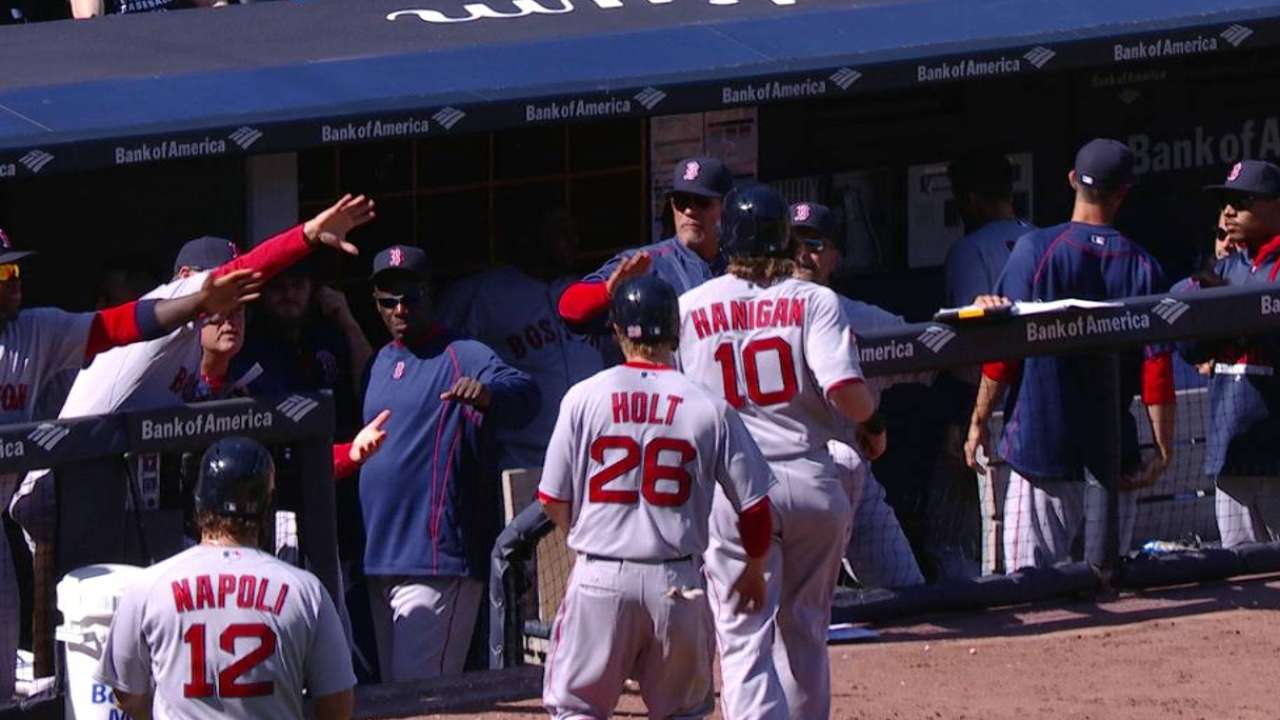 The video-reviewed play came in the eighth on Daniel Nava's chopper to third base. Nava was ruled out by first-base umpire Mike Winters, but the Red Sox challenged and saw the call overturned when Rodriguez's foot was shown to have come off the base too early. The error was charged to Chase Headley and opened the door for a Boston rally, highlighted by Brock Holt's three-run double.
"We all saw it -- obviously, I was off," Rodriguez said. "I've never even done that play in my life. Some of the guys were asking me if I kept my foot on, and I told them I thought I did. I don't have any history -- that's the first time. I was just glad they didn't break my wrist on the throw. I'm usually on the other end of that throw."
Saturday marked Rodriguez's first start in the field since Sept. 10, 2013, and the first time in 2,573 career games that he'd played anywhere other than the left side of the infield or DH. Rodriguez won two American League Gold Glove Awards as a shortstop before moving to third base in 2004.
Bryan Hoch is a reporter for MLB.com. Follow him on Twitter @bryanhoch and read his MLBlog, Bombers Beat. This story was not subject to the approval of Major League Baseball or its clubs.