Puig's debut at third base lasts one play
Dodgers outfielder also gets elusive hit in 10th inning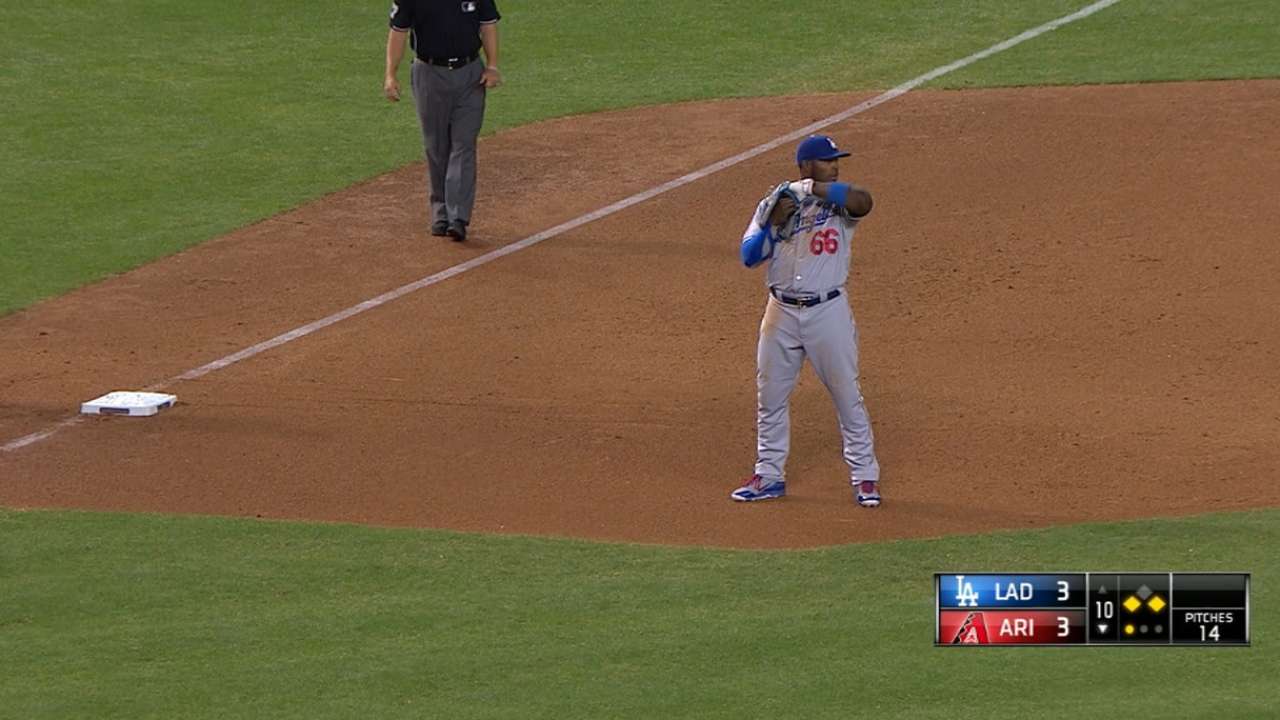 PHOENIX -- Yasiel Puig's debut as a third baseman Friday night lasted one pitch.
Brought in by Dodgers manager Don Mattingly as a fifth infielder in the bottom of the 10th inning with runners on the corners and one out, Puig was guarding the third-base line as part of an overloaded left side. But with Juan Uribe and Jimmy Rollins to his left and Howie Kendrick and Adrian Gonzalez on the right side of second base, Ender Inciarte pulled a J.P. Howell sinker inside Gonzalez and down the line for a 4-3 loss to the D-backs.
"I didn't want them to hit it to him," Mattingly said. "When we worked on it (in Spring Training), he was the best guy of the three in the outfield. Actually, his hands are pretty good. Put him on that side because it's the last place the ball will be hit."
Puig said he has no aspirations to replace Uribe at third base.
"I like shortstop," he said. "I can catch the ball."
He finally showed signs of hitting the ball, too, with a sharp single to center in the top of the 10th. Coming into that at-bat, he was 1-for-16 with six strikeouts.
"Yasiel looks a little frustrated," Mattingly said. "More than anything, you try too hard. You see that with guys that are frustrated, they try to do more and sometimes that's a struggle. It was good to see that hit."
Ken Gurnick is a reporter for MLB.com. This story was not subject to the approval of Major League Baseball or its clubs.