Quality start from Anderson spoiled by Howell's outing
Garcia, Peralta impress in pressure assignments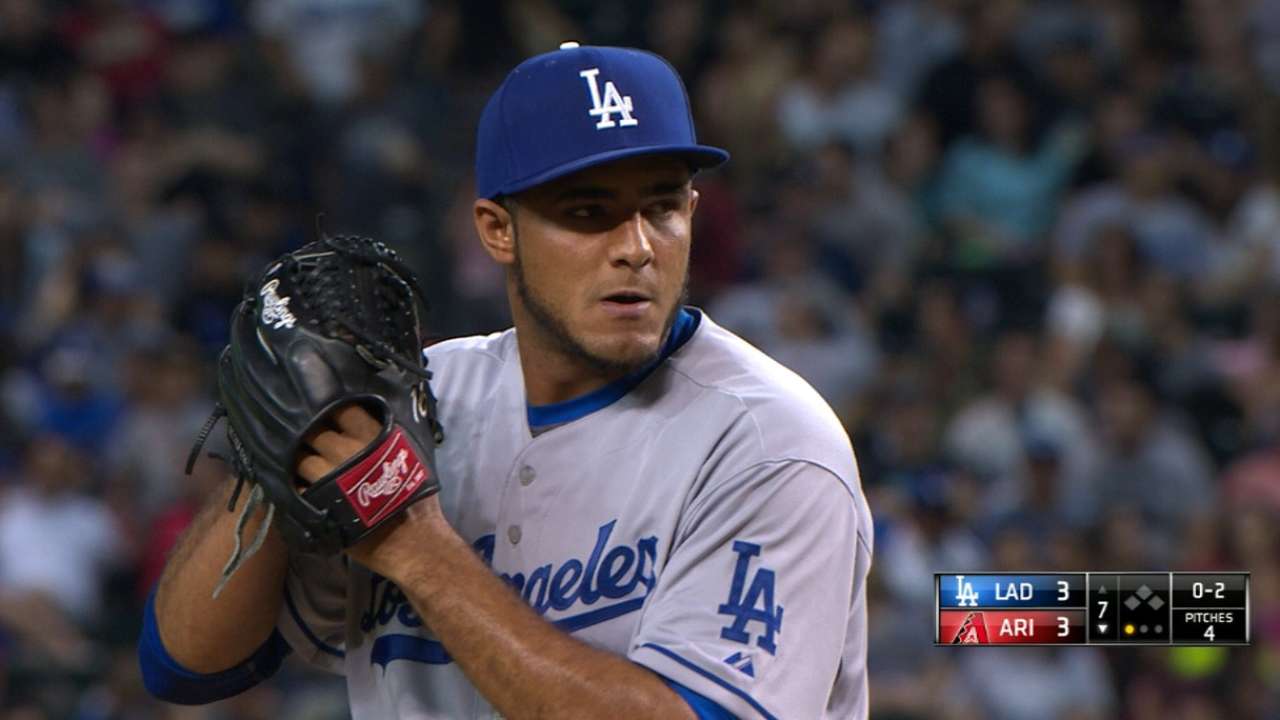 PHOENIX -- Kenley Jansen threw hard on flat ground with no foot pain and said he was itching to speed up his projected mid-May return from surgery.
And that was before he watched the bullpen endure its second loss in the last three games Friday night, when J.P. Howell issued two walks, a wild pitch and a walk-off single to Ender Inciarte in the bottom of the 10th inning in the Dodgers' 4-3 loss to the D-backs.
The Dodgers got a quality start in Brett Anderson's debut, six otherwise solid innings marred by a three-run blast from Paul Goldschmidt, whom the Dodgers can't stop, no matter what analytics they crunch or pitchers they acquire.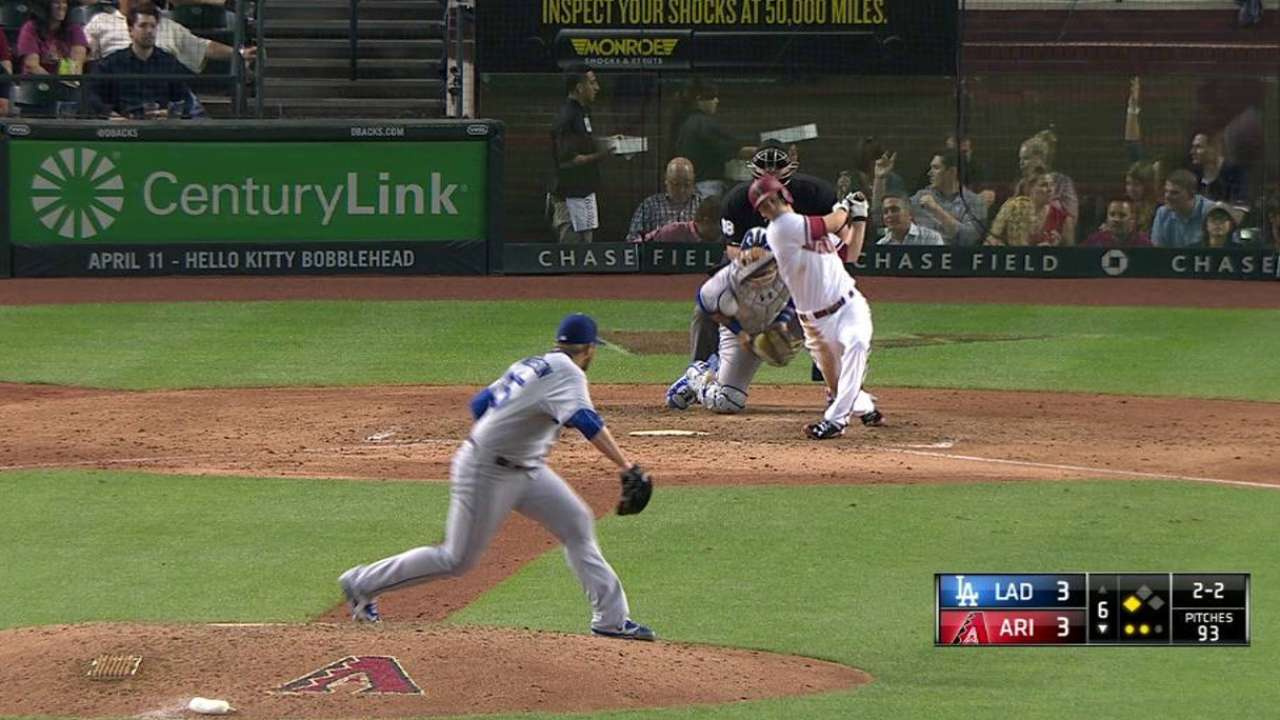 That gave Anderson a no-decision push against Arizona starter Chase Anderson, who allowed a solo shot to Yasmani Grandal and a two-run double to Jimmy Rollins.
Brett Anderson was followed by two scoreless innings from rookie Yimi Garcia, who struck out four in a pressure assignment. Joel Peralta fanned two in a perfect ninth and Howell got the first out in the 10th when things went haywire.
After getting a called strike one on pinch-hitter Cliff Pennington, Howell walked him on four more pitches. He got ahead of A.J. Pollock with a swinging strike, but bounced a 2-1 curve that allowed Pennington to take second. Then he bounced a 3-1 pitch for a walk of Pollock while Pennington was stealing third.
With the winning run on third base and one out, Dodgers manager Don Mattingly went with a five-man infield that included Yasiel Puig at third base. But with the defensive alignment mostly bunched up the middle, Inciarte turned on a sinker and shot it inside the first-base bag.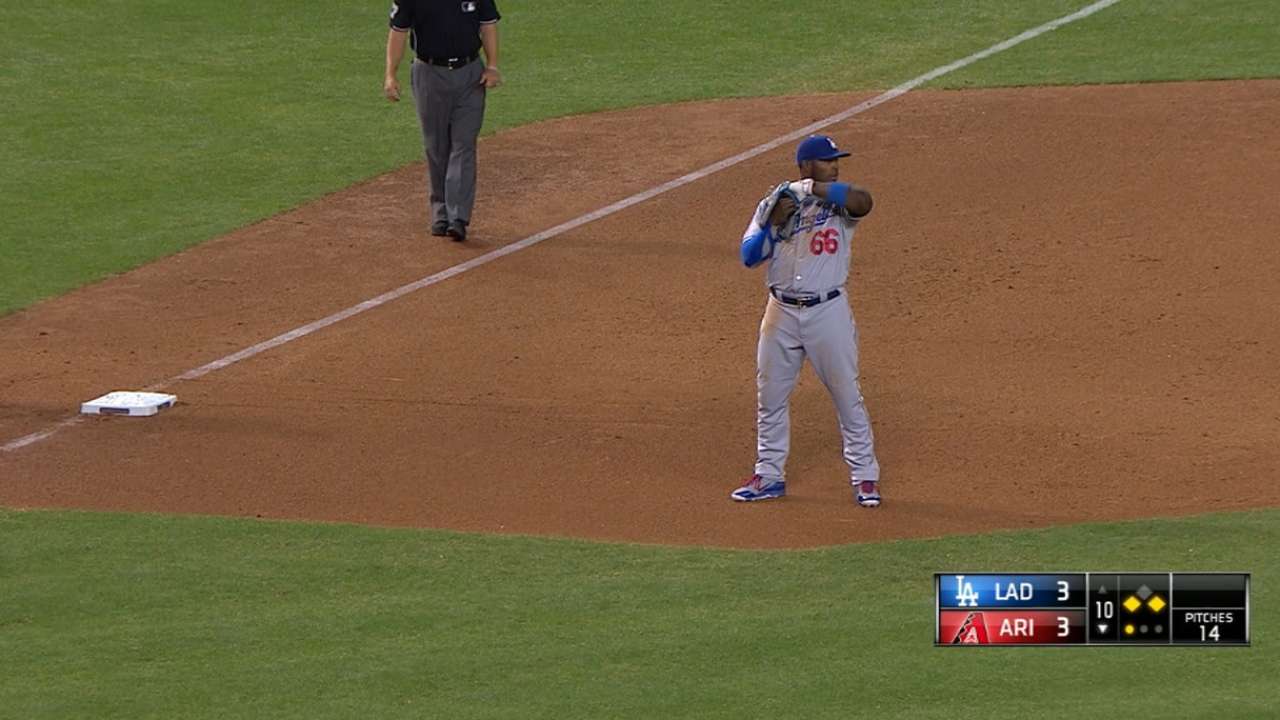 "For sure I didn't want to walk Pennington," said Howell. "I was just being too fine. The second walk killed the whole gameplan. I kind of was trying to set up the double play, but bounced that one and it didn't work out that way. I know I did wrong. I tried to make a great pitch, I didn't execute, I fell behind and they took advantage."
New Dodgers management used a $270 million payroll to add middle infielders and back-of-the-rotation starters Anderson and Brandon McCarthy.
The bullpen, last year's most glaring weakness, was addressed with trades for Peralta, Chris Hatcher and Juan Nicasio (who allowed two hits in one inning Tuesday in a loss to the Padres) and a boatload of non-roster veterans, none of whom made the club out of Spring Training.
Unforeseen were the injuries to Jansen and Brandon League, which have set in motion a domino effect of jumbling the normal roles of the relievers. On Thursday, the Dodgers traded for Ryan Webb, but the club has not revealed why he isn't expected to report for this series.
Ken Gurnick is a reporter for MLB.com. This story was not subject to the approval of Major League Baseball or its clubs.