Fredi making most of Braves platoons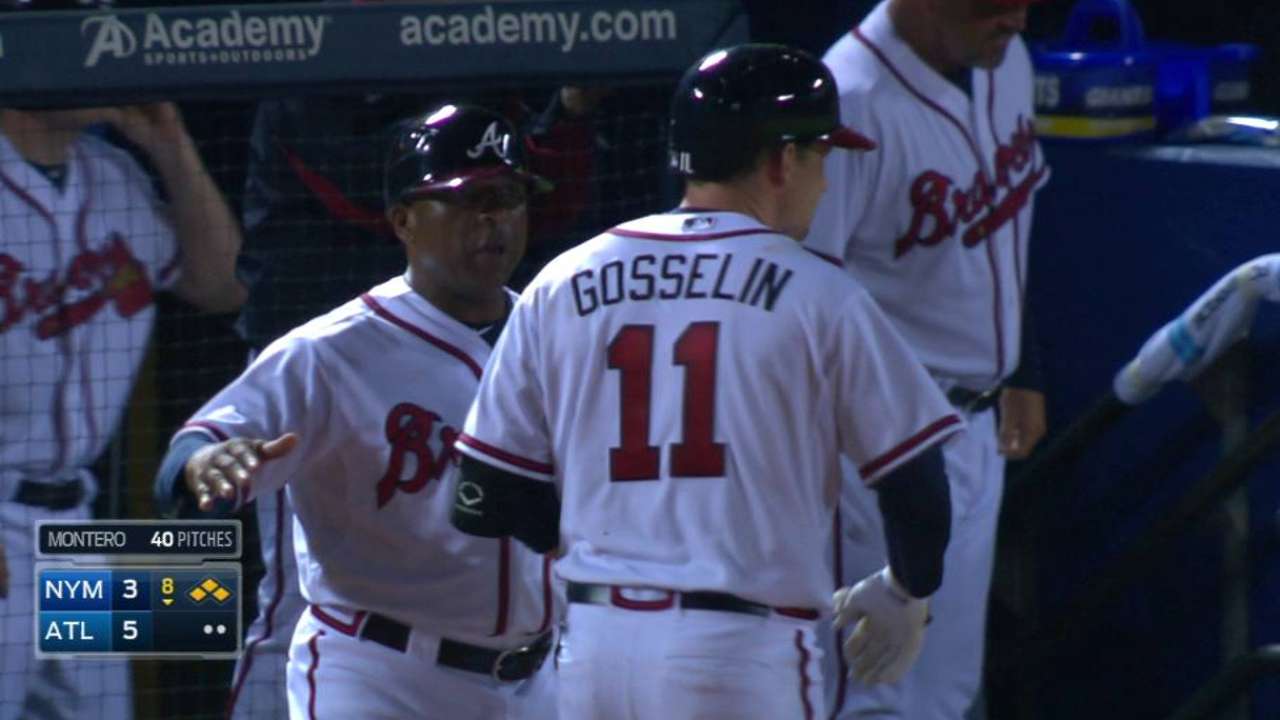 ATLANTA -- As the Braves have quieted their doubters with four consecutive wins to open the season, manager Fredi Gonzalez has taken advantage of the opportunity to maximize the versatility of a lineup that could seemingly assume a different look on a daily basis.
This roster versatility proved quite valuable as the Braves manufactured a pair of eighth-inning runs to claim a 5-3 win in Friday night's home opener against the Mets. Phil Gosselin delivered the game-winning two-run single after the guy he had replaced in the lineup for the night -- Jace Peterson -- had made an athletic hustle play while serving as a pinch-runner for Chris Johnson, who has started just two of the first four games at third base.
"It really is fun," Gonzalez said of the mixing and matching he can do with his lineup both before and during games. "It keeps everybody engaged and you feel like you always have the advantage."
Gonzalez was questioned about his decision to play Gosselin instead of Peterson at second base during the home opener. But by the time the evening was complete, both had made a significant contribution that allowed the Braves to produce a 4-0 record for the first time since 1994.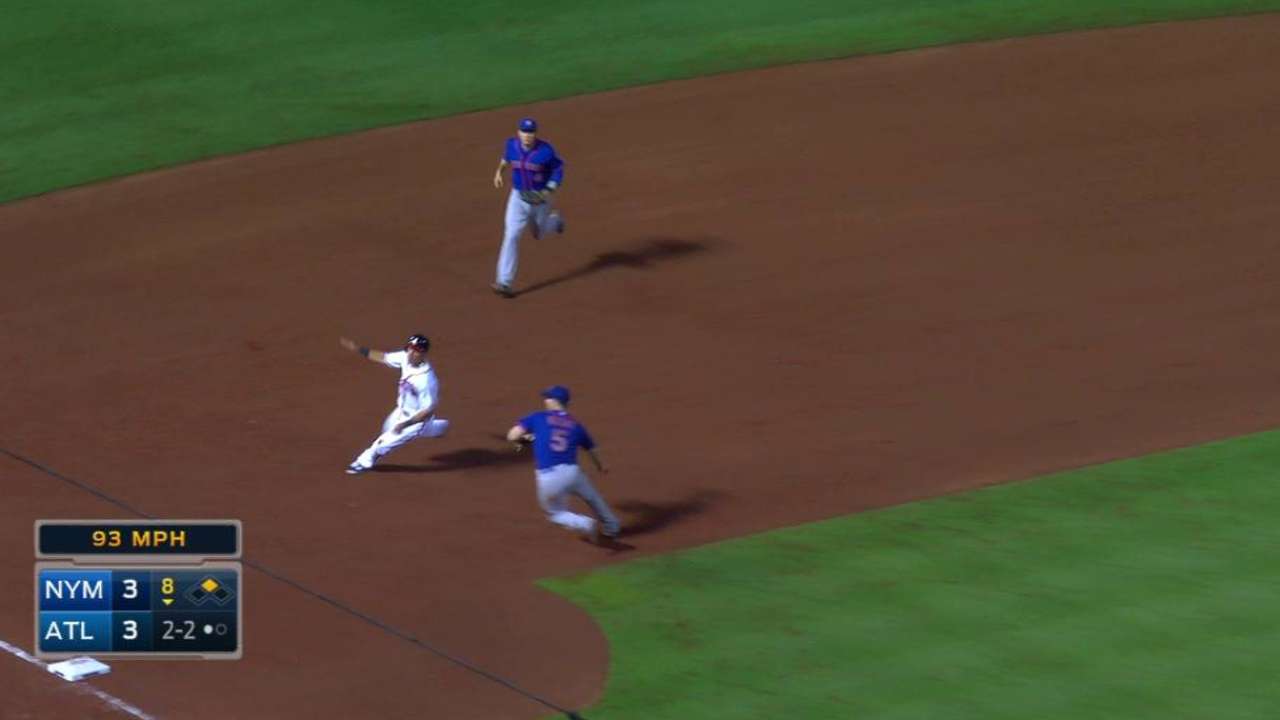 After Johnson doubled to begin the eighth against Rafael Montero, Peterson entered the game and immediately made his presence felt when he reached third base on an Andrelton Simmons grounder that David Wright fielded in front of the bag. When Wright turned back to tag the aggressive Peterson, who had made an alert read on the grounder, it was too late.
"There's more than one way to get a runner over," Peterson said. "If you leave third open and I think I can get it, I'm going to take it."
While Peterson will get a majority of the time at second base, Gosselin was given this start primarily because he was the only Braves player who had not gotten a start this year. The backup infielder went hitless in his first four at-bats of the night, but he delivered when it mattered most, with a line drive single to center that gave the Braves a lead that Jason Grilli preserved to notch his third save.
"Everybody is contributing right now," Gosselin said. "That's going to really serve us well over 162 games. It's a lot of fun."
Gonzalez seems intent on utilizing platoons at third base and in both left field and center field. Eric Young Jr. started the first two games as the club's center fielder and leadoff hitter. But Cameron Maybin has assumed those roles the past two games, and he made an immediate impact on Friday night when he jump-started the offense with his second career leadoff home run.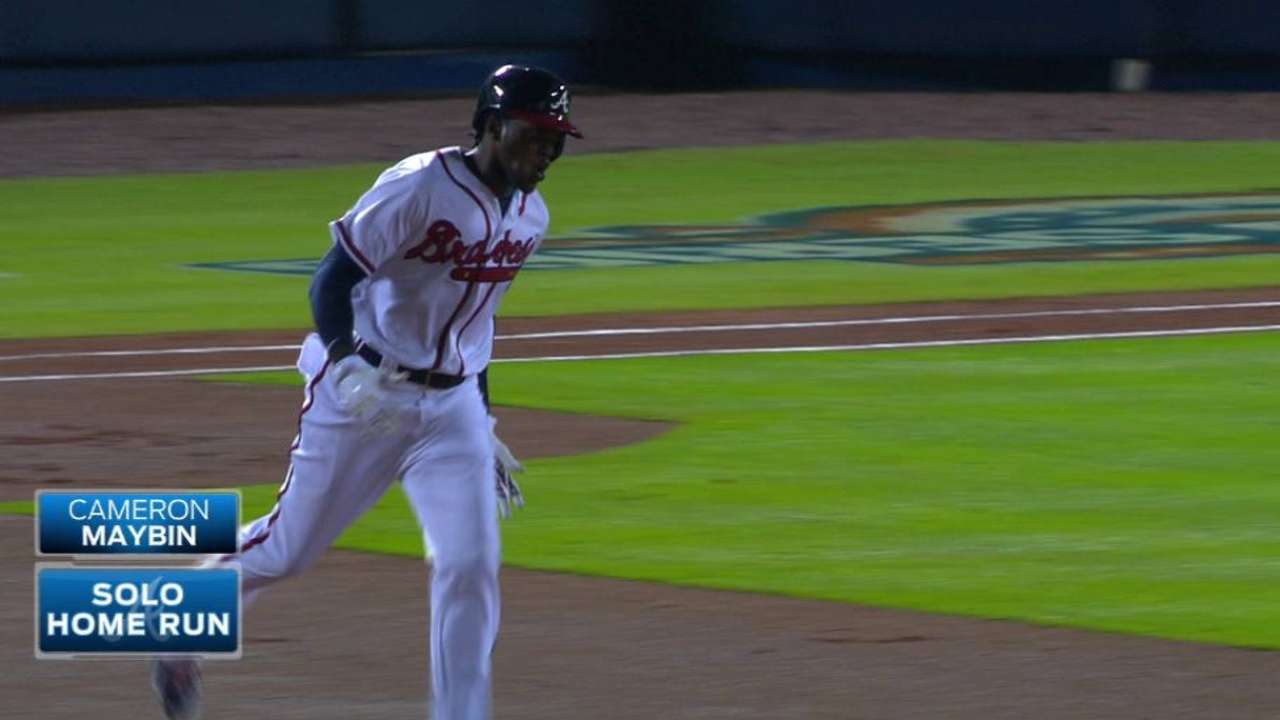 "Everybody is ready and everybody knows at some point, if you don't start, there is a good chance you're going to come in the game and have a chance to do something big," Maybin said. "I think that depth is great. Having so many talented guys that he's not afraid to call on at any point, I think makes it easier for [Gonzalez] to do his job."
Mark Bowman is a reporter for MLB.com. Follow him on Twitter @mlbbowman. This story was not subject to the approval of Major League Baseball or its clubs.