Flores' fielding taking a hit in season's first week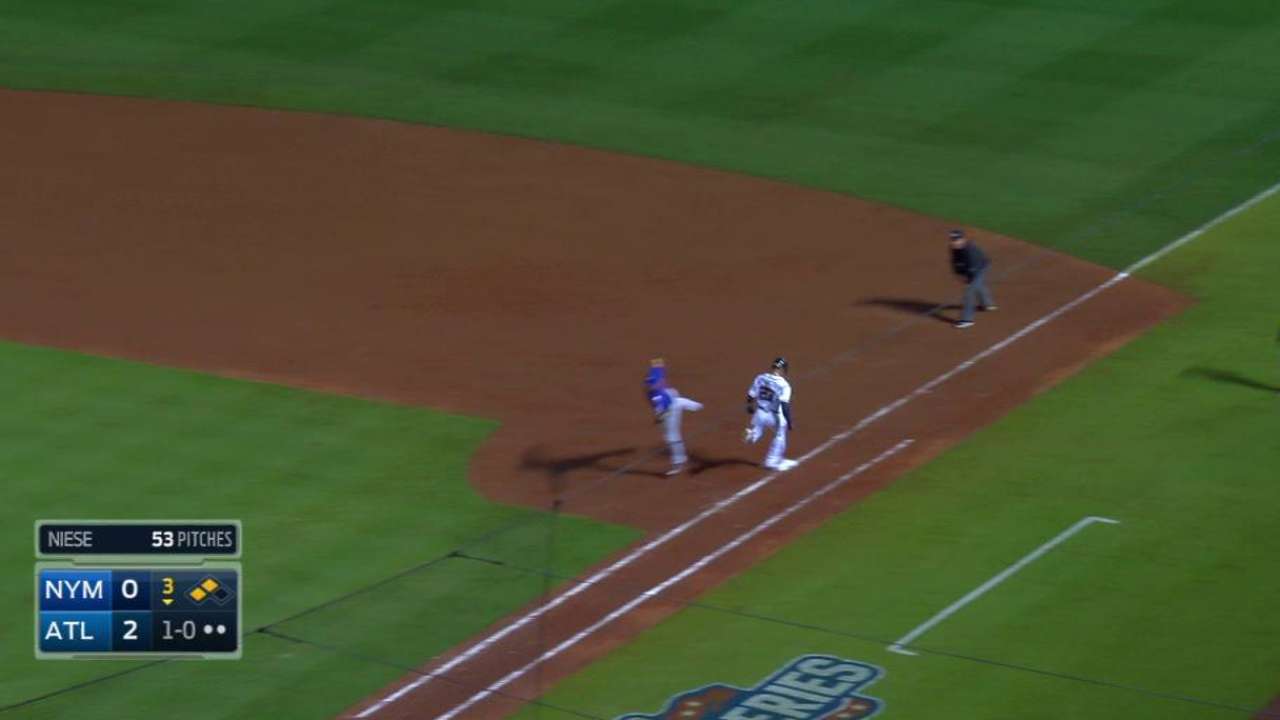 ATLANTA -- As Friday night's dramatics between the Mets and Braves unfolded, Wilmer Flores looked increasingly uncomfortable at shortstop. Perfectly adequate there over the season's first two games, Flores stumbled a bit in committing his first error Thursday in Washington. When he sailed another throw in the first inning Friday, dousing the Braves' run-scoring rally in gasoline, a year's worth of work at the position seemed to unspool around him.
Two innings later, Flores bobbled a Christian Bethancourt grounder hit right at him, rushing the ensuing throw and coming nowhere near hitting his target. That one allowed a run to cross home, making Flores directly responsible for one of the Braves' runs in a 5-3 loss, and indirectly responsible for another.
Asked if the pressures of shortstop might be worming their way into Flores' brain, Mets manager Terry Collins said that "I don't think it's in his head just yet." But Flores admitted the opposite, saying he thought about it "a little bit." And the evidence seemed to side with him.
In the fourth inning, Flores made a nice stop on a ball that third baseman David Wright could not reach, but the shortstop fired high to first base. Because the throw beat batter Phil Gosselin to the bag, first baseman Michael Cuddyer had enough time to corral it for the out and prevent an error.
In the fifth, Flores again threw off the mark to Cuddyer, who just barely tagged Freddie Freeman with his glove to save his shortstop a third miscue. And in the sixth inning, Flores threw the ball in the dirt on another routine grounder, but Cuddyer scooped it. In all, Flores made inaccurate throws on five of his six defensive chances.
"It's not a good feeling when the pitchers are making the right pitches and getting ground balls, and you're not making the plays," Flores said. "It hurts."
"He gets his feet underneath him and knows he's got some time," Collins said. "Just make the play. Catch it and throw it over there."
Coming into this season, the Mets knew Flores would endure some defensive lumps, going years in the Minor Leagues without playing shortstop -- his natural position as a teenager, before a move to second and third base in his 20s. But they were encouraged by his relative success late last season, proving above-average on several defensive metrics down the stretch. Combined with a strong run at shortstop toward the end of Spring Training, those performances hinted at an improving defensive player.
Friday demonstrated something different. And if Flores continues to struggle at the plate as well -- through five games, he's 2-for-14 without a walk or an extra-base hit -- the Mets' shortstop experiment may not last the balance of the season.
"I'm not going to make excuses," Flores said. "I'm not going to start making them now. I just made two bad throws. That's it."
Anthony DiComo is a reporter for MLB.com. Follow him on Twitter @AnthonyDiComo. This story was not subject to the approval of Major League Baseball or its clubs.