Walden laments free pass to Hamilton
Righty hurt by walk to Reds speedster in the eighth inning
CINCINNATI -- Cardinals reliever Jordan Walden says Cincinnati's speedy outfielder Billy Hamilton can change a game with his legs … or, sometimes, by changing the pitcher's mind.
Walden's eighth-inning walk and wild pitch later in the inning set the stage for the decisive run to score Friday night during the Cardinals' 5-4 loss to the Reds at Great American Ball Park.
"Everybody knows how fast he is," Walden said of Hamilton. "I may try to shorten up my delivery a little, but that guy is so quick."
The teams had battled to a 4-4 tie entering the bottom of the eighth. Walden struck out Brennan Boesch, but then walked Hamilton on four pitches.
"That one hurt," Walden said.
Hamilton stole second with Joey Votto batting. Walden then completed an intentional walk to Votto, who had hit home runs in two of his previous three at-bats.
"The pitcher is worried about Joey as much as he's worried about me," Hamilton claimed. "He's a distraction, not me."
Todd Frazier was batting when Walden bounced a pitch in the dirt. Yadier Molina, one of baseball's best defensive catchers, shifted to his right to block the ball, but couldn't come up with it in time to prevent Hamilton from sprinting to third base.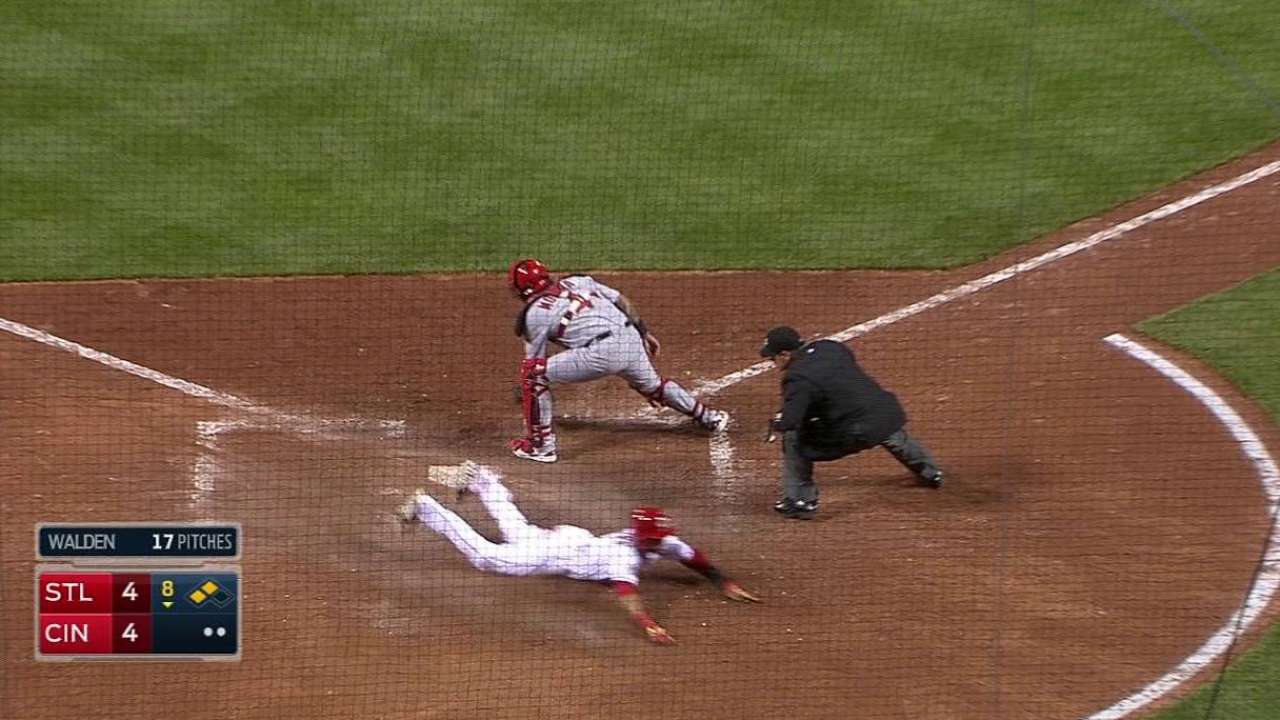 "It was a slider, and it wasn't a good one," Walden said of the wild pitch "Sure, (Hamilton's speed) is in your mind. But you still need to throw a strike."
Walden then fired what he called a "bad pitch" to Todd Frazier, whose high fly ball to right field allowed Hamilton to scamper across home plate with the game-winning run despite a throw from Jason Heyward that St. Louis manager Mike Matheny said was "right on the money."
Walden will certainly have better nights, but the Cardinals will need to find a way to limit Hamilton's ability to disrupt a game. The teams will play 18 more times this season.
"He [Hamilton] turns it into a different game," Matheny said.
Andy Call is a contributor to MLB.com This story was not subject to the approval of Major League Baseball or its clubs.