MLB.com Columnist
Fred Zinkie
DraftKings picks: Trout, Kershaw, Gray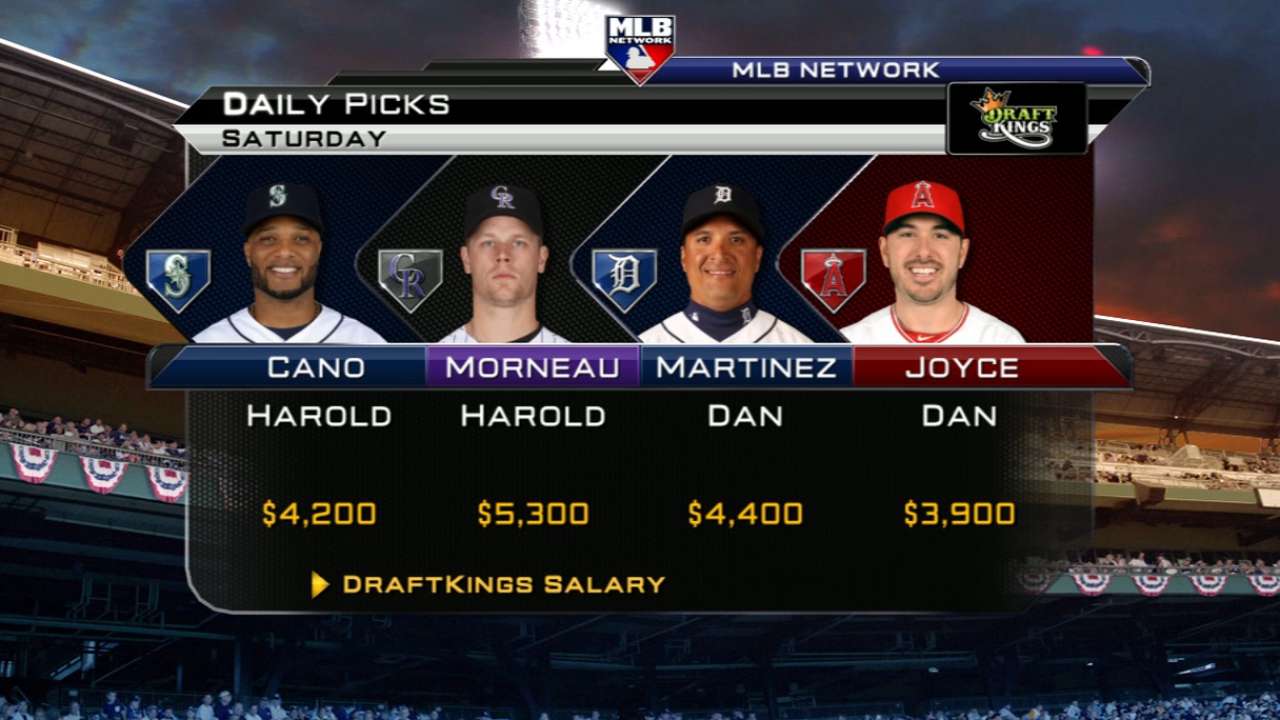 Saturday presents a mixed bag of options, as some teams will be using their fifth starters while others will send their aces out to the hill. The following players could be poised for success.
Carlos Gonzalez (Rockies): The Rockies could score plenty of runs against Jason Hammel in hitter-friendly Coors Field with Gonzalez -- who owns a career .919 OPS vs. right-handers, compared to a .780 mark against lefties -- leading the charge. With his power and speed, the outfielder could help DraftKings participants in many ways.
Corey Dickerson (Rockies): The outfielder got off to a great start in the Rockies' season-opening series in Milwaukee, and his career .949 OPS vs. right-handers (.678 against southpaws) suggests that he could keep things rolling against Hammel. Dickerson has collected 27 of 31 career homers and 83 of 99 career RBIs against righties.
Justin Morneau (Rockies): Morneau could be part of a successful stack, as DraftKings participants hunt for homers at Coors Field. The first baseman has compiled a career .894 OPS against righties such as Hammel, which far exceeds his .704 mark vs. southpaws.
Anthony Rizzo (Cubs): With Rizzo -- who owns a career .825 OPS vs. righties -- as one of their main catalysts, the Cubs should be able to match the Rockies offensively on Saturday. The first baseman could homer off Kyle Kendrick, who has posted a 1.1 HR/9 rate during his career.
Miguel Montero (Cubs): Montero is familiar with the Rockies from his National League West days, and he has hit .299 with nine homers in 157 career at-bats at Coors Field. The catcher could have success against Kendrick, as he has compiled a career .796 OPS vs. right-handers (.650 against lefties).
Brett Gardner (Yankees): Gardner owns a career .749 OPS vs. right-handers (.707 against lefties), and he could combine with Ellsbury to give Kelly trouble at the dish and on the bases.
Prince Fielder (Rangers): The first baseman could have great success on Saturday, as he has mashed right-handers to the tune of a .964 lifetime OPS (.798 vs. lefties). DraftKings participants could stack several Rangers hitters against Astros righty Roberto Hernandez, who owns a 1.41 career WHIP.
Leonys Martin (Rangers): Martin could be a productive part of a Rangers stack, as he may score multiple runs or swipe a base out of the leadoff spot. The outfielder has compiled a career .727 OPS against right-handers (.572 vs. lefties), and 57 of his 70 career steals have come with a righty on the mound.
George Springer (Astros): The outfielder could help the Astros keep pace with the Rangers, as his career .812 OPS against right-handers -- compared to a .774 mark vs. lefties -- suggests that he could have success against Yovani Gallardo. The Rangers starter allowed an average of 23 homers per season with the Brewers from 2011-14, and Springer could take him deep at hitter-friendly Globe Life Park in Arlington.
Mike Trout (Angels): Trout is usually an expensive DraftKings option, but he could be well worth the price Saturday, when he brings his career .963 OPS vs. right-handers (.894 against lefties) into a matchup with Jeremy Guthrie. The outfielder could smack a homer off Guthrie, who has allowed at least 23 homers in eight consecutive seasons.
Matt Joyce (Angels): Joyce is among the best candidates to homer off Guthrie, as he has ripped 79 of his 88 career homers against right-handers. The outfielder is not known as a basestealer, but 27 of his 29 career swipes also came when a right-hander was on the bump.
Adam LaRoche (White Sox): With a career .841 OPS vs. right-handers (compared to a .719 mark vs. lefties), the first baseman is positioned to succeed against Mike Pelfrey. The Twins' fifth starter has compiled a 4.56 ERA and a 1.48 WHIP in his career, and he is coming off an injury-plagued 2014 season.
Clayton Kershaw (Dodgers): Kershaw was merely solid on Opening Day, but he should earn his first win by excelling vs. the D-backs. On the other side, Arizona prospect Archie Bradley will be making his big league debut.
Julio Teheran (Braves): Teheran has posted a 2.80 ERA and a 1.08 WHIP in 218 2/3 career innings at his pitcher-friendly home park. On Saturday, he should have plenty of success against a Mets lineup that offers just two players who surpassed the 13-homer mark last season.
Sonny Gray (A's): The A's ace flirted with a no-hitter in his 2015 debut, and he should come away with a win Saturday if he can have another strong outing against a Mariners squad that will counter with No. 5 starter J.A. Happ.
All statistics are accurate through the completion of Thursday's games.
Fred Zinkie is a senior fantasy baseball writer for MLB.com. Follow him on Twitter at @FredZinkieMLB.
This story was not subject to the approval of Major League Baseball or its clubs.