Buehrle achieves another 'huge milestone' in career
Veteran lefty second pitcher to notch 200th victory with Blue Jays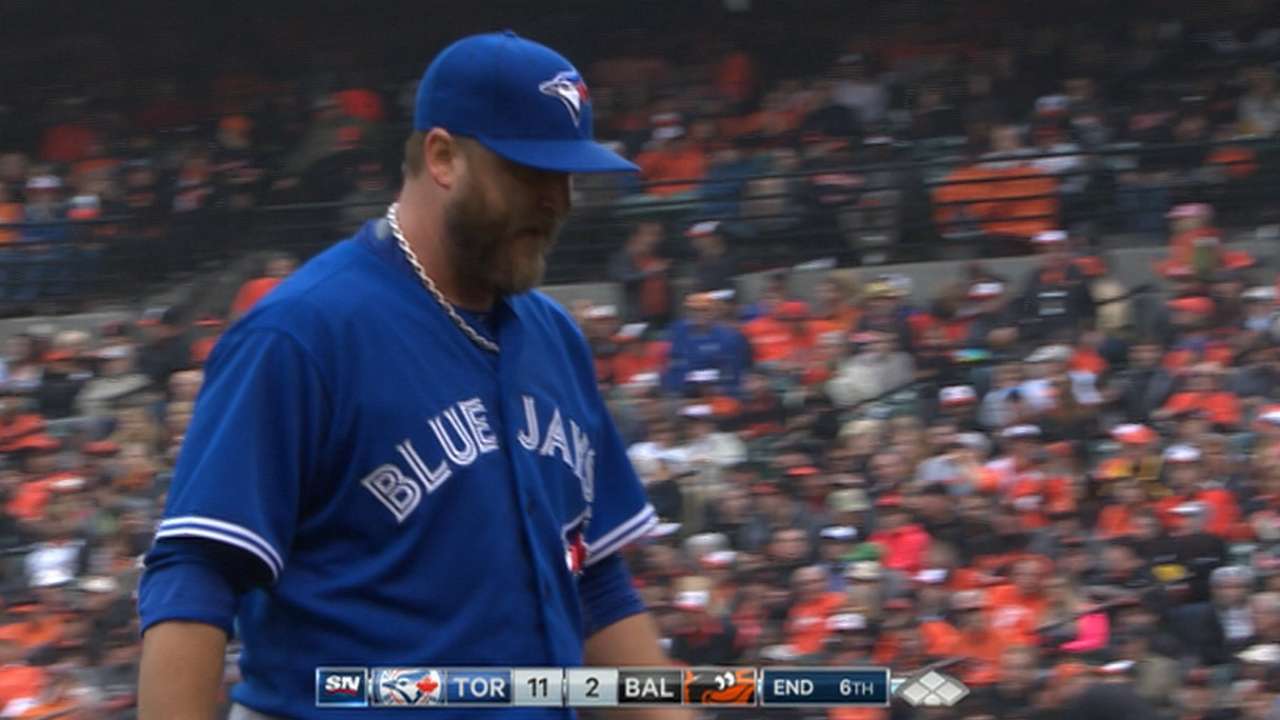 BALTIMORE -- Blue Jays left-hander Mark Buehrle added yet another accolade to his illustrious career Friday afternoon, picking up win No. 200 with six strong innings in a 12-5 victory over the Orioles.
He became the 113th pitcher in Major League history to reach the milestone. He joins Tim Hudson (214), CC Sabathia (208) and Bartolo Colon (205) as the fourth active pitcher to hit the plateau.
The 36-year-old Buehrle is the second pitcher to pick up his 200th victory while wearing a Blue Jays uniform. Roger Clemens also accomplished it May 21, 1997.
"It's going to mean more when I'm retired, sitting on the couch and looking back on everything," Buehrle said. "It's a round number and obviously I've been around awhile, stayed healthy, made some starts.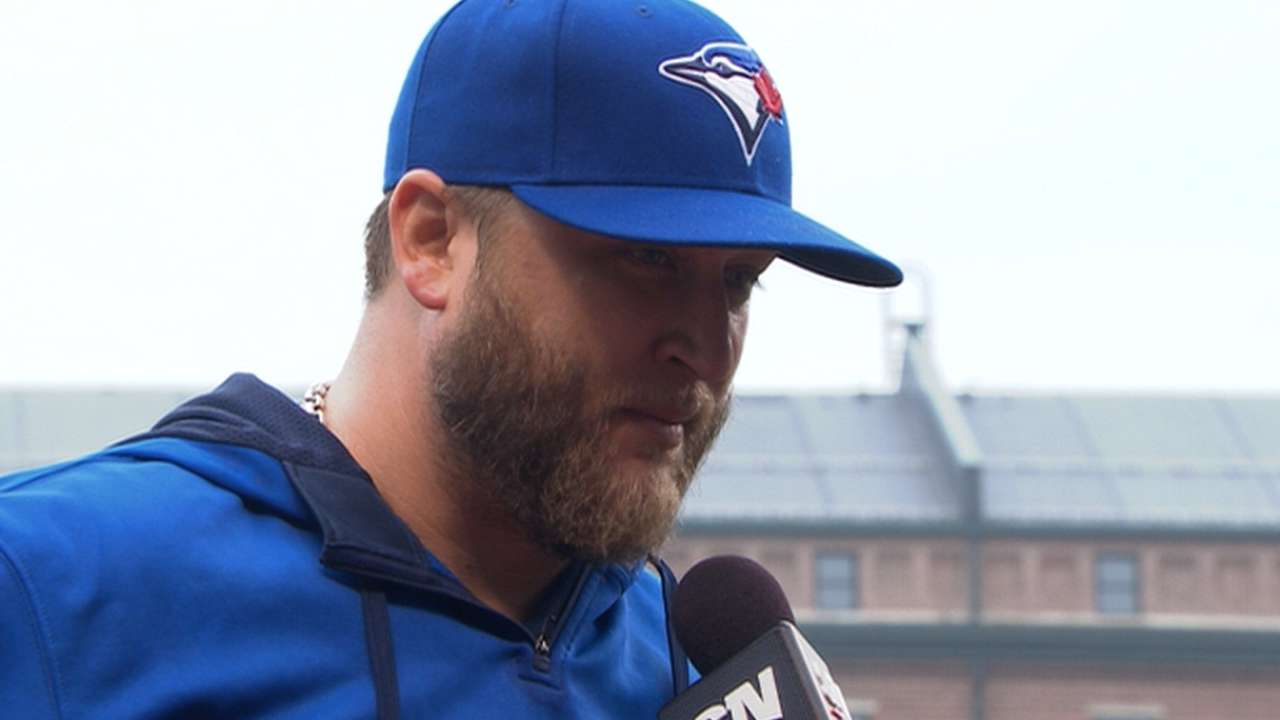 "I don't take it lightly, I know 200 wins is a great accomplishment, but at the same time, I just try to stay healthy, try to win every game I can. I'll look back when I'm retired, just being in the big leagues this long, pitching this many games, this many innings, staying healthy, I'll look back at everything and soak it all in."
Buehrle's accomplishments throughout his 15-year career are nothing short of remarkable. He's the iron man of pitching, making 462 consecutive starts without a stint on the disabled list.
The native of Missouri might not possess the high velocity most pitchers dream about, but he has been able to master his craft with good location and constantly varying speeds. As a result, he's pitched at least 200 innings in 14 straight seasons, which is the most since Don Sutton and Gaylord Perry recorded 15 from 1966-80.
Buehrle also leads active pitchers in starts (462), innings (3090 2/3) and is tied for third in complete games (29). His 14 consecutive seasons with at least 10 wins leads the Major Leagues. These are the types of records that Buehrle's teammates and coaches can't help but marvel at.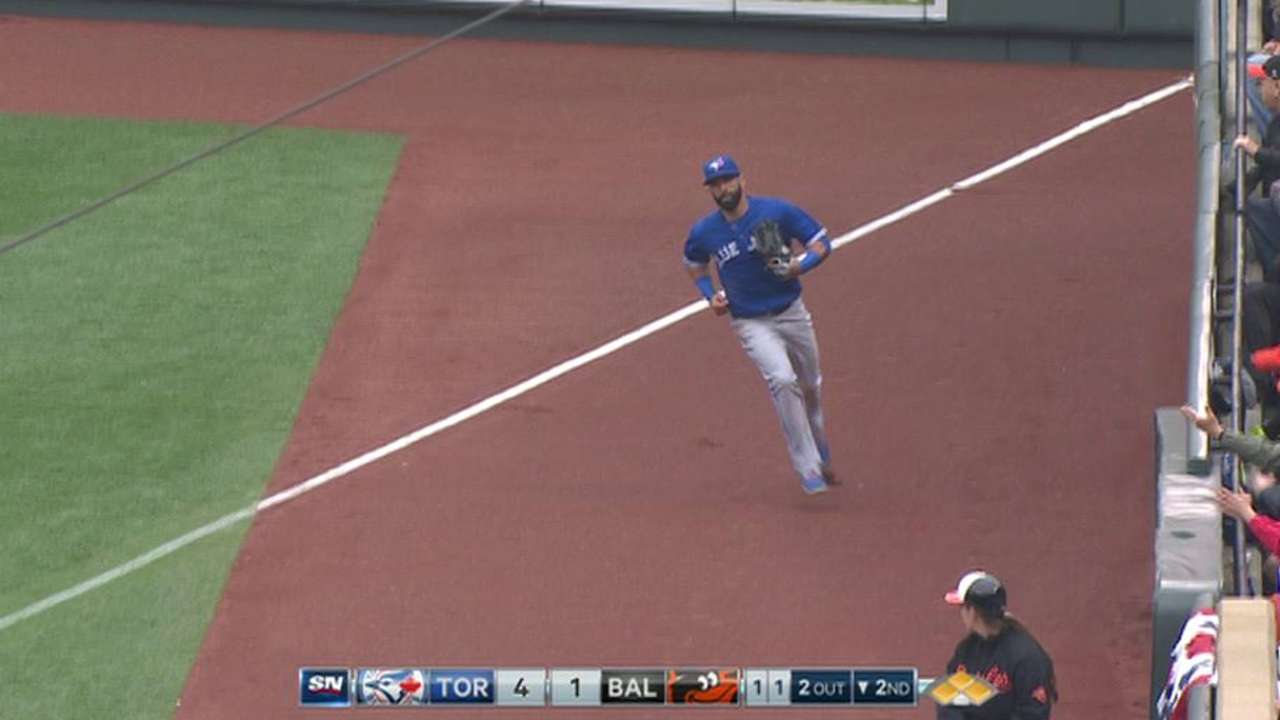 "That's a huge milestone in this business and it couldn't happen to a better guy," Blue Jays manager John Gibbons said of win No. 200. "He's the epitome of a professional baseball player. He lays it out there every night, never an excuse, never been on the DL, 200 innings year after year. What more could you want? My third year with him and he's one of those guys that you'll never forget."
For his part, Buehrle tries to downplay the attention with his usual self-deprecating sense of humor. Following Friday's game, Buehrle was asked about his ability to regularly pitch out of difficulty and the trust he has in the fielders behind him to get the job done. The response was classic Buehrle.
"Throwing 82 mph, you kind of have to," Buehrle said with a laugh. "You kind of have to. I'm not striking guys out. There are situations I'd love to punch a guy out ... but I don't have that capability. I just try to make pitches, put the ball in play and hopefully the best happens."
Gregor Chisholm is a reporter for MLB.com. Read his blog, North of the Border, and follow him on Twitter @gregorMLB. This story was not subject to the approval of Major League Baseball or its clubs.