Lack of curveball at root of McAllister's woes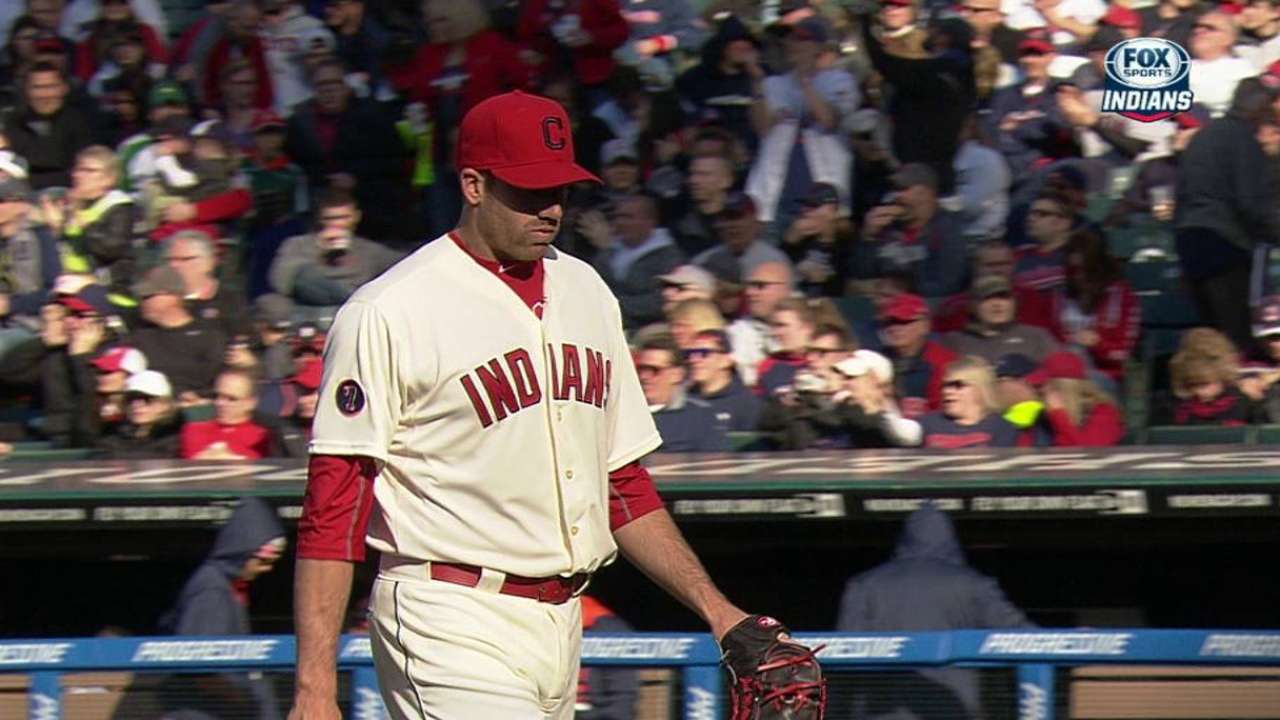 CLEVELAND -- Zach McAllister knows what kind of opportunity is in front of him right now. The Indians pitcher earned a place in the rotation with a strong showing during the spring, and it is up to him now to prove that this second chance can become a permanent placement.
In front of a sold-out, raucous crowd at Progressive Field on Friday, McAllister ran into a Detroit lineup that was unrelenting at the plate, sending the Tribe to an 8-4 loss in its home opener. The Tigers did not hit McAllister hard early on, but they hit him often, taking advantage of the fact that he was struggling to command his secondary pitches.
"Those soft hits can really drive pitchers crazy," McAllister said. "I think I could have executed a little bit better. It was tough today, I didn't have my curveball. That's one pitch that's been a big weapon for me all spring, and it was kind of nonexistent today for me."
In a sense, that formula turned McAllister into a two-pitch pitcher in his season debut. That is a recipe for disaster for a starter, especially one who relies heavily on his fastball. Through the first four innings, all 11 of the Tigers' hits were singles, and the barrage of base hits drove McAllister's pitch count to 90 over that span.
In the fifth inning, Yoenis Cespedes led off with a double and Nick Castellanos followed with a two-run home run to right field, pushing McAllister and Cleveland into a 5-0 hole. That was the end of the road for McAllister, who ended with the most hits allowed (13) in a game by an Indians starter since Justin Masterson also yielded a baker's dozen on July 30, 2010.
Cleveland did what it could to mount a comeback, but the damage had been done.
"I thought coming out of the gate, he had good velocity," Indians manager Terry Francona said of McAllister. "And then I thought once they started stringing those hits together, that's probably when he needed to stay coming in to not let them get extended. That's when they started to do some damage. The righties got extended and hit those balls to right field."
Right now, McAllister might be auditioning to keep his job in the rotation, because the Indians know that the big right-hander can be a weapon out of the bullpen. Last season, the 27-year-old posted a 2.77 ERA in a small sample of relief innings and saw his velocity increase. As a starter, he went 3-7 with a 5.67 ERA in 15 outings.
While McAllister tries to convince Cleveland to keep him as a rotation fixture, highly-touted right-hander Danny Salazar is working and waiting at Triple-A Columbus.
On nights when McAllister has command of three pitches, he is more effective as a starter. He understood that was part of the problem against Detroit.
"It's very important," McAllister said. "I thought my cutter was good today. I was able to use that for strikes and get some soft contact with it and get some grounders. But to not have that third pitch to go with it definitely can make things tough when a good lineup like that knows the fastballs are coming."
Francona was quick to say that Detroit's talented lineup deserves credit for its approach against McAllister.
The pitcher agreed that the Tigers found ways to capitalize on his struggles.
"They're a great lineup, from top to bottom," McAllister said. "They've got guys who can steal, guys who can run, guys with power, guys who can hit. It's a tough lineup. When you don't have all your weapons going, it makes it even more difficult."
Jordan Bastian is a reporter for MLB.com. Read his blog, Major League Bastian, and follow him on Twitter @MLBastian. This story was not subject to the approval of Major League Baseball or its clubs.