MLB.com Columnist
Paul Hagen
Blue Jays bucking offencive trend with aggressive approach
Toronto having no trouble putting runs on board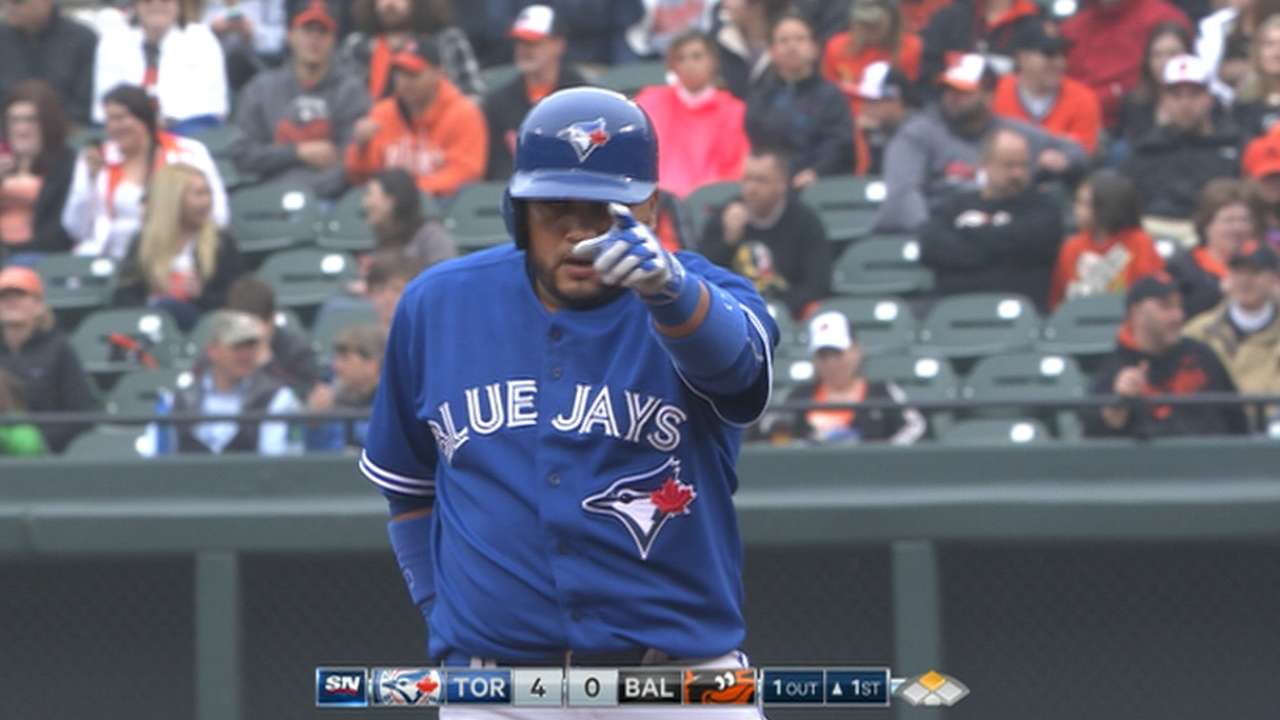 BALTIMORE -- Commissioner Rob Manfred isn't afraid to admit that he's keeping a watchful eye on the recent lack of offense in Major League Baseball. Last season, teams scored an average of 3.5 runs a game, the lowest since 1968.
So far this season, the Blue Jays are behaving like a team intent on putting some boom back in the box scores all by themselves.
Toronto showed a hint of what it's capable of while winning two of three in the season-opening series at Yankee Stadium. The Blue Jays' batting average was low (.218), their slugging percentage was anemic (.317) and their on-base percentage was subpar (.273). Their No. 3 hitter, Jose Bautista, went hitless in 12 at-bats, with eight strikeouts.
And they still averaged five runs per game.
On Friday, Toronto flashed a glimpse of what its lineup could be capable of when everything comes together, rapping out 16 hits, eight of them doubles, in a 12-5 win at Camden Yards, putting a damper on Baltimore's home opener.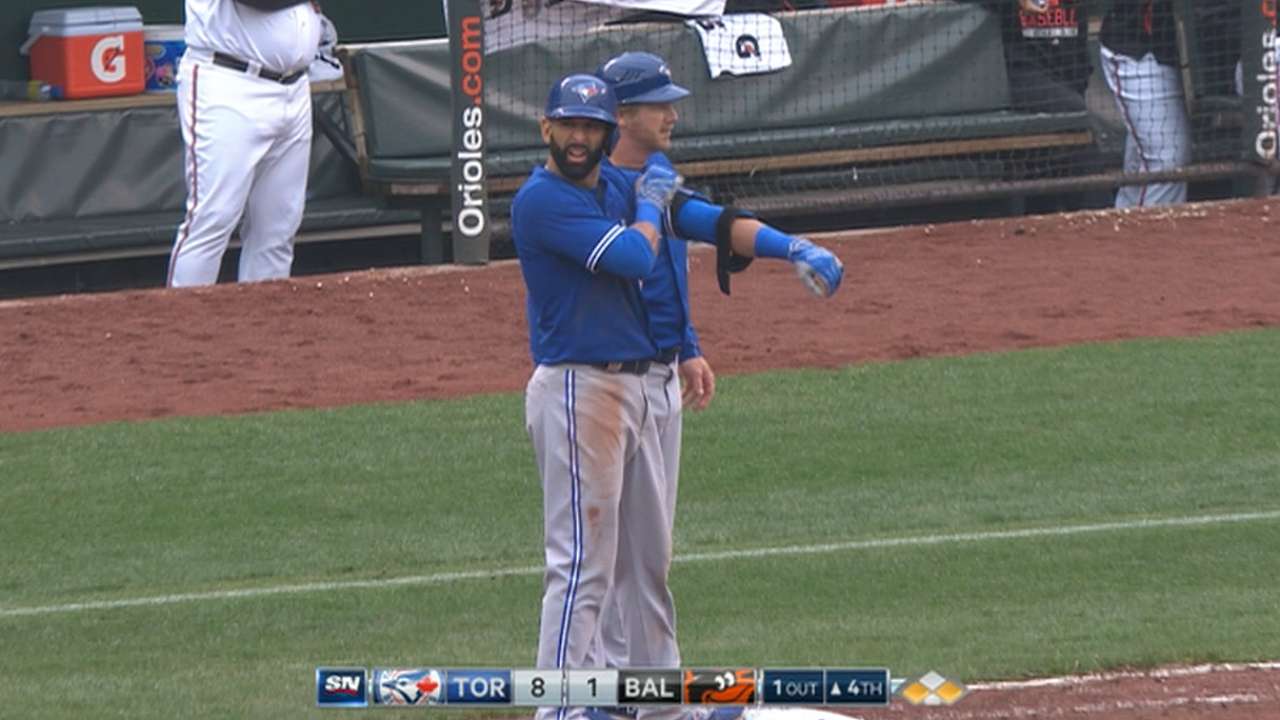 Bautista had a double, two singles, a walk, two RBIs and four runs scored before leaving the game in the bottom of the sixth due to leg cramps.
"We had some really good at-bats," Bautista said. "This team is capable of scoring a lot of runs. It's not a surprise to me. Hopefully we can continue to be consistent with it, because that's what it's all about. We're going to try to avoid those peaks and valleys. If we continue to have good at-bats, the pitcher pretty much has nowhere to go in this lineup. Once you have guys on base, you've got to throw strikes. And everybody in here can hit. That's a good thing."
Now, of course, there will be games when the offense doesn't click. And it's possible that the Blue Jays will have to slug their way into contention this year considering that the pitching staff has two rookies in the rotation (Daniel Norris, Aaron Sanchez) and two in the bullpen (closer Miguel Castro, Roberto Osuna) and that starter Marcus Stroman was lost for the season in Spring Training.
If that's how it plays out, though, the hitters might just be up to the task. And that's not an accident.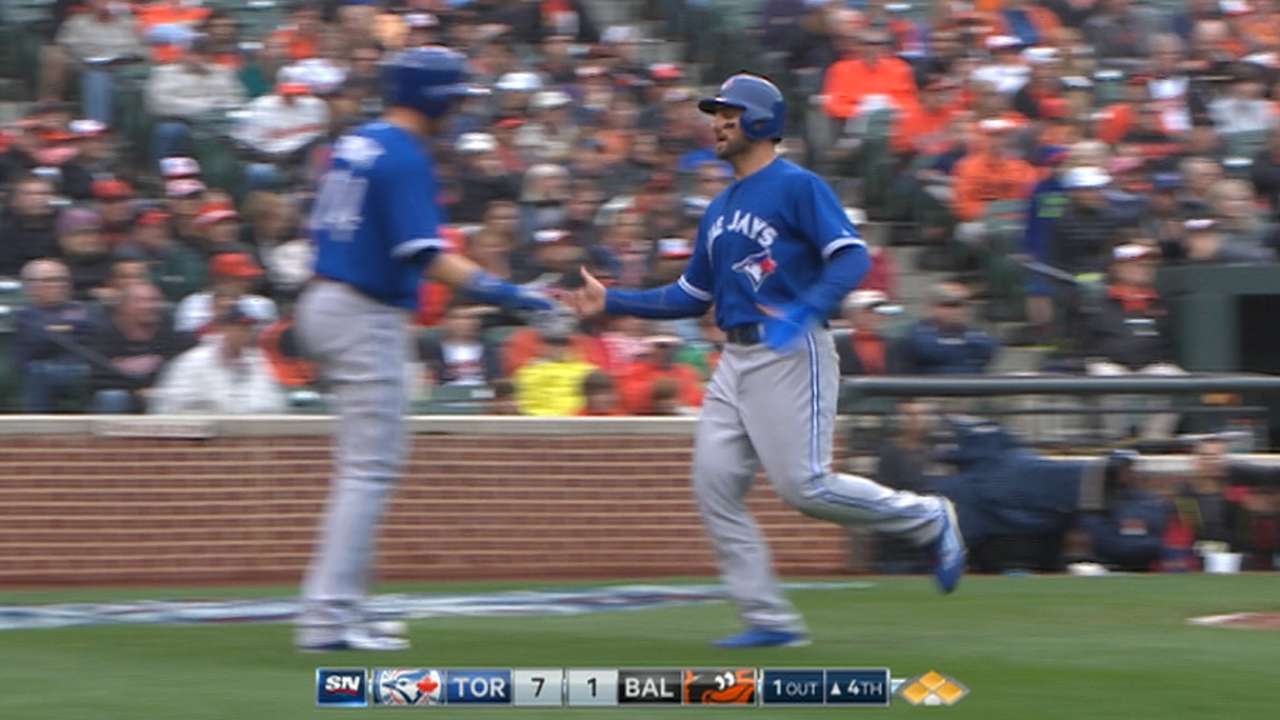 The Blue Jays are aggressive hitters. They swing hard. And after finishing fourth in the American League in runs scored last season, they added third baseman Josh Donaldson in a big trade with Oakland and signed free-agent catcher Russell Martin.
At the same time, they also have the ability to move a runner over, to do what it takes to get a runner in from third with less than two outs. Four of their runs Friday came on sacrifice flies. Donaldson just shook his head when asked about the lineup's potential.
"Who knows? I said this earlier in camp," Donaldson said. "There are some young guys in this lineup that are showing right now that it's not just 3-4-5. Or 1-2-3-4-5. Our lineup is pretty deep. We're comfortable with it, and as long as guys keep doing what they're doing, don't try to do too much and just stick with the process, we'll be pretty successful."
"We did a good job all the way through the game. We had [all those] sac flies. So that shows you we're getting guys on base and guys are doing the job when the opportunity arises."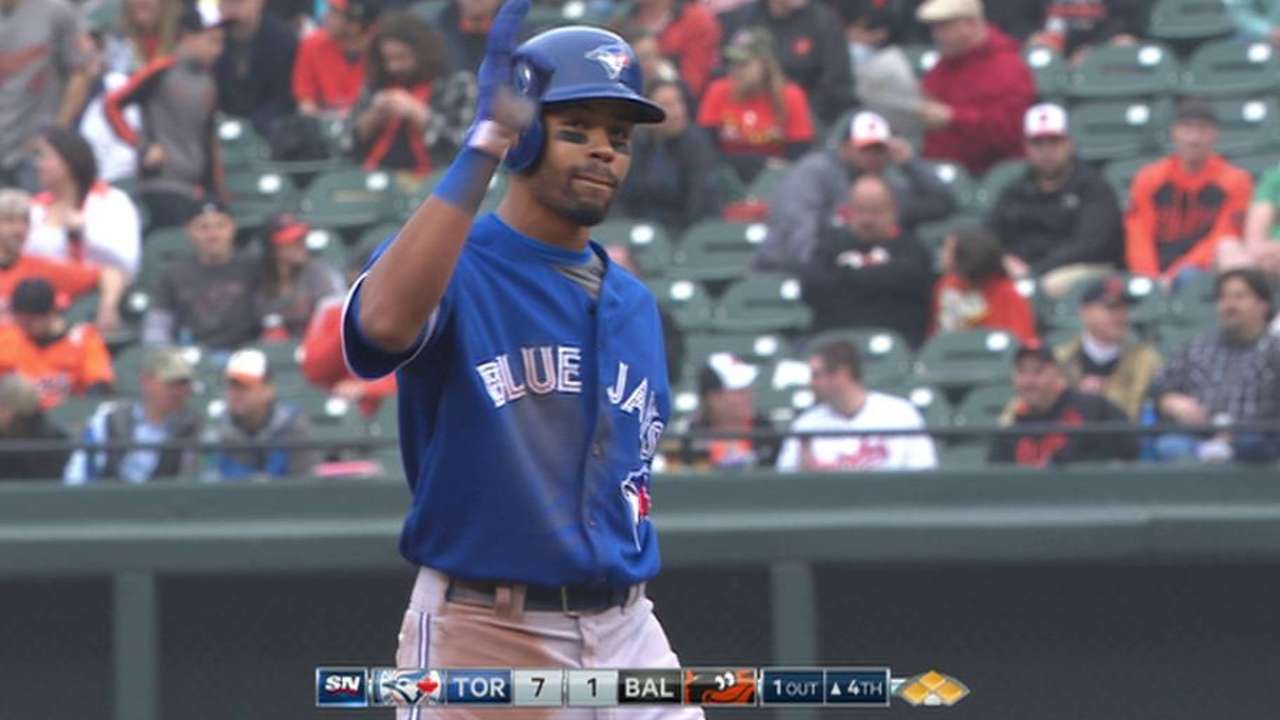 The familiar names are Bautista, shortstop Jose Reyes, Donaldson and cleanup hitter and DH Edwin Encarnacion. The kids Donaldson referred two are rookie center fielder Dalton Pompey, who was moved up to the second spot Friday, and second baseman Devon Travis, who hits ninth. Both are also rookies; Travis, in fact, never played an inning above Double-A before Opening Day this season.
Pompey responded to the change with two doubles, two RBI and two runs scored. Travis had a single and a double and is batting .385.
"We have a good offense," manager John Gibbons. "We've been swinging it all year. It's only four games, but one thing we can do is hit."
That may not be the classic way to build a contending team, but at a time when runs have been hard to come by, going against the grain may put Toronto ahead of the curve. It could be just the formula that gets the Blue Jays back into the postseason for the first time since 1993.
Paul Hagen is a reporter for MLB.com. This story was not subject to the approval of Major League Baseball or its clubs.