MLB.com Columnist
Phil Rogers
White Sox not panicking, even with early uphill climb
Ventura urges his players not to force things because of 0-4 start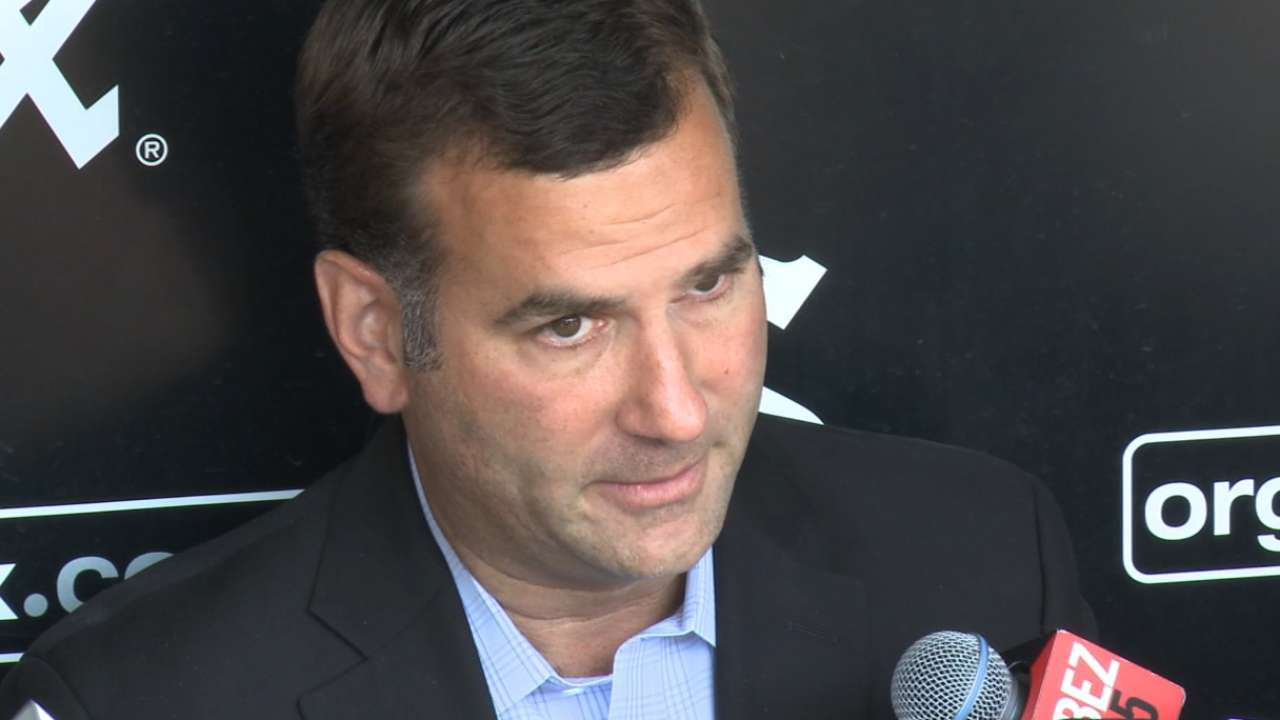 CHICAGO -- Rick Hahn was trying to be funny, and he accomplished that mission.
"You have to go all the way back to 2014 to find the last playoff team that started 0-3," Hahn said on Friday, which was a beautiful afternoon for the first baseball game of the year at U.S Cellular Field.
He was speaking before the 6-0 loss to lefty Tommy Milone and the Twins, which left the White Sox 0-4 after their first trip through a starting rotation that has been missing Chris Sale. They've scored only seven runs in those losses, the first three of which came in Kansas City, but they know this is going to turn, probably sooner rather than later.
"Everybody wants to make a big deal about [this]," third baseman Gordon Beckham said. "But listen, there's going to be a time every team loses four in a row. It's frustrating, a little bit, that we did it at the start of the season, but this could happen anywhere and at some point we'll win a bunch in a row. It's just a matter of time."
Not only is Sale due to make his first start of the season on Sunday, but one of the beautiful things about baseball is how little a seemingly awful beginning can mean in the end. The math of a 162-game season tells us that it takes the first 10 games to equal an NFL opener, so the first month of the season barely takes you to halftime in Week 3 of an NFL season.
There have been five teams to reach the postseason after an 0-4 start since 1995, when the Wild Card era began. The final victory totals of the teams to do it: 100 (1999 Diamondbacks), 96 (2011 Brewers), 94 (2012 Braves), 91 (2011 Rays) and 85 (1995 Reds, albeit that was a strike-shortened year and their .590 winning percentage projects to 96 wins).
So, yes, you can get there from here. Happens all the time, actually.
What you don't want to do is dig yourself a big hole early, or at any time of the season, really. The White Sox have slipped four games behind the Tigers and Royals entering the first weekend of the season, which is not exactly what they envisioned when they traded for Jeff Samardzija and signed David Robertson, Adam LaRoche, Melky Cabrera and Zach Duke as free agents last winter.
Joe Maddon, the new Cubs' manager, this week spoke tellingly about the damage a team can do to itself early in the season.
"It's very beneficial always to get off to a good start," Maddon said. "When you're playing in a five-team division and you get stuck behind people early and claw your way back, there's a lot of energy involved in that. Even last year we were 18 games under .500, which is unbelievable, and got back to .500, which to me is still one of the most staggering things we did in Tampa Bay.
"But it takes a lot out of you. That's my point. It really does. You get back [to .500] and it's, 'Whoa,' and you still have to play at that ridiculous clip. It's really important not to put yourself in that position to begin with."
It's fair to say that everyone who has gone through a playoff race, whether in the Carolina League or the American League, knows that. But Maddon had the lesson reinforced painfully last year with the Rays. The Rays didn't blink when they were 11-16, and then they looked up and were 16-23. Before long it was June 11, and they were 24-42. They put together a 37-19 run to get back to .500 on Aug. 15 but there wasn't enough left in the tank for a final charge. That's the scenario every would-be contender wants to avoid.
"It's not ideal," White Sox catcher Tyler Flowers said. "But we have to put it behind us and move on."
The sooner the better, actually.
The White Sox were one of the most aggressive teams coming out of a 73-win season in 2014. The arrival of Jose Abreu and the continued development of Sale and Jose Quintana were keys in the business strategy shaped by Hahn and Executive Vice President Ken Williams and endorsed by Chairman Jerry Reinsdorf.
White Sox fans reacted enthusiastically to a major upgrading of the roster, with Hahn addressing both the team's fatal flaw (the bullpen) and its strength (the front of the starting rotation). That excitement was tangible on Friday, when the team paid a tribute to late Cuban icon Minnie Minoso before players entered U.S. Cellular Field from the center-field gate, riding in convertibles and in the beds of trucks, for the pregame introductions.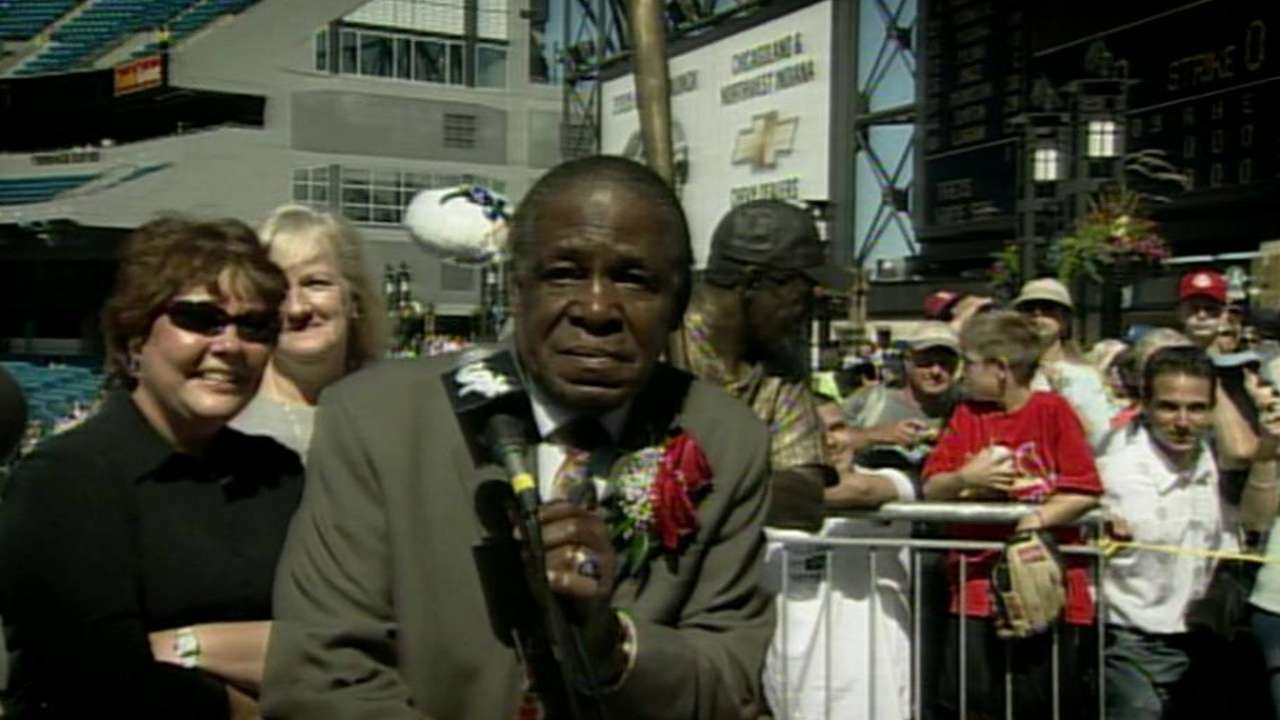 But Milone was commanding his low-90s fastball a lot better than White Sox fifth starter Hector Noesi was the changeup that has become his bread-and-butter pitch. The Twins took the lead on a Joe Mauer single in the first inning, and the Sox could not counter punch.
By the time that Noesi was pulled in the fifth inning, the sellout crowd of 38,533 was restless.
Ditto most of the guys in the White Sox dugout.
Manager Robin Ventura said afterward he felt that some of his hitters were trying to hit "a five-run homer with one runner on," which seems understandable enough. The low point of the day was on the 27th out when Adam Eaton was thrown out at the plate by shortstop Eduardo Escobar when he tried to score on a shallow pop by Abreu.
"That's where you're forcing it," Ventura said. "Just play the game, let the game come to you. When you get through it, you're going to be better off. That's the feeling I get. These guys are trying to do way too much. Maybe believing in the hype, but in the end they are good players. You want to see the runs, the hitting and all that, but right now it's tough."
Milone limited the White Sox to only Micah Johnson's bunt single before an eighth-inning double by Flowers. This marked the third time in four games the White Sox have failed to score two or more runs, following games in which they were shut down by Yordano Ventura, Edinson Volquez and the Royals' bullpen.
This one left a mark, even if the Sox players didn't want anyone to see it.
"It's not ultra-frustrating," Beckham said. "Obviously we'd like to start out a lot better but we have a good team. That stuff is going to come out sooner or later. It just hasn't started very well for us. There's a lot of good on this team, a lot of positives we have in this clubhouse that maybe people don't see and haven't seen in the first four games.''
Hahn takes comfort in knowing that he considered character as well as talent when he put his team together. It's a team that is put together to last. Someone just needs to flip that ignition switch.
Phil Rogers is a national columnist for MLB.com. This story was not subject to the approval of Major League Baseball or its clubs.