Marlins contact MLB about Capps' delivery motion
Pitcher's move off rubber ruled illegal in Triple-A appearance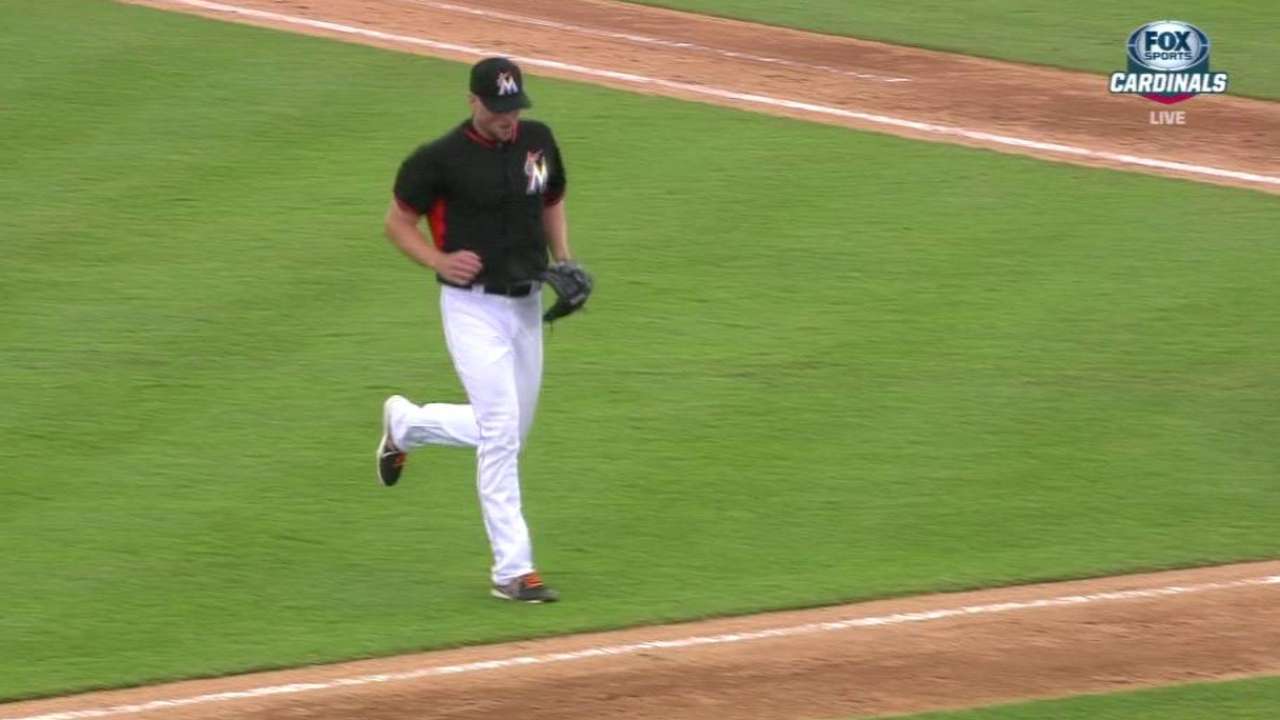 MIAMI -- The Marlins on Friday contacted Major League Baseball seeking clarification on what Triple-A New Orleans reliever Carter Capps was doing wrong with his delivery on Thursday night.
Capps, a right-hander who has made 88 big league appearances, has an unorthodox style where his right foot basically hops from the rubber in the direction of the batter. In Thursday's season opener for New Orleans, the home plate umpired ruled two of the four pitches Capps threw in the 10th inning were not legal pitches, meaning they were called "automatic balls."
Capps was removed from the game, and ended up being the losing pitcher in the Zephyrs' 10-6 setback in 10 innings to Omaha.
"We have a call in to MLB," Marlins general manager Dan Jennings said. "This kid has been here in the big leagues. We're just trying to make sure we have a true understanding of the interpretation of the rule and why it was called against him last night, and it hasn't been called by many others who 'disengage' from the rubber."
Capps' hop is similar to Cardinals reliever Jordan Walden.
"It's just a power thrust that they have off the rubber that starts the unlocking of their hips," Jennings said. "Last night, the umpires in Triple-A in New Orleans said [Capps] was disengaging too soon. Not sure how you define too soon when a pitcher starts towards the plate. I believe that is his delivery and his motion."
MLB Rule 8.01 addresses windups and balks.
According to Rule 8.01(a), The Windup Position, the pitcher shall stand facing the batter, his pivot foot in contact with the pitchers plate and the other foot free. From this position any natural movement associated with his delivery of the ball to the batter commits him to the pitch without interruption or alteration. He shall not raise either foot from the ground, except that in his actual delivery of the ball to the batter, he may take one step backward, and one step forward with his free foot.
The Marlins want clarity so Capps' delivery is not an issue moving forward. The hard-throwing right-hander pitched in 17 games for Miami last year without incident. He is a potential candidate to be called up if necessary.
"Our first priority is you don't want him to do anything that he can potentially hurt himself," Jennings said. "So, we had to get him out so he doesn't make some kind of mechanical adjustment and potentially hurt himself. That's where we are at this moment."
Joe Frisaro is a reporter for MLB.com. He writes a blog, called The Fish Pond. Follow him on Twitter @JoeFrisaro. Bill Chastain is a reporter for MLB.com. This story was not subject to the approval of Major League Baseball or its clubs.