MLB.com Columnist
Anthony Castrovince
First Tribe-Tigers game has familiar tone
Detroit capitalizes on defensive miscues, posts 18 hits to win Central matchup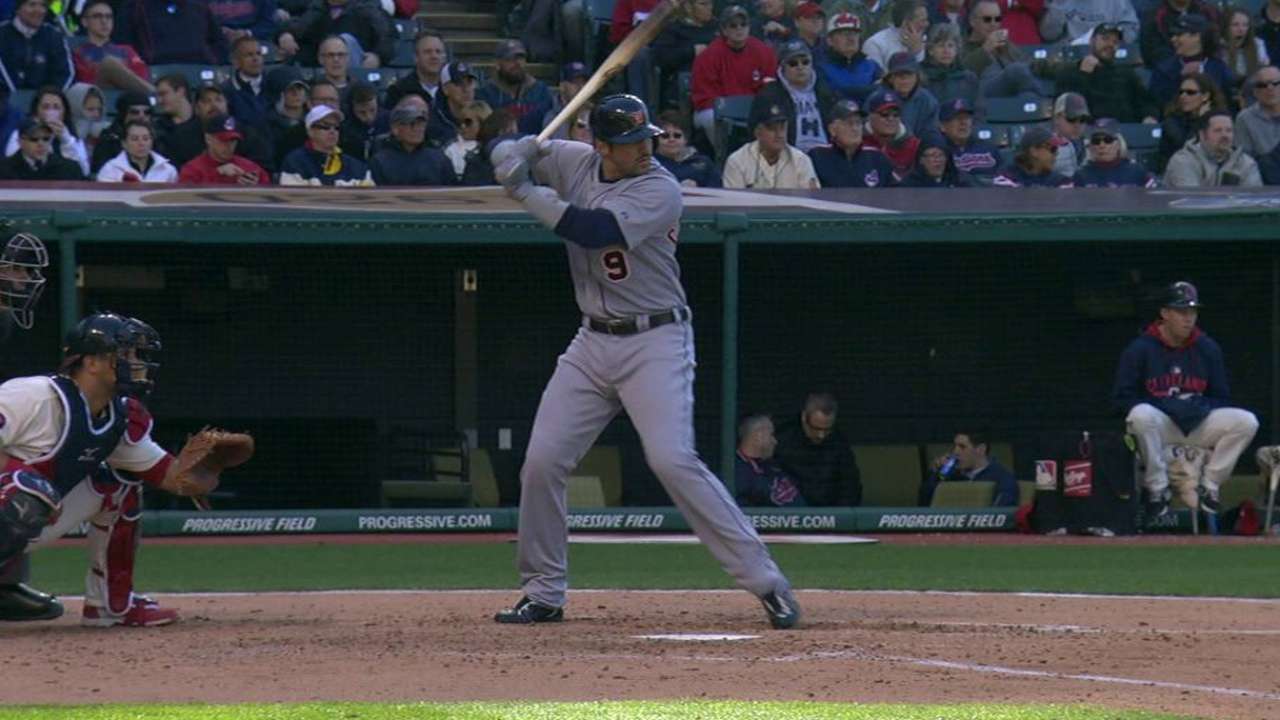 CLEVELAND -- The Indians' home ballpark has reached its legal drinking age, and so it is now fittingly equipped with an impressive multi-level watering hole, one of the many winter renovations that reshaped the right-field district and had Progressive Field feeling like a brand new facility on Friday.
But as far as that final tally on the scoreboard was concerned, well, it had an all-too-familiar look for the home club.
And let's just say there were moments in which the bar came in handy.
Sure, you can put Corey Kluber and Michael Brantley on a regional Sports Illustrated cover, with a bold prediction that the Tribe will win the World Series. You can call this club a sleeper or an outright favorite to unseat the aging Tigers in a deep American League Central. Such attention is understandable.
But until they can routinely take down Detroit between the lines, the Indians still have the look of a little brother.
Yes, that's little more than a jerky, knee-jerk reaction off of one meeting in this long 2015 slate -- a meeting the Tigers won, 8-4, with a steady stream of 18 hits off Zach McAllister and the Tribe bullpen and some help in the form of the Indians' continued defensive foibles -- but nobody could deny it has plenty of recent historical backing behind it.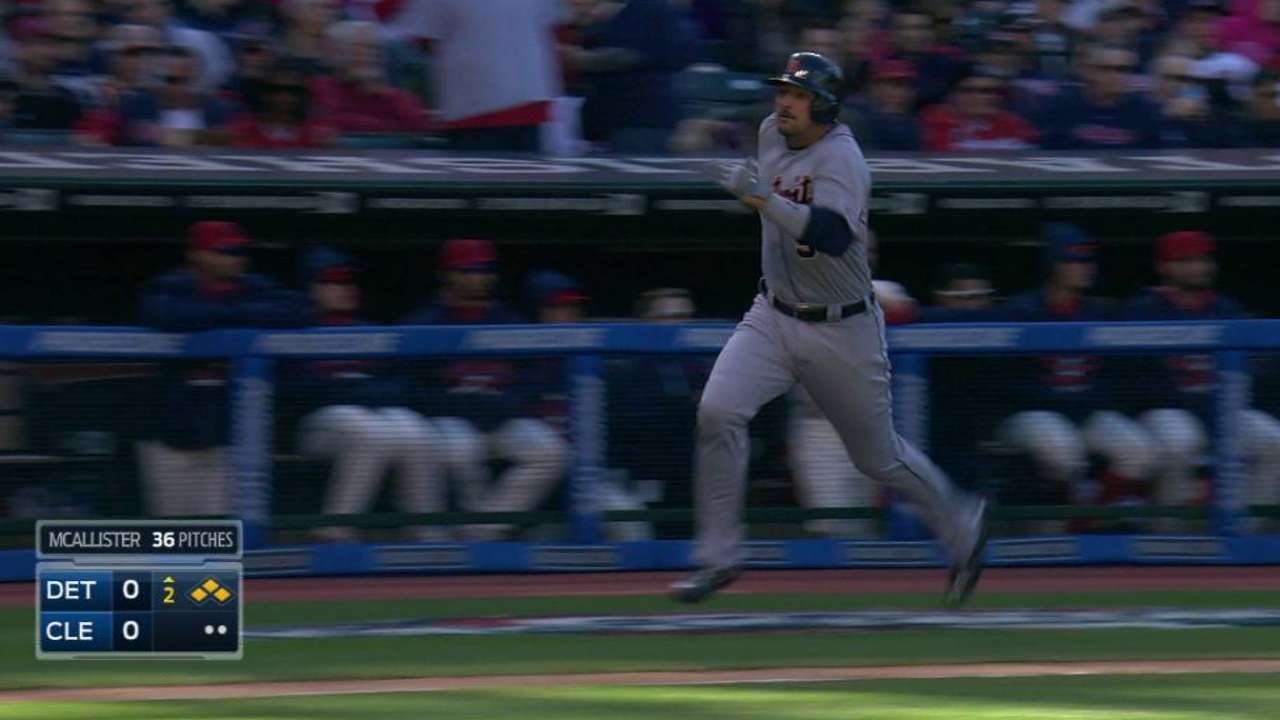 The Tigers and the Indians' 2013-14 combined records were separated by all of six victories (183 for Detroit, 177 for Cleveland). The difference-maker was that when these two clubs collided head-on, the Tribe played the Geo Metro to the Tigers' tank.
Detroit took an astounding 15 of 19 meetings in 2013 and beat the Tribe by a single game in the Central standings. Last year, the Indians encouragingly took seven of the first 11, only to drop seven of the last eight, when the race tightened. They finished five back.
So, yeah, the Indians have plenty to prove in this particular Central showdown.
It's nothing they don't acknowledge.
"Anytime you play teams in your division," said McAllister, "you want to beat them and make them feel your presence."
Few teams have made their presence known in the first week of the season quite like these Tigers. They're hitting .366 with a .559 slugging percentage as a team. It's a strong lineup one through nine.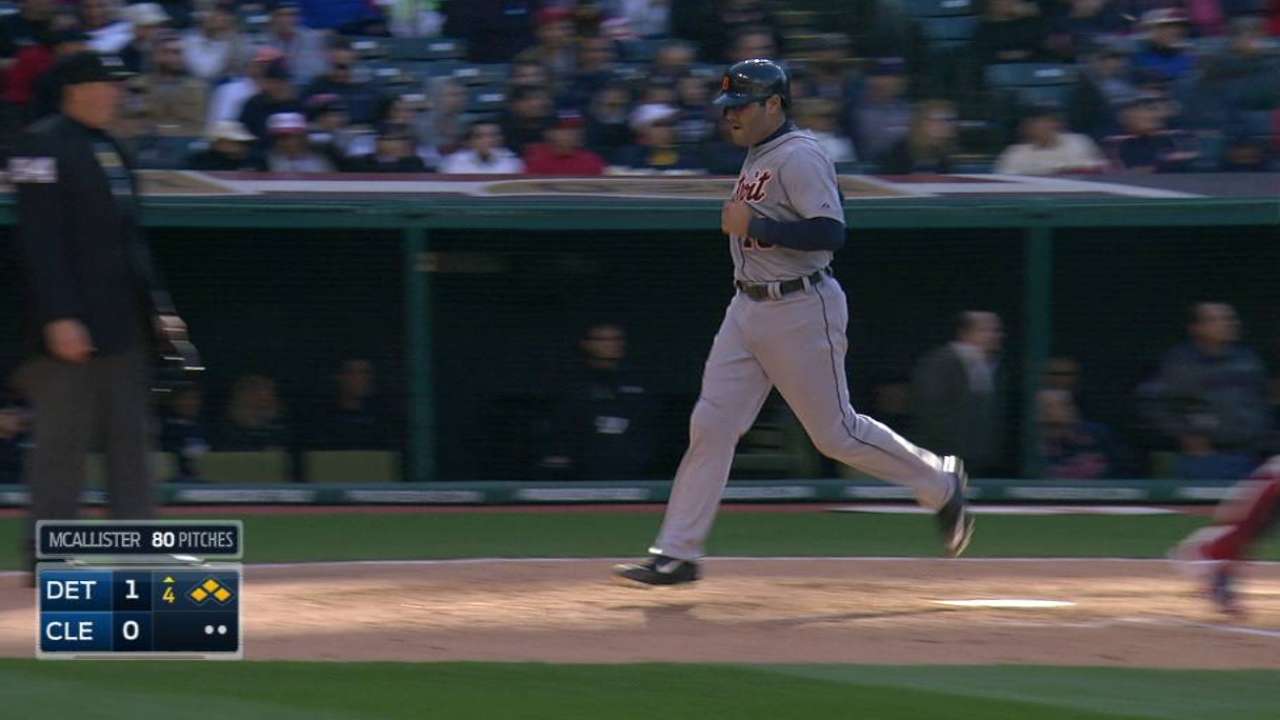 "Especially two through six," said manager Brad Ausmus, referring to the dangerous Ian Kinsler-Miguel Cabrera-Victor Martinez-J.D. Martinez-Yoenis Cespedes grouping. "There's no let-up."
But it's not just Detroit's signature stars who shine when these two clubs get together. Nick Castellanos' otherwise undistinguished career had seen him hit .325 with an .807 OPS against the Tribe coming into the game, and it was his two-run home run in the fifth that made it 5-0 and ended McAllister's afternoon.
What an afternoon it was. McAllister, a rotation inhabitant by virtue of Danny Salazar's spring struggles and Gavin Floyd's spring injury, somehow managed to allow 13 hits in just four-plus innings of work. Astoundingly, 11 of those hits were singles (who knew that aforementioned new pub would qualify as a singles bar?), with the Tigers routinely finding holes for soft stuff.
"I think you've got to give [the Tigers] some credit," Indians manager Terry Francona said. "They have the rare ability to swing hard and not really pull off. There were some balls they hit the other way that aren't necessarily hit real hard, but I don't think it's necessarily luck. They stay on balls so well that they're going to hit balls like that."
The hits weren't all that hurt. With two out and one on in the second, a catchable blooper off the bat of Jose Iglesias fell in between Brantley and shortstop Jose Ramirez in shallow left, extending the inning. Anthony Gose capitalized with the ensuing RBI single to put the game's first run on the board.
A long time later, in the seventh -- after the Tribe had raised the sold-out crowd's spirits by cutting the deficit down to 5-3 and an Iglesias RBI single had pushed it back to 6-3 with two out -- another defensive miscue cut deep. Reliever Marc Rzepczynski errantly threw to first on a would-be groundout by Gose, allowing Iglesias to score all the way from first and Gose to reach third. Kinsler would add an RBI triple to make it two unearned runs in the inning.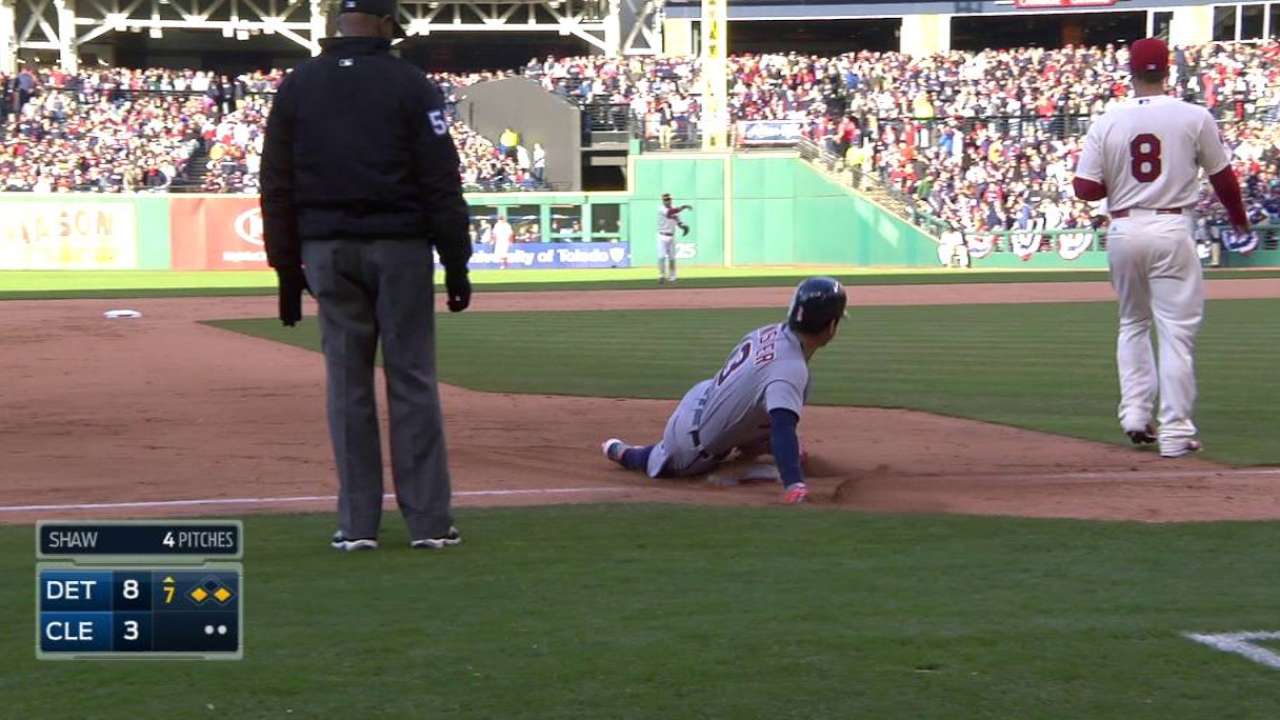 "We talked about it all spring: If they hit the ball 40 or 50 feet, you've got to get an out," Francona said. "That one really hurt."
These are the kind of issues the Indians obviously hope to iron out in the wake of a 2014 season in which they led baseball in errors and finished last in defensive runs saved. That they continued to crop up in front of a crowd that sold the opener out in 11 minutes and against a team they're attempting to assert themselves against only added to the frustration.
The obvious good news: It's only one game, Kluber's pitching Saturday, etc. The Indians do have all season to prove the Tigers aren't in their heads and that they can make their presence felt, as McAllister said.
But if attendees at the opener were hoping for an immediate turnaround in tone, well, at least the bar was open for business.
Anthony Castrovince is a reporter for MLB.com. Read his columns and follow him on Twitter at @Castrovince. This story was not subject to the approval of Major League Baseball or its clubs.