Castillo third catcher to start for Cubs in 3 games
Maddon expects rotation to keep trio fresh; Fowler makes return to Denver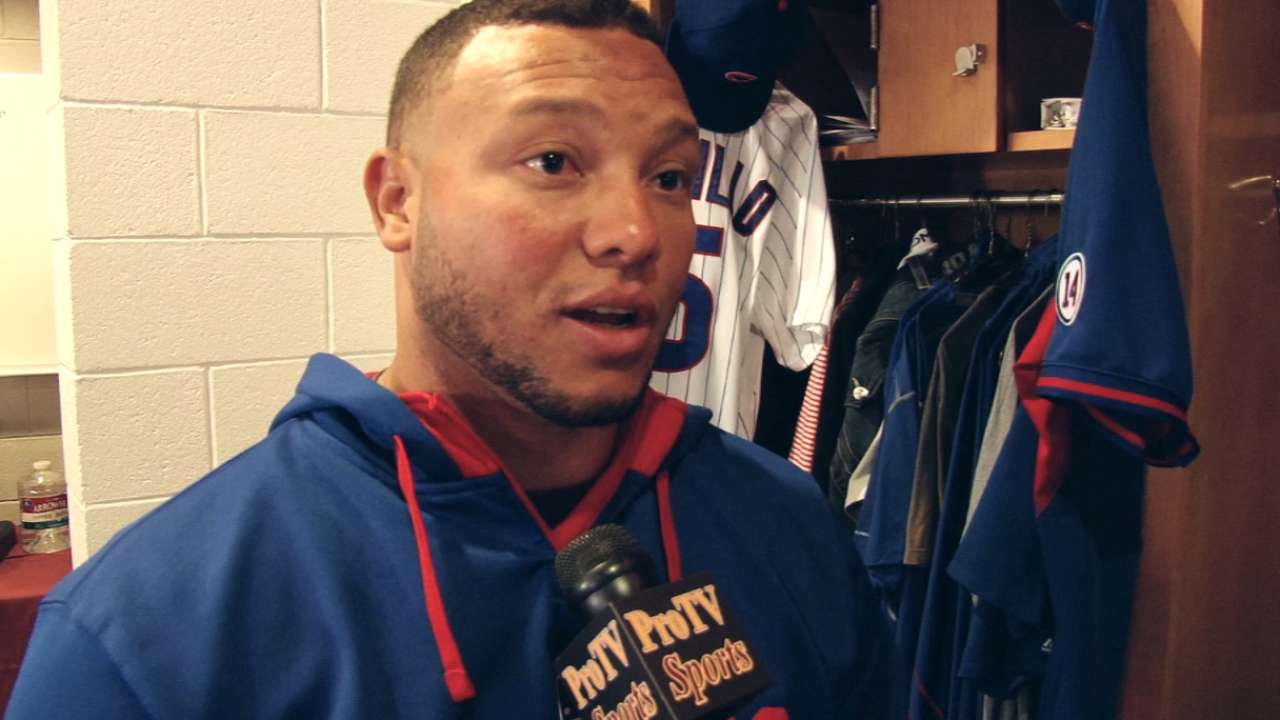 DENVER -- Cubs manager Joe Maddon started his third catcher in three games for Friday's series opener in Colorado. He was optimistic about his plan, saying he expected it to work "wonderfully."
"You have three really good catchers that are able to play," Maddon said after writing Welington Castillo into the lineup, following David Ross' Opening Night start and Miguel Montero's start Wednesday. "Baseball has this cruel way of answering questions for you and creating more time for people. It's really early in the season, so it can be a little more exaggerating for these particular guys. I get that. But the one thing we've talked about from day one is it's about all of us. It's not just about one individual."
The plan is part of Maddon's vision that includes October baseball for the Cubs for the first time since 2008.
"I also believe with this awkwardly great situation, it should make everybody more rested and healthy for playoff time this year," Maddon said. "In the beginning, it always seems like it's bunched up, and it bothers people. But when the season gets its rhythm and everybody starts to play on a more consistent basis, that'll all work itself out."
Castillo was the Cubs' regular catcher over the past two seasons, and he is taking a team-oriented approach to the three-way platoon.
"I'm just here to play and help the team win games, whenever they need me to do it," Castillo said.
• Center fielder Dexter Fowler returned to Coors Field for the first time since he was traded following the 2013 season. With Houston moving to the American League that year, his Astros never made a trip to Denver.
"It's weird, staying at the hotel," a smiling Fowler said of his first time facing his old team. "I should have some fun. I'm excited about it."
Fowler played in six seasons for the Rockies and was their starting center fielder for the bulk of his tenure, earning Gold Glove consideration early in his career. He hit .300 with 13 homers and 11 triples in a standout 2012. He has Colorado's franchise records with 619 games in center and 53 triples, and his 1,295 outfield putouts are third among Rockies outfielders.
"Hopefully, it's a good reception," Fowler said. "The fans have always been great to me, especially here."
Fowler wasn't disappointed, as he received a rousing ovation when he was introduced coming out of the visitors' dugout for Colorado's home opener.
Owen Perkins is a contributor to MLB.com. This story was not subject to the approval of Major League Baseball or its clubs.