Cubs place Grimm on DL with forearm injury, recall Schlitter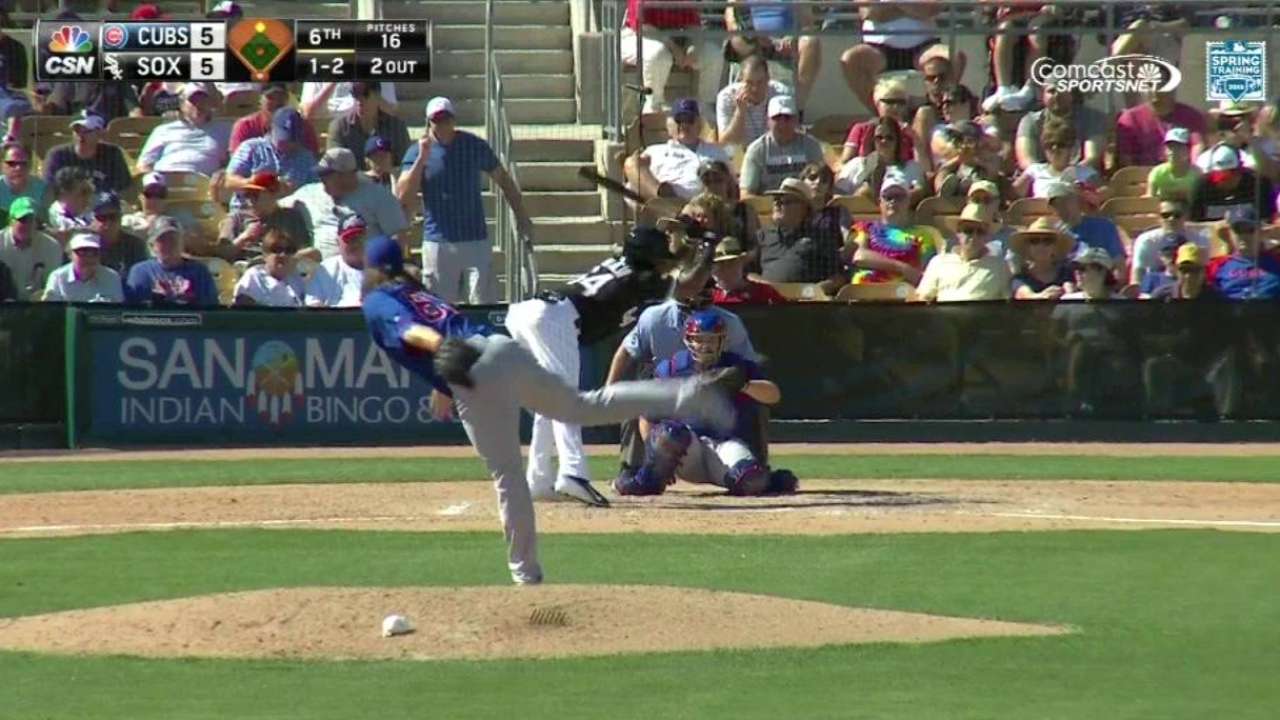 DENVER -- Reliever Justin Grimm was placed on the disabled list for the Cubs on Friday after battling inflammation in his right forearm throughout the latter part of Spring Training. Right-hander Brian Schlitter was recalled from Triple-A Iowa to take Grimm's spot in the bullpen.
"I'm hearing it's not too serious," manager Joe Maddon said of Grimm's injury before Friday's series opener with the Rockies. "It's been a nagging thing he's had off and on. It's one of those things when the pitcher thinks, 'I can just throw through it,' but it didn't resolve itself, and we thought rest would be the best thing. There's no hurry. You want to make sure he's well. He's a big part of our future. We've got 'Schlittz' coming up, and our depth is so good in the Minor Leagues that you don't want to take chances with anybody."
Grimm had not pitched during the Cubs' first two games of the season. He was 0-1 with a 7.94 ERA in six Cactus League games totaling 5 2/3 innings. The 26-year-old was 5-2 with a 3.78 ERA in 73 appearances last season.
Schlitter missed Iowa's opening game in Memphis, Tenn., on Thursday to fly out and join the Cubs in Denver. He hasn't pitched since an exhibition game against the D-backs on Friday, when he allowed two hits and a run in the final inning of a 5-1 loss.
"I had a good enough spring that I felt like I could have easily been here from the start, but I wasn't, so I went about my business," Schlitter said. "I'm just going to take the same line of attack and try to get hitters out one at a time."
The 29-year-old was 1-1 with a 10.00 ERA in seven games (nine innings) of Cactus League play. Last season, Schlitter was 2-3 with a 4.15 ERA in 61 games for the Cubs. His ERA was 2.98 in 42 1/3 innings of relief before the All-Star break, but he was slowed in the second half of the season by a shoulder injury. In 54 of his 61 games, he allowed one earned run or none.
Owen Perkins is a contributor to MLB.com. This story was not subject to the approval of Major League Baseball or its clubs.