Smoltz 'selfishly' selects Franchise Four for Tigers
Personal choice comes into final picks of Gehringer, Kaline, Trammell and Verlander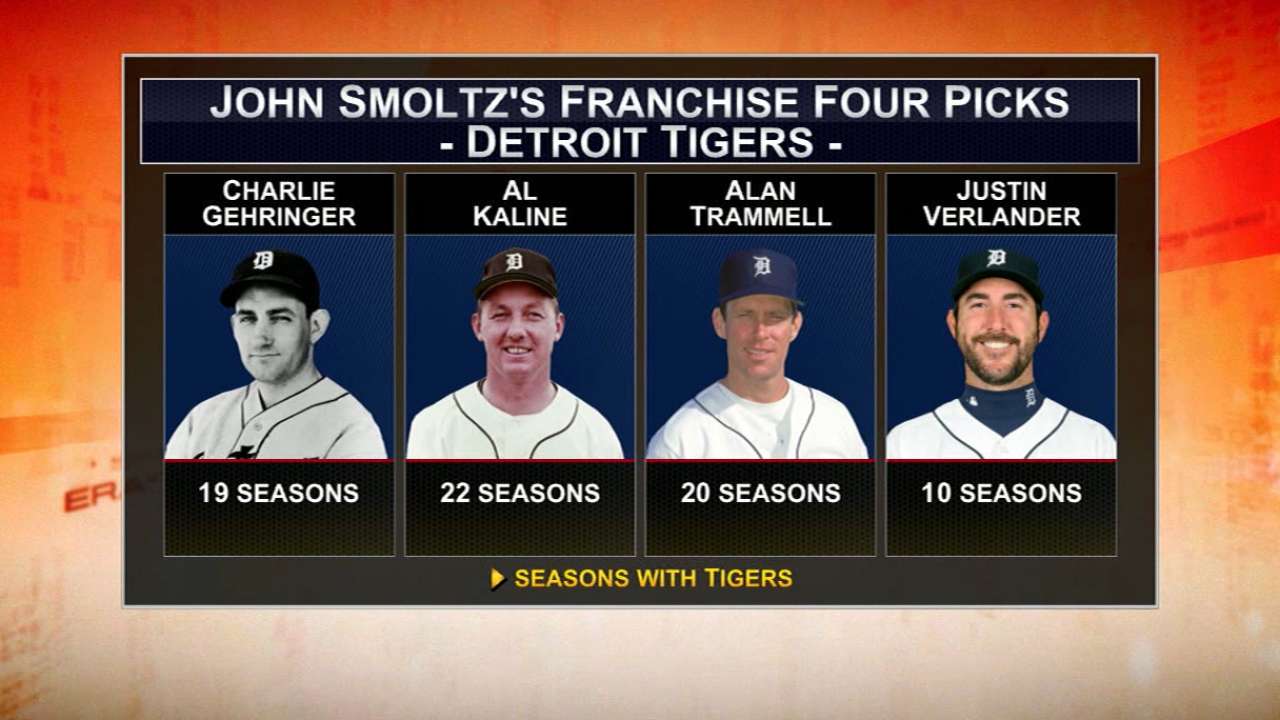 John Smoltz grew up rooting for the Detroit Tigers, so he has a pretty good idea of which players have been most emblematic of that team's proud history. But when asked to name just four players to represent that team -- the Franchise Four -- the newly elected Hall of Famer ran into some trouble.
Smoltz, who will be inducted into the Hall of Fame in July, chose two fellow immortals and two stars of more recent vintage, picking Charlie Gehringer and Al Kaline to go with Alan Trammell and Justin Verlander as the four most iconic players in Tigers history.
Each of those players has an obvious case. Gehringer, known as The Mechanical Man, played his entire career with Detroit and hit .371 en route to the 1937 American League Most Valuable Player Award. Kaline, a 15-time All-Star, played 22 seasons with the Tigers and finished his career with 3,007 hits.
Trammell, a six-time All-Star, was the MVP of the 1984 World Series and played 20 years with the Tigers, and Verlander has gone 152-89 in 298 starts with Detroit over the past 10 years.
But Smoltz admitted that his list is highly influenced by personal choice.
"I can't leave my cousin off that list. Charlie Gehringer," said Smoltz. "My grandmother's a Gehringer. So what's that make me, a second cousin twice removed? And then, of course, Al Kaline. And then the more modern players were Alan Trammell, who I loved watching, and Justin Verlander, who's been such a mainstay and obviously a huge part of the Tigers. But that was a tough list to come up with four."
Part of the fun of making this kind of list is the players who wind up on the cutting room floor. Smoltz wasn't able to select Hall of Famer Hank Greenberg or Kirk Gibson. Hall of Famer George Kell didn't make the cut, but Smoltz said Greenberg was probably the toughest call.
"It's impossible," said Smoltz of leaving Greenberg off the list. "But selfishly, I had to go with a pitcher and I had to go with a cousin."
Smoltz also had to leave off one of the game's biggest stars. Miguel Cabrera has been with Detroit for seven seasons, and he's gone to the All-Star Game in five of them. Cabrera led the league in batting average in three of the last four seasons, but Smoltz wants to see him do more for the Tigers.
"In a couple more years, he's a slam dunk," said Smoltz of Cabrera. "This is probably one of the hardest things I've ever seen people have to do when you think about the legacy of a team."
Spencer Fordin is a reporter for MLB.com. This story was not subject to the approval of Major League Baseball or its clubs.