Power surge temporarily halts Sox-Yanks game
NEW YORK -- The longest home game in Yankees history was extended by 16 minutes by a light failure in the home half of the 12th inning, which was believed to have been caused by a power surge through Yankee Stadium.
Red Sox reliever Tommy Layne said that he saw the Stadium lights flicker just as he released a pitch to Carlos Beltran. The Red Sox eventually left the playing field as electricians worked to reset some of the lights.
"It definitely caught my attention," Layne said after the Red Sox's 6-5 win in 19 innings. "I saw it and I was thinking, 'Are all the lights going to go out?' I think it spooked everyone."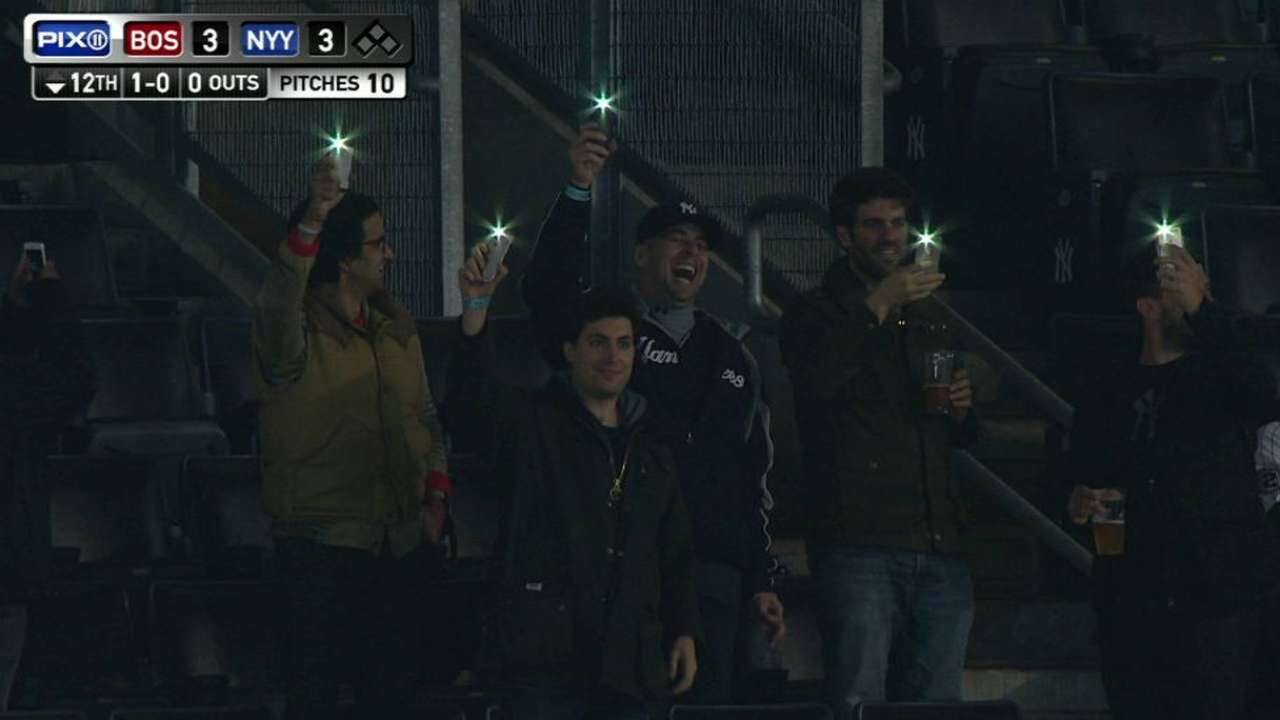 To compensate, additional light banks that are normally off above the left and right field foul poles were turned on. The remaining fans on hand tried to do their part as well, holding their illuminated cell phones above their heads in a scene that reminded of a rock concert.
Though the field appeared to be brightly lit, even with a bank of bulbs dark, Yankees manager Joe Girardi said he did not want to give the Red Sox any extra advantage.
"Some of the lights went out and I just said, I didn't think it was right that they hit in bright lights and we were missing a few," Girardi said. "So they waited until the rest of them came back on and we went out."
Not including the light delay, Friday's game took six hours and 49 minutes to play.
Bryan Hoch is a reporter for MLB.com. Follow him on Twitter @bryanhoch and read his MLBlog, Bombers Beat. This story was not subject to the approval of Major League Baseball or its clubs.