Yankees scuffling with men on base so far
Team went 1-for-9 with runners in scoring position Thursday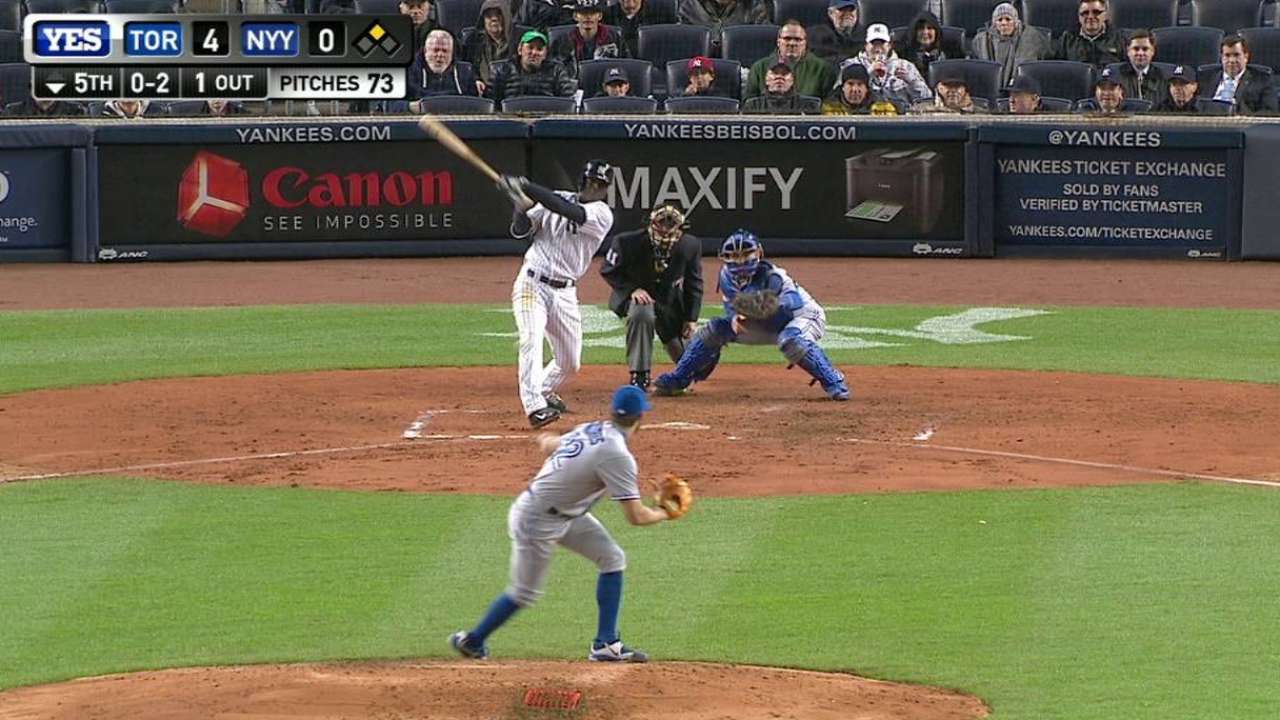 NEW YORK -- In a microcosm of the sputtering offense that the Yankees have displayed over their first three games, Didi Gregorius smashed a fifth-inning RBI single up the middle Thursday, then slipped coming around first base and was promptly tagged out.
"I just want to be aggressive on the bases," Gregorius said. "I slipped on that one, and I can't take it back. It happened and just go forward from there."
Gregorius seemed to recognize the urgency in sparking the Yanks, for whom runs have been in short supply through 27 innings. They went 1-for-9 with runners in scoring position in Thursday's 6-3 loss to the Blue Jays, wasting a fourth-inning rally in which they had men on second and third with none out.
Alex Rodriguez walked and Carlos Beltran doubled to left field, opening the inning against Toronto rookie left-hander Daniel Norris. Mark Teixeira lined out hard to third baseman Josh Donaldson, Chase Headley struck out looking and Chris Young popped out to squelch the threat.
"That's the difference in the game. That's the bottom line," manager Joe Girardi said. "You look at the ball Tex hit, you can't hit a ball any harder than that. It's frustrating, but it happens. To win games, you have to hit with runners on."
If not for a fluky three-run late rally on Wednesday, aided by Young's wind-blown double, two hit-by-pitches and a Headley run-scoring grounder that clanged off of a Toronto glove, the Yanks might have absorbed a series sweep.
Those are thoughts they preferred not to entertain going into this weekend's showdown with the Red Sox.
"It's three games. Today, I was more encouraged," Rodriguez said. "We hit some of the hardest balls; some were outs. Tex hit a rocket that easily could have been a couple RBIs. [Jacoby] Ellsbury had some great at-bats, Didi hit the ball well. Sometimes a run with this type of weather can count for two or three."
Bryan Hoch is a reporter for MLB.com. Follow him on Twitter @bryanhoch and read his MLBlog, Bombers Beat. This story was not subject to the approval of Major League Baseball or its clubs.