MLB.com Columnist
Barry M. Bloom
Padres' owners returning club to relevance
Busy offseason heightening expectations in San Diego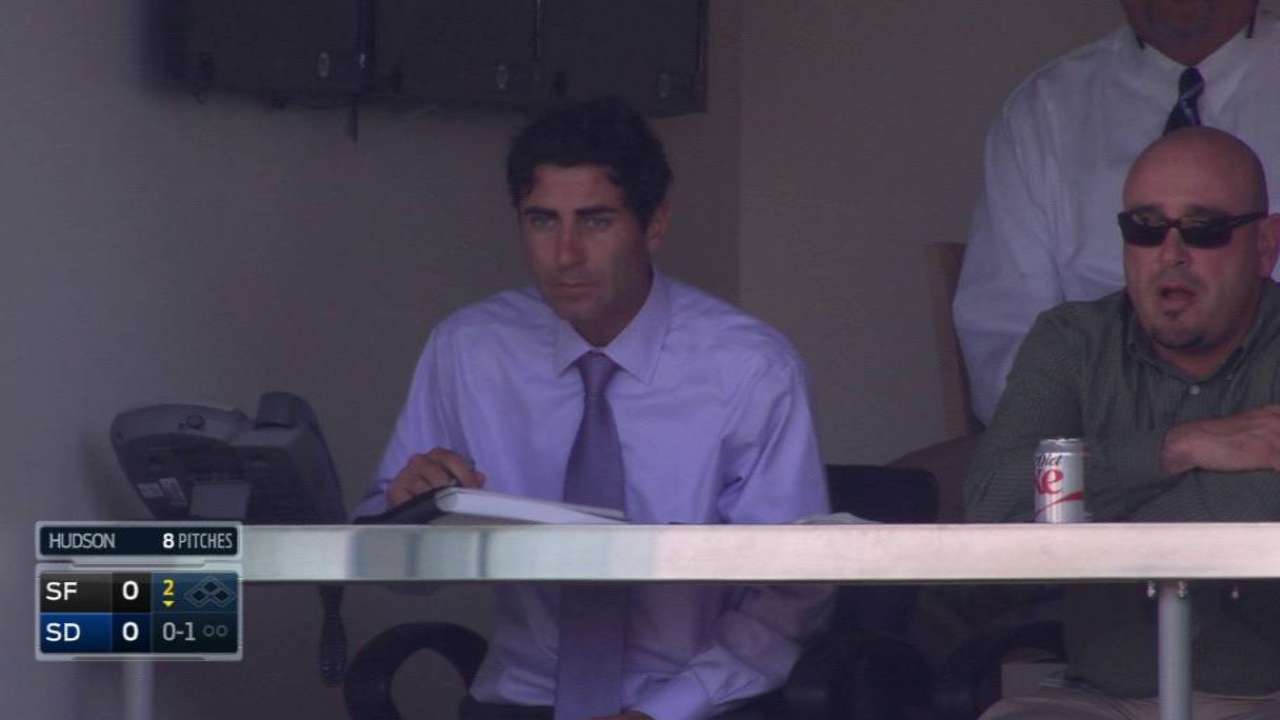 SAN DIEGO -- Beginning their third full season of ownership, this cobbled-together group of locals and Los Angelenos were on a quest to make the Padres relevant again in the San Diego community. No small task.
Just about nine months ago, A.J. Preller was hired as general manager. From December 18 to the day before the opener on Monday in Los Angeles, Preller unleashed an avalanche of high-profile trades and free-agent signings that remade a team that hasn't ascended to the postseason since 2006.
For Thursday's Opening Day against the defending World Series champion Giants, there was a palpable buzz in Petco Park that lasted until the moment the Padres lost, 1-0 in 12 taut innings. Mission accomplished. Expectations have been raised. There's no question the Padres are relevant again.
"It feels good right now, but now we've got to make it work, that's the key," Ron Fowler, the club's chairman and longtime San Diego businessman, told MLB.com in a pregame interview. "We won the offseason, but now it's all about winning during the season and playing meaningful games in October. If we did all this and we're not there, then it's sort of a [hollow] victory."
Petco Park opened with much fanfare in 2004 nestled in the previously moribund neighborhood of East Village. The ballpark is surrounded now by glass towers, buildings that have risen one by one each year since then. That's what's known as real urban development. The facility has been home to several rounds of the World Baseball Classic and will host the All-Star Game in 2016.
But the only four home World Series games in the history of the franchise were played in 1984 and '98, across town in what is now called Qualcomm Stadium, the aging Mission Valley edifice the Chargers are hoping to vacate. The Padres played their last game there in 2003.
Fowler joined Peter Seidler and his brother, Tom, and purchased the team from John Moores. They were approved by the owners on Aug. 16, 2012, with the precise goal of not only going back to the World Series, but winning it for the first time. The Seidlers are the nephews of former Dodgers owner Peter O'Malley. The legendary Walter O'Malley was their grandfather. Thus, the Los Angeles connection and a definite pedigree.
Fowler made a modest fortune in beer distributorships. He was once an owner of the indoor San Diego Sockers and has sat on many a San Diego sports commission, including his chairmanship of the second task force that spent months selecting East Village from a number of sites around the city to build the ballpark.
Fowler has a real stake in the community that carried forward, even as a simple baseball fan. The Padres have suffered through six sub-.500 seasons since 2007, and the fans have grown increasingly disgruntled. As an owner, Fowler knew that had to change.
"The Padres being relevant in the community again, I think, will do well," Fowler said. "But we were losing relevancy. You can't be a big part of the community if you're not relevant."
Like Moores during his early years, the latest group has determined that the way to relevance is to spend money on big-time talent.
"If you're going to go, go big," Fowler said.
The Padres just needed the right conduit and they found him in Preller, hired from the Rangers this past Aug. 6 after a lengthy search process for a new GM. Until his arrival, there was little indication that the Padres wanted to shatter a decade-long pattern of signing players to long-term contracts and then trading them away.
But Fowler said the current owners harbored other ideas.
"We were prepared to spend money," Fowler said. "What we really didn't have is what I call the big vision of the willingness to go deep, so to speak. When we interviewed all the guys, A.J. had the biggest vision, A.J. had the willingness to roll the dice and take some risks. For a club like ours, you can't waste money, but you have to take what I call strategic risks that big markets don't have to take."
To Fowler's point, San Diego just assumed the $46.3 million through 2017 remaining on the contract of Melvin Upton Jr. to obtain elite closer Craig Kimbrel in a trade with Atlanta this past Sunday. Manager Bud Black said on Thursday that he had no idea where Upton might fit into an outfield that right now includes Melvin's brother Justin Upton, Wil Myers and Matt Kemp. Melvin was a .198 hitter for the Braves the past two years.
"We'll cross that bridge when we come to it," Black said.
The Padres also owe Kimbrel $34 million in guaranteed money through 2017. In return, the Braves assumed the contracts of Cameron Maybin and Carlos Quentin. Total, $24.5 million. That type of creative financing and risk would have been unheard of in the recent annals of Padres history.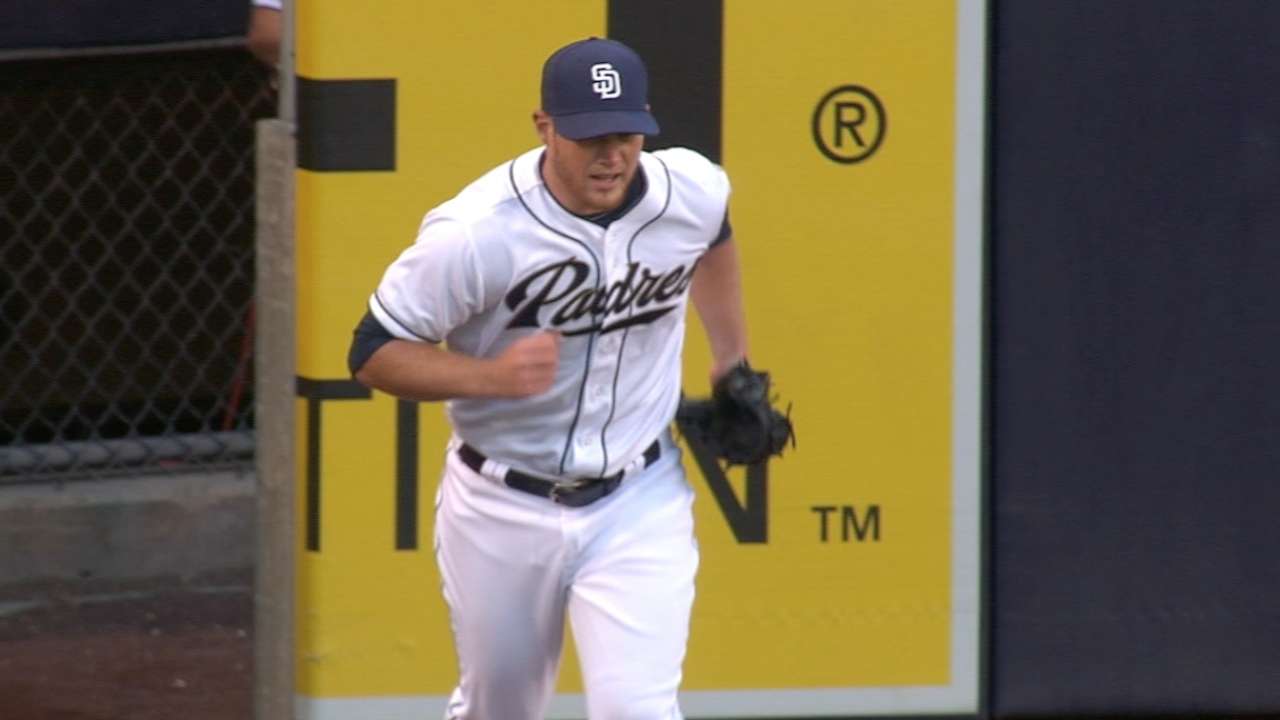 But even with all of Preller's wheeling and dealing, San Diego's payroll is projected at $108 million this season, reasonable but still a club record. And those numbers will quickly escalate, starting next season.
Moores once said he invested $20 million of his own money each year to keep the Padres competitive. The more things change, the more they remain the same. Fowler said San Diego is again in out-of-pocket investment mode.
"We're picking up a lot of salary on a couple guys, but if they perform the way we think, I think our attendance will increase and in a period of a couple of years we'll be more than revenue neutral," he said. "We are investment spending. We're putting more money into it than we're making. It's not even close, but I think it's the right thing to do."
Asked if he'd like to divulge that investment figure, Fowler said: "We're spending eight figures more than we're bringing in. We intend to do that for a number of years, and hopefully the revenue will catch up with the expenses."
In San Diego, such is the price of relevance.
Barry M. Bloom is a national reporter for MLB.com and writes an MLBlog, Boomskie on Baseball. Follow @boomskie on Twitter. This story was not subject to the approval of Major League Baseball or its clubs.