Phillies still waiting for offense to arrive
Team hits .149 with two extra-base hits in opening series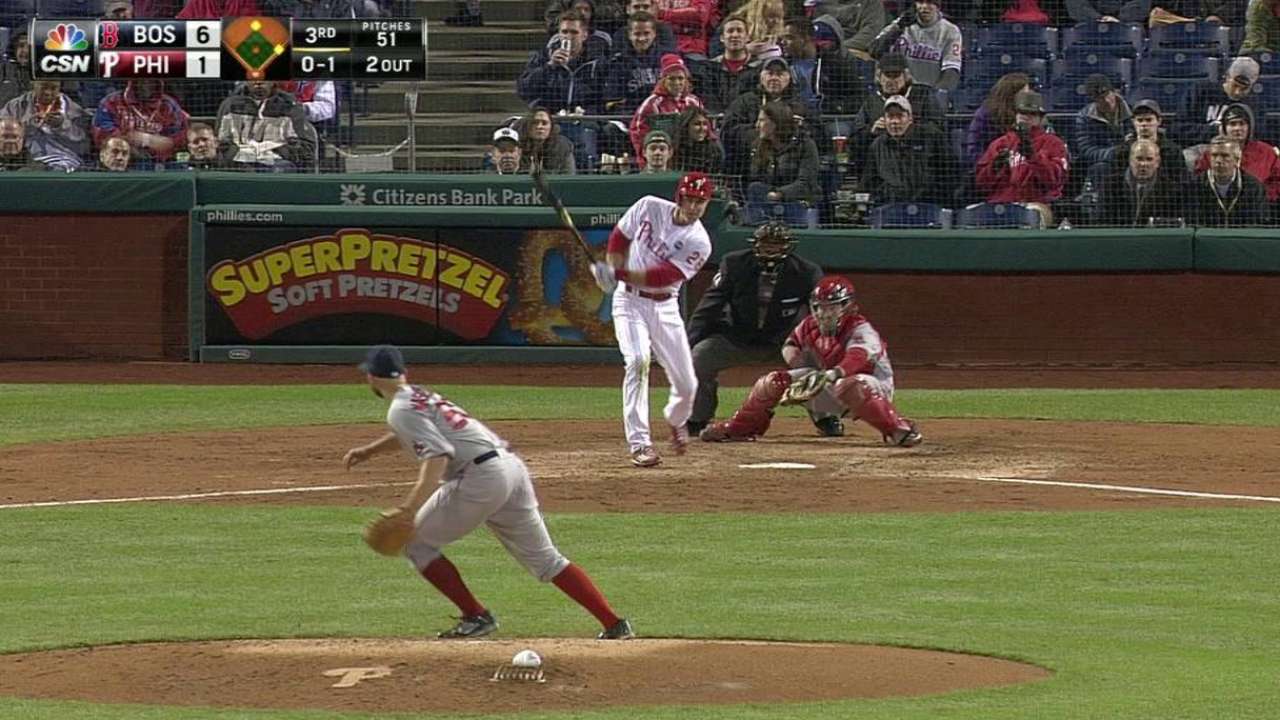 PHILADELPHIA -- This is not the start to the season the Phillies wanted offensively.
The Twins are getting plenty of attention in the baseball world because they scored just one run in three games this week against the Tigers, but the Phillies scored just six runs in three games against the Red Sox. Three of those runs came on Jeff Francoeur's three-run home run Wednesday night. The Phillies scored twice in the third inning in Thursday's 6-2 loss at Citizens Bank Park.
The Phillies hit .149 with just two extra-base hits in the series. They posted a .206 on-base percentage and a .191 slugging percentage.
"I think it's a little bit too early to tell," Phillies manager Ryne Sandberg said about the team's offensive capabilities. "Our guys are trying to settle in and get some at-bats under their belt, but what we need to do is hit together and create some innings with some baserunners so we can do some things and then come up with some key hits."
Ben Revere, Chase Utley and Ryan Howard hit first, third and fourth, respectively, in the series. They hit a combined .086 (3-for-35) with one double, two RBIs and seven strikeouts.
It will not get any easier for the Phillies, who open a three-game series Friday night against the Nationals. The Phillies will face left-hander Gio Gonzalez on Friday, right-hander Doug Fister on Saturday and right-hander Max Scherzer on Sunday.
"I don't think guys went away from their approach," Phillies third baseman Cody Asche said about Thursday's struggles against Justin Masterson. "It's just a different game when you're down six runs."
Todd Zolecki is a reporter for MLB.com. Read his Phillies blog The Zo Zone. Follow him on Twitter. This story was not subject to the approval of Major League Baseball or its clubs.