Matzek takes mental toughness into opener
After experiencing mixed results in rookie season, southpaw ready to excel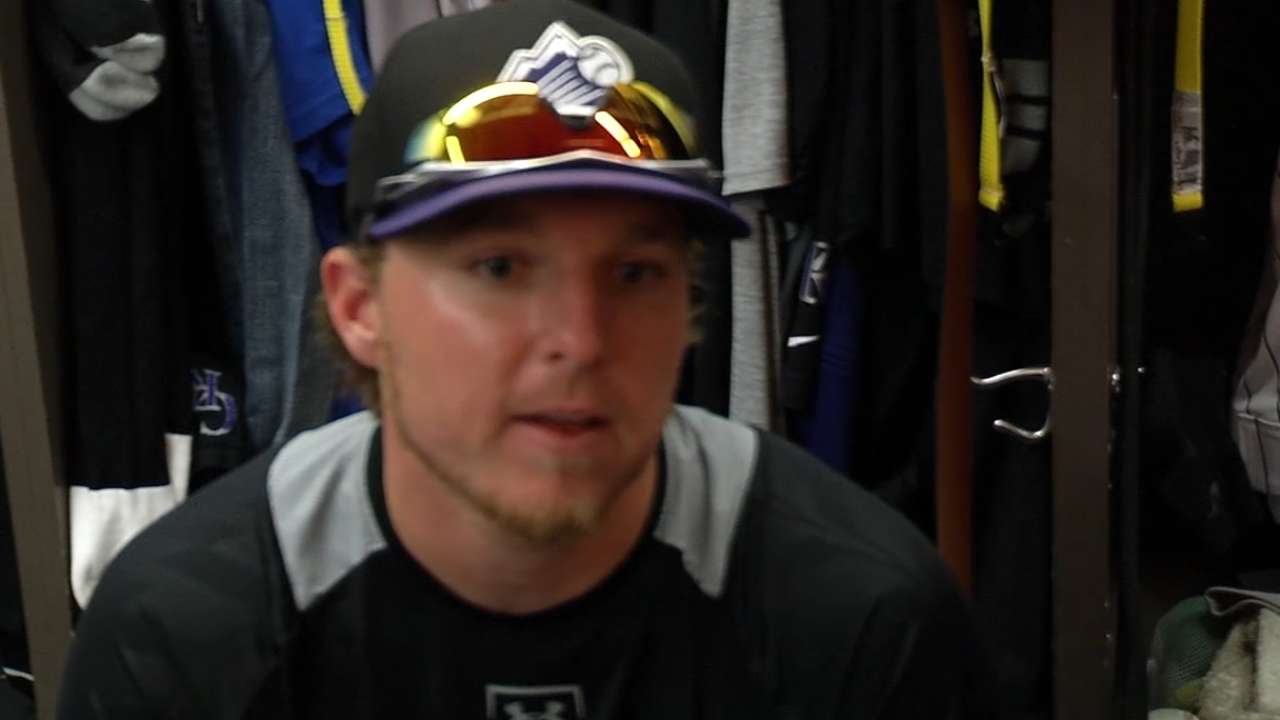 DENVER -- Left-handed pitcher Tyler Matzek realizes a part of him will always be who he was during the 2011 Class A season, when he became so befuddled with his performance that he requested that the Rockies give him a sabbatical. But by the time he reached the Majors last season, he proved negative traits can be overcome.
Matzek debuted in June with seven strong innings in a victory over the Braves, then had the common first-timer ups and downs. But on Aug. 2, he was rocked for 10 hits, including two home runs, at Detroit on a day when it looked as if he was announcing his pitch before he threw it. Had this been a young Matzek, the game would have been part of a spiral.
"I'd think, 'My stuff isn't good,' and I would just beat myself up -- anything that could come into your head would have," Matzek said. "I still have those negative thoughts.
"You've got the good and the bad. Which one are you going to feed?"
Matzek lost the following three starts, but he went 4-2 with a 1.55 ERA in his final six starts. Matzek's mental toughness, especially at Coors Field, and the growth he foreshadowed this Spring Training made him the choice to start Friday afternoon's home opener against the Cubs, after Jorge De La Rosa became unavailable because of a left groin injury.
After the alarmingly bad start in Detroit, Matzek peeked at the video to make sure he was not tipping pitches. But it was just a peek.
The approach had its roots during Matzek's low point in 2011. He worked his mechanics with a private instructor and especially with Darryl Scott, now pitching coach at Triple-A Albuquerque. But Matzek determined he had to move his mind out of the way.
Matzek said when his then-fiancé (now wife), Lauren, had heard enough, he would talk with his older half-brother, Ryan Johnson, who would "tell me to stop being a baby ... keep it real." Andy McKay, the Rockies' peak performance coordinator, taught him, "Repeat the positive."
The lessons helped Matzek surmount the Detroit start.
"I didn't over-watch it," he said. "I just forgot about it. I remember what happened, but if you ask me situations, I have no idea. I don't remember who hit what."
Matzek (6-11, 4.05 ERA in 20 games and 19 starts last year) wasn't finished when Colorado summoned him. Not since 2010 at Asheville had he finished a Minor League season more than one game above .500.
Matzek still needs polish. He finished this spring with a 6.00 ERA while testing his sliders -- one a chase pitch, the other to hit the strike zone -- as well as a fastball, which he must command consistently, his curve and a changeup that could grow into a weapon.
But Matzek, 24, has competitiveness -- an asset that can fill the gaps until he gains experience. Interestingly, his best professional strikeouts-to-walks ratio (2.07) came in the Majors, when winning was paramount.
"That's part of the beauty of him -- all we threw at him, all the struggles that he had early in his professional career, he always had something for you, that competitive streak," said Rockies general manager Jeff Bridich, the team's player development director during Matzek's 2011 struggles.
Matzek's spirit especially serves him well at Coors Field, where he was 4-4 with a respectable 3.61 ERA in eight starts last year.
Thomas Harding is a reporter for MLB.com. Read his blog, Hardball in the Rockies, follow him on Twitter @harding_at_mlb, and like his Facebook page, Thomas Harding and Friends at www.Rockies.com This story was not subject to the approval of Major League Baseball or its clubs.