Rumbelow has played in five levels for Yanks in just over a year
Right-handed prospect has enjoyed his travels through Minor Leagues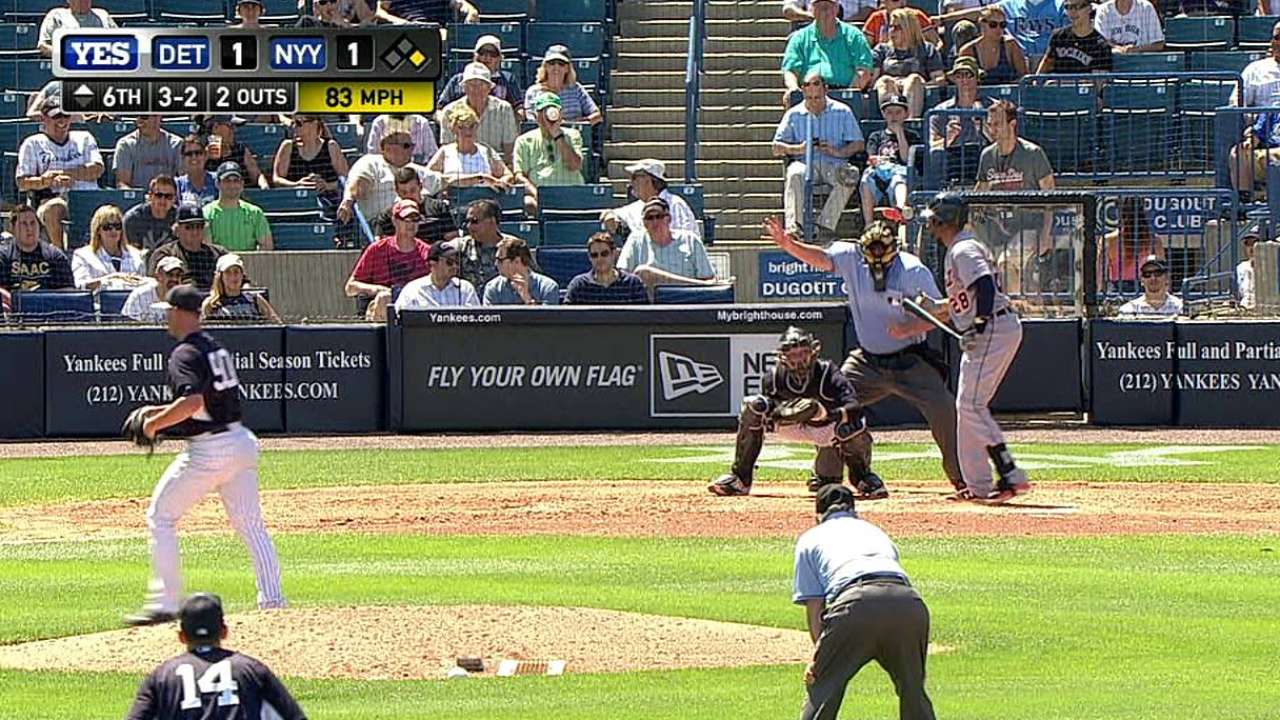 Nick Rumbelow did not expect to rocket through the Yankees' system, but as the young right-hander tried on uniforms for each of the organization's top four Minor League affiliates last summer, it was impossible not to think about New York being the next stop.
Rumbelow started the season with Class A Charleston and finished it with Triple-A Scranton/Wilkes-Barre, with an excellent strikeout rate to thank for his progress. Once he could finally unpack and exhale, Rumbelow said he appreciated the experiences of his travels through all of those cities.
"At the end of the season, once I was back home, I think the magnitude of moving through the different teams kind of set in a little bit," Rumbelow said. "During the season, I was trying to stay focused on what I was trying to do and not get too caught up in the 'wow' moment of it."
Rumbelow continued to make a good impression in Spring Training, coming off a season in which he was 5-2 with a 2.64 ERA in 44 games, striking out 81 batters and walking just 18 in 58 innings. He will begin this season with Triple-A Scranton/Wilkes-Barre and can offer teammates a first-hand review of the entire Yanks' system.
"The best city? They all brought cool things, different aspects, whether you were in Charleston -- it's kind of a younger crowd at the games," Rumbelow said. "Then you go to Trenton and it's just a cool atmosphere, it's just a packed stadium all the time. Then obviously in Scranton, it was just one of those things where it was a really nice ballpark. It was hard not to be happy every day there."
A seventh-round pick in the 2013 First-Year Player Draft from Louisiana State University, Rumbelow made eight appearances for Charleston before being summoned to Tampa, where he found a roommate in third-base prospect Eric Jagielo, who offered a spare set of keys to his house.
While in Florida, Rumbelow said that he got to explore the areas around the Yankees' spring home.
"I like yoga; that's one of the hobbies that I gravitate toward when I'm not at the field," Rumbelow said. "I love clean eating, so usually when I'm in Tampa, I'll go to yoga and then I'll go to Fresh Kitchen, that's my favorite spot. It's the best food ever. Those are the kind of things that I enjoy doing, things that benefit me on the field."
Describing himself as a "low-key guy" who enjoys hitting the mall for some new clothes or a new pair of sneakers over "venturing out and doing anything too crazy," the hard-throwing Rumbelow made 19 appearances for Tampa before being sent to Trenton, where he crashed in an apartment just over the New Jersey-Pennsylvania border.
"It was a little tough," Rumbelow said. "That's one of the transitions that you have to work with, is finding a spot everywhere you're going, but everyone was very welcoming all the way from [Class A Advanced] to Triple-A. The guys took care of me. They were open to me staying with them and stuff like that. It wasn't a challenge for me, once I got there. The teams were like, 'All right, man, you need a place to stay?'"
He enjoyed the atmosphere in Trenton but did not have much time to explore the state capital. There was one evening that he boarded a New Jersey Transit train and ventured into Manhattan, sleeping at the apartment of teammate Jaron Long, whose father, Kevin, was the Yankees' hitting coach.
Rumbelow guessed that his time in the Big Apple comprised about 10 hours; not even enough time to sample a New York pizza slice, though he had a good excuse for bolting.
"I spent the night there and then I had to catch a train back to Trenton because I got called up [to Triple-A]," he said. "So I had to catch a train from New York City to Trenton and then a car to Syracuse to play. When you get that phone call and they say, 'Hey, we want you in Triple-A,' you're like, 'OK -- let's go.'"
He wrapped the year with the RailRiders, posting a 4.11 ERA in 10 appearances while sharing a house with catcher John Ryan Murphy. Rumbelow said he even carved out a little time to visit a popular hot spot: Doc Magrogan's, an oyster house that sits just up the hill from PNC Field, the refurbished home of the Yanks' top farm club.
"I didn't know they had different kinds of oysters," Rumbelow said. "I thought there was only one type of oyster, but there's a multitude of different types. I ate a lot of them there; they were good."
While in Spring Training, Rumbelow said that he tried to watch bullpen routines and how veterans interact with one another, preparing for their outings. Having seen five levels of the Yanks' system in a little more than a year, Rumbelow said he is eager to walk the streets of New York as a Yankee.
"I think if you're coming into our system and you don't have that goal and that mindset that you could be in New York one day, then things won't work out that well for you," he said. "I look forward to spending time in New York, and hopefully I can contribute and help this team win some more games."
Bryan Hoch is a reporter for MLB.com. This story was not subject to the approval of Major League Baseball or its clubs.