MLB.com Columnist
Richard Justice
Despite start, NL East race is marathon affair
Harvey's stellar return, Braves' sweep of Marlins blips in long season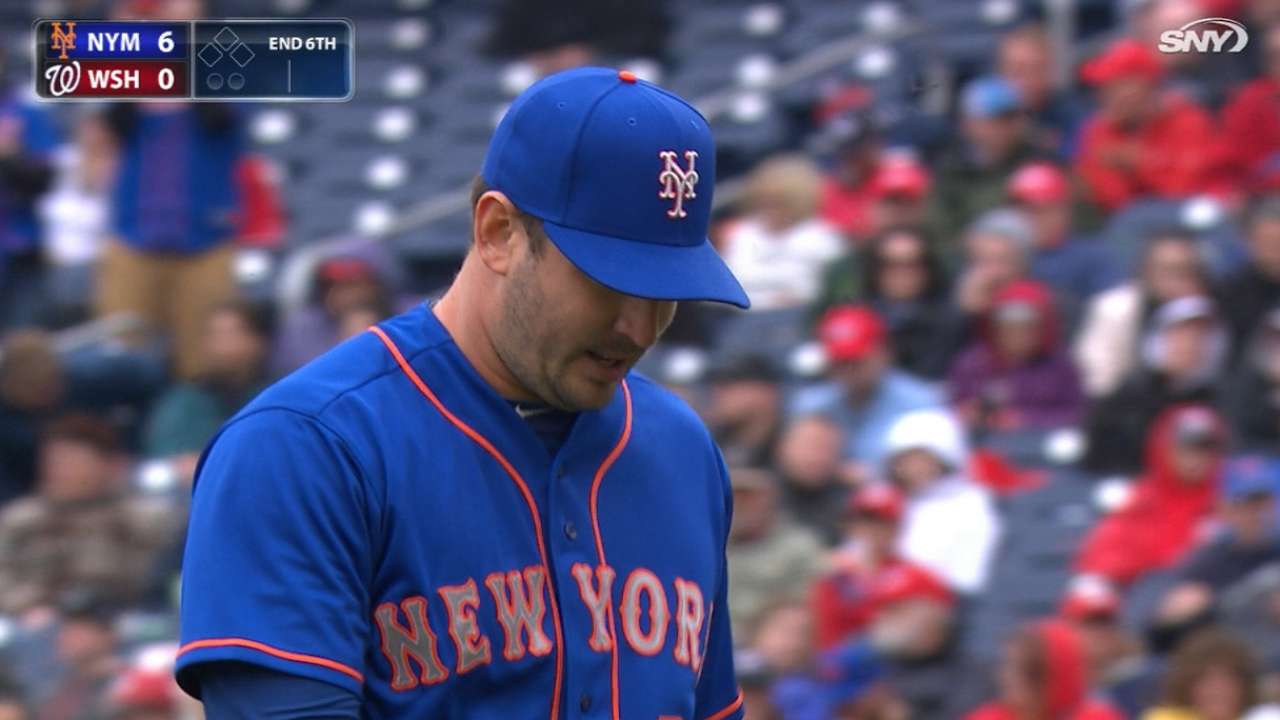 WASHINGTON -- So should we look at the National League East race any differently than we did, say, a week ago?
Absolutely not. Nothing has changed even with Matt Harvey at his 98-mph best on Thursday afternoon.
Nothing has changed despite the Braves being 3-0 and the Marlins 0-3. And nothing has changed despite the heavily favored Nationals stumbling a bit out of the gate.
First, there's Harvey. In his first regular-season start in almost 600 days, he tossed six shutout innings and struck out nine in a 6-3 Mets victory.
Harvey pounded the strike zone with both his fastball and a big, hard, nearly untouchable curveball. He showed the Nats a slider or two and a handful of changeups.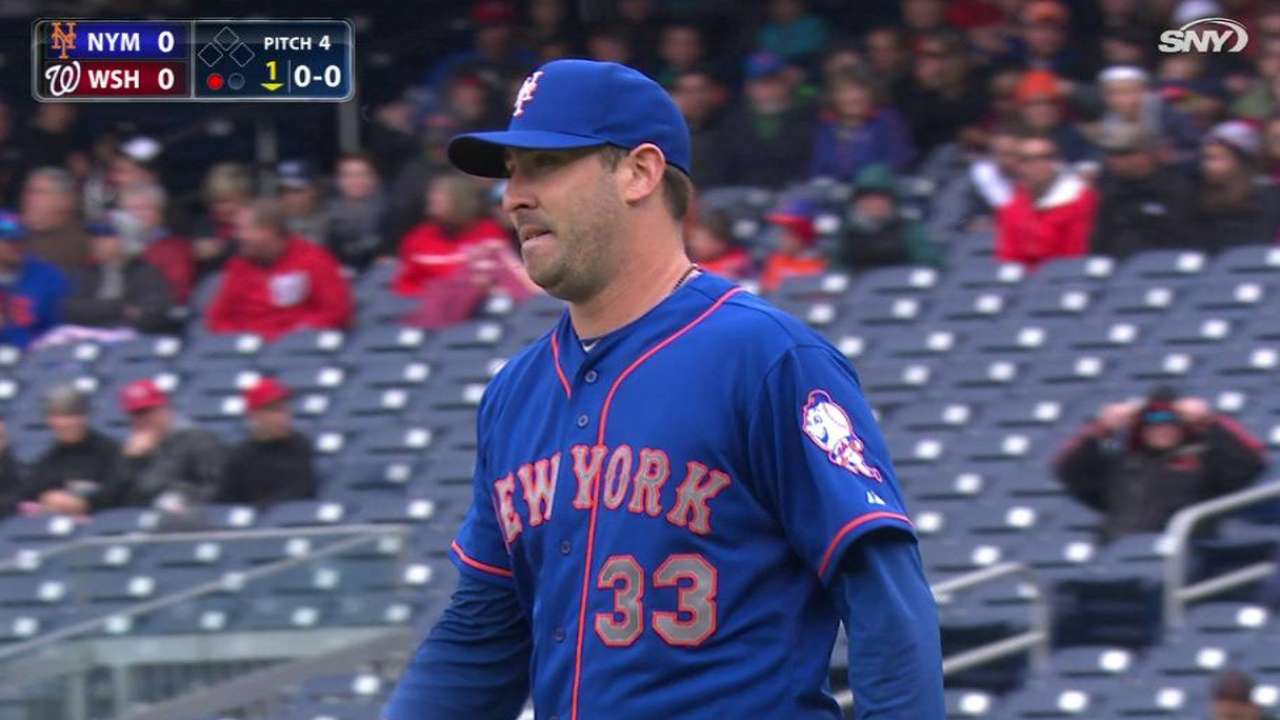 "Kind of how Spring Training went," Harvey said. "I was able to throw anything in any count."
Here's the significance. These Mets are built on a rotation they believe might be competitive with most teams in baseball. They also think it's good enough to hold up over an entire season, especially with more quality arms in the minors.
But Harvey is different. It's one thing to have nice arms, depth, etc. It's another thing to have a guy who might be a generational-type starter.
"He's going to change the dynamics of what our club is all about," manager Terry Collins said.
That's why the Mets taking two out of three from the Nationals this week has some significance. They went 4-15 against Washington last season and 15-41 over the past three.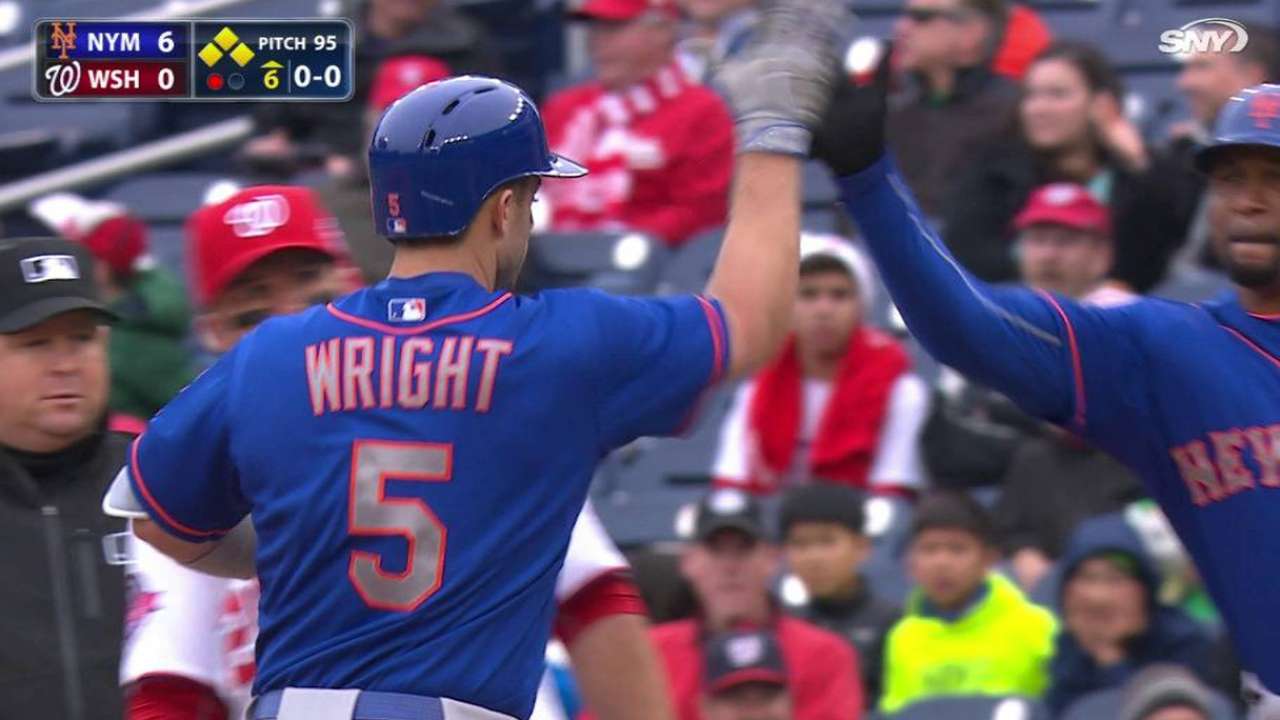 Mets third baseman David Wright cautioned against drawing too much significance from these opening games. He's probably right about that. On the other hand, plenty of conclusions would have been drawn if the Mets had been swept.
"One of the things we said was, we had to get out of the gate," Collins said.
Harvey was at his best in striking out Nats right fielder Bryce Harper three times. He got him twice on 97-mph heaters, one on a 96-mph. But the most important pitch Harvey threw him might have been one of those curveballs to open Harper's first at-bat of the day.
Harvey has four pitches, but his greatness begins with power. To open that at-bat with a curve gave Harper one more thing to think about. Afterward, Harper offered the assessment one great competitor gives another.
"He's going to win a Cy Young [Award] someday, everybody knows it," Harper said.
Now about those Nationals. Their 281 regular-season victories is the most in baseball since the beginning of the 2012 season. They've won the NL East twice in that time. But they've been unable to win a postseason series, and so this season is about taking the next step.
They're more than capable of doing that. But they're playing without three important players -- third baseman Anthony Rendon and outfielders Jayson Werth and Denard Span.
Until some of those guys return, their margin for error will be thin. The Nats were 3-for-19 with runners in scoring position against the Mets, and with shortstop Ian Desmond making three errors that led to six unearned runs, it's not a great start.
Months from now, these games may be long forgotten. As Wright said of his own team, "I downplayed the significance before the series, and I'll downplay it now. It should be good for our confidence, and hopefully it carries over into Atlanta."
Ah, Atlanta. The Braves went to South Florida and swept a Marlins team that was dramatically upgraded during the offseason. Those three victories come at a time when Atlanta's roster been reconstructed on the fly, with a string of trades designed to shore up the Minor League system and add payroll flexibility.
It was easy to discount the Braves without Jason Heyward, Justin Upton and Craig Kimbrel. Internally, though, Atlanta's front office was thrilled that it was able to transform a bottom-tier farm system into perhaps a Top 10 system.
Braves president John Schuerholz is effusive in praising the work of president of baseball operations John Hart.
"I never dreamed we'd get so much done in a short period of time," Schuerholz said.
The Braves might be focused on longer-term success, but they also believe they have a chance to be way better than people think. There's a huge unknown quantity as they fit the new pieces into place, but it'll be fascinating to see how things play out over the summer.
These first games of a new season always seem more important than they end up being. Or maybe they're more important for teams like the Mets and Braves who are trying to change the narrative around their clubs.
In the end, it's a very early part of a long journey.
"Lots of baseball to go," Mets outfielder Michael Cuddyer said.
Richard Justice is a columnist for MLB.com. Read his blog, Justice4U. This story was not subject to the approval of Major League Baseball or its clubs.