Cain continues to flash leather with regularity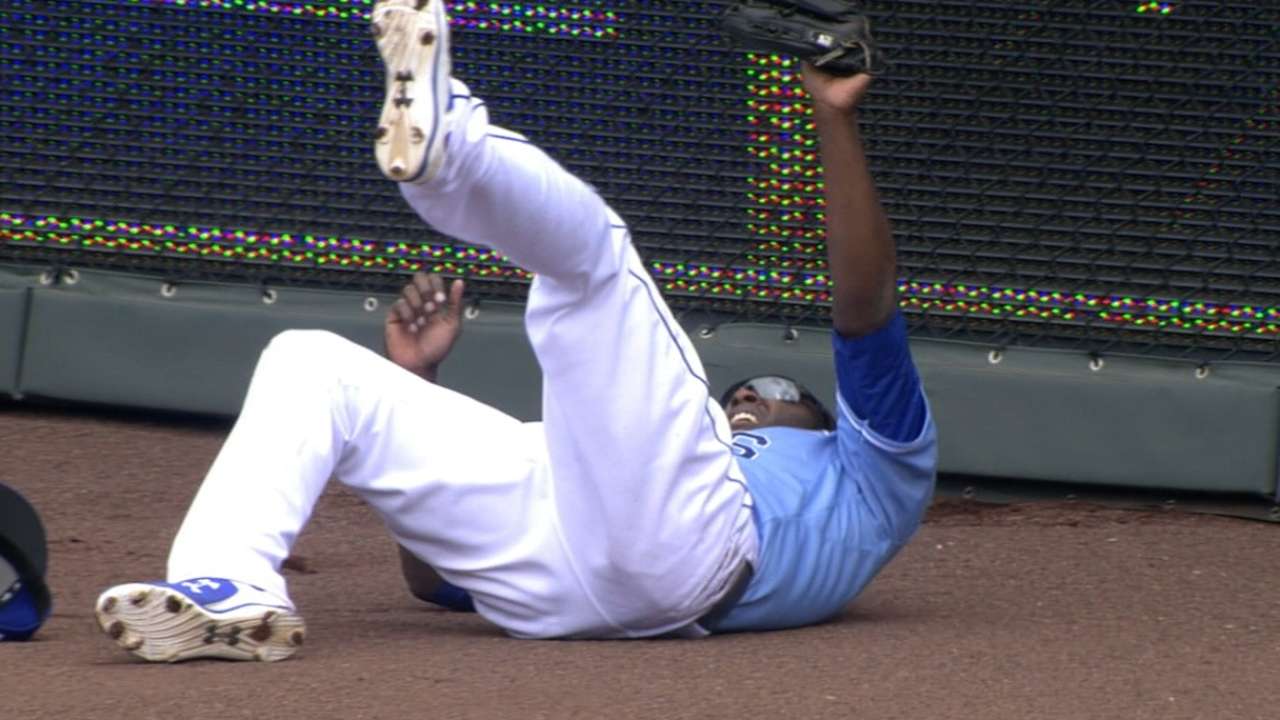 KANSAS CITY -- On Royals center fielder Lorenzo Cain's first incredible catch, in which he crashed hard into the center-field fence to rob White Sox designated hitter Adam LaRoche of extra bases, Cain lay stretched out on the Kauffman Stadium field for several moments.
But Royals manager Ned Yost has seen it before, through numerous breath-taking and physically-demanding grabs by Cain, so he didn't really panic that Cain was hurt.
"He's tough," Yost said after the Royals' 4-1 win. "I got up to the first step [of the dugout] to see how he was doing, but I really didn't want to have to run all the way out there."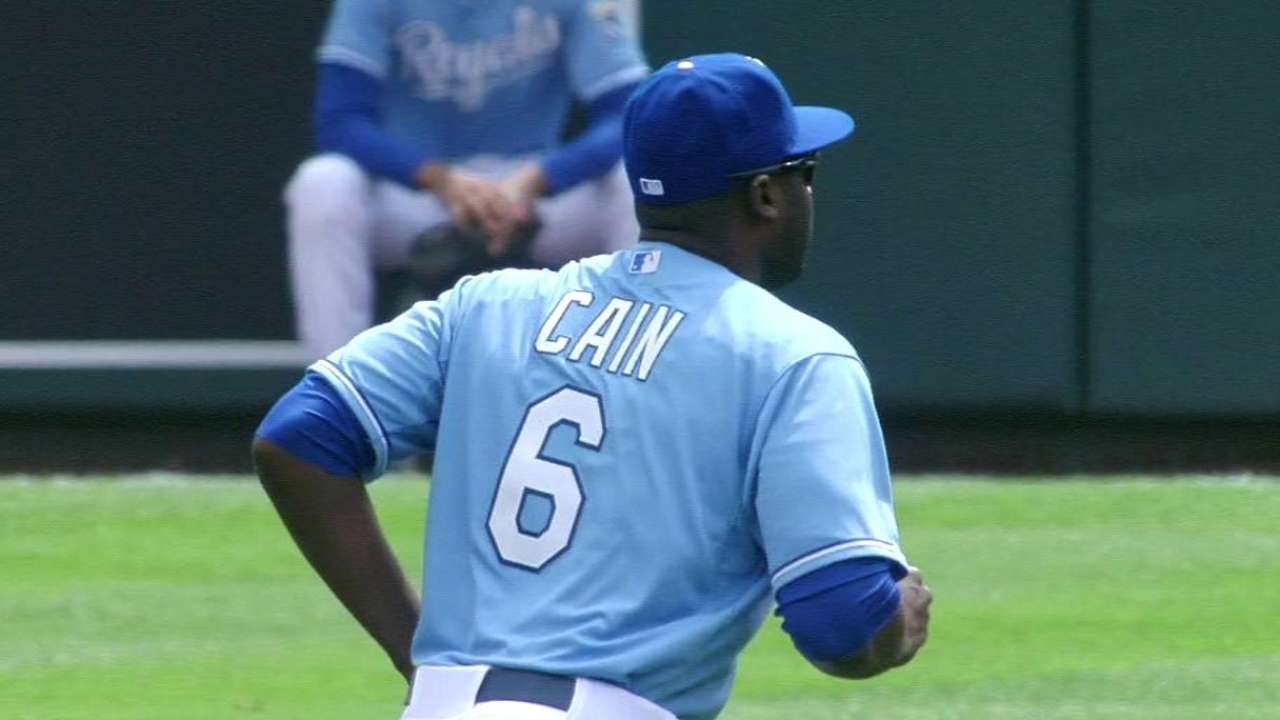 Fortunately, Yost didn't have to. Cain got up and shook off the bruises.
"I was just trying to make a play," Cain said. "Line drive to right-center, had to make the catch and no time to slow down."
Cain also bumped hard into the wall in the next inning when he robbed Micah Johnson of extra bases.
"That one hurt a little, too," Cain said. "That fence isn't soft."
It was just that kind of physical series for Cain, who also got hit twice by White Sox pitchers.
"Yeah, but I'll be ready to go tomorrow," Cain said. "You can count on that."
Cain's catches were just some of the great defensive plays made all day by the Royals -- third baseman Mike Moustakas made a great diving grab to take away a hit, and rookie Paulo Orlando made two fine running catches in left field.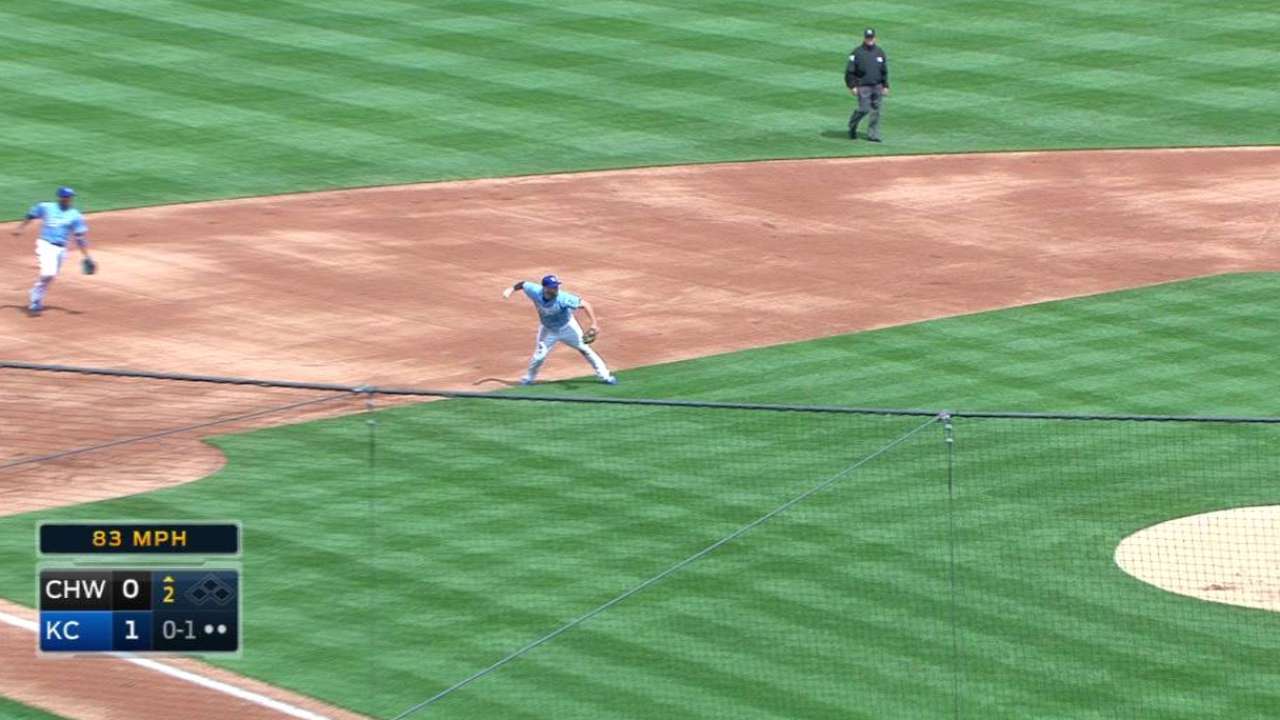 Royals starter Edinson Volquez admitted he spent much of his day tipping his cap to his fielders.
"I got tired [of doing that]," Volquez said, smiling. "It was great, man. To see those guys behind you, all the time, making the plays. It's the best feeling in the world."
Cain wasn't all about defense, though. He drove in the first run with an RBI groundout, and he doubled and scored in the sixth.
"He just had an all-around great game," third baseman Moustakas said.
Jeffrey Flanagan is a reporter for MLB.com. Follow him on Twitter at @FlannyMLB. This story was not subject to the approval of Major League Baseball or its clubs.