Eaton preaches patience after first series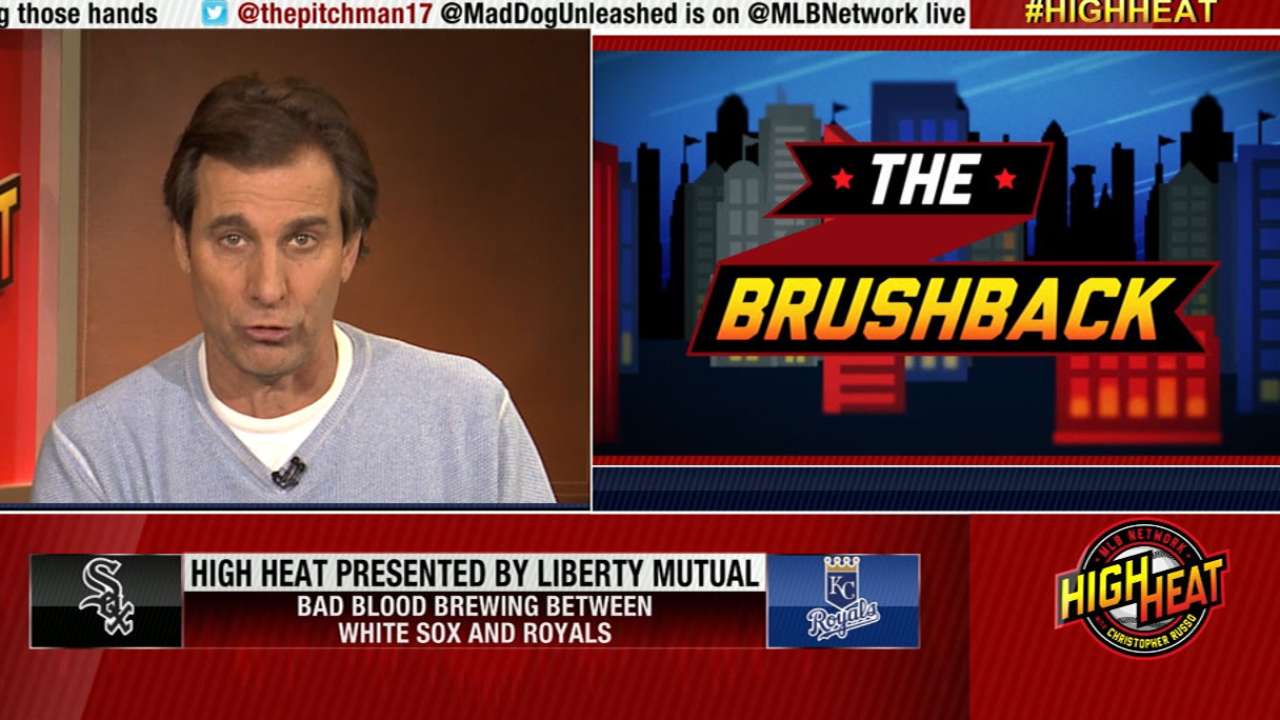 KANSAS CITY -- Following a 4-1 loss to the Royals on Thursday afternoon at Kauffman Stadium, marking the White Sox first 0-3 start since 2003, Adam Eaton compared his 2015 team to LeBron James' current Cleveland Cavaliers squad.
As soon as the White Sox center fielder made that comparison, Eaton smiled and knew that a disclaimer had to be added.
"I'm not comparing us to the Cavs; I'm not," said Eaton, who has opened the season 1-for-12 at the plate but made a run-saving spectacular catch Thursday. "But everyone was freaking out when LeBron and all [of] them weren't meshing correctly.
"All of the sudden, they win 12 in a row. Again, I'm not comparing us to the Cavs. But it does take a little longer to mesh together with all the new faces we have. Hopefully we can be a little bit like them and mesh at the right time, get hot and play good baseball."
The Springfield, Ohio, native knows of what he speaks.
Cleveland had a 19-20 record on Jan. 13 and proceeded to run off 12 straight victories. At 51-27 currently, the team looks to be the favorite in the NBA's Eastern Conference going into the postseason.
How does their situation apply to the White Sox?
With three straight frustrating losses in the land of great barbeque and 13 new players on the 25-man active roster in comparison to how the White Sox ended 2014, this team probably will get stronger as it meshes together.
"Not necessarily this group, but we've had a three-game losing streak before," White Sox manager Robin Ventura said. "So you push it aside at the beginning of the year, get that out of the way and get back into playing baseball."
"Certainly there's things we need to do better, and we will," said starting pitcher John Danks, who suffered Thursday's loss by allowing four runs over 5 2/3 innings. "That's the way it's going to be. We have too much talent in here to keep playing like this. We'll do better."
Danks lost for the first time in five career decisions at Kauffman and fell to 7-1 lifetime against the Royals. He didn't seem to care about that streak coming to an end, just as Eaton didn't want to talk about his spectacular fifth-inning catch.
"It saved a run but we need to win a ballgame," said Eaton of the catch.
Maybe the Royals stood as the worst possible matchup to start this season of high hopes for the White Sox.
Kansas City has a 14-3 record against the South Siders over the last 17 games, outscoring them 90-44 in the process.
One trick for a team that plays 25 of its first 28 against the AL Central and doesn't have a real homestand until April 20 is not to fall behind.
Falling behind, as in something along the lines of a 9-19 record and 10 games back for the White Sox. They always have the Cavs to look to as a model, thanks to Eaton.
Then again, the Cavs also have the top player in the NBA. Can Chris Sale or Jose Abreu be the White Sox version of LeBron?
"When you get a new group together, there is a meshing period that happens there," Ventura said. "You'll have a big inning and you see it, but you have to create that stuff too. Once you get a win, a comeback win, late wins always help with that."
Scott Merkin is a reporter for MLB.com. Read his blog, Merk's Works, and follow him on Twitter @scottmerkin. This story was not subject to the approval of Major League Baseball or its clubs.