Gattis weathering hitless start to season
Slugger has gone 0-for-4 with four strikeouts in each of the last two games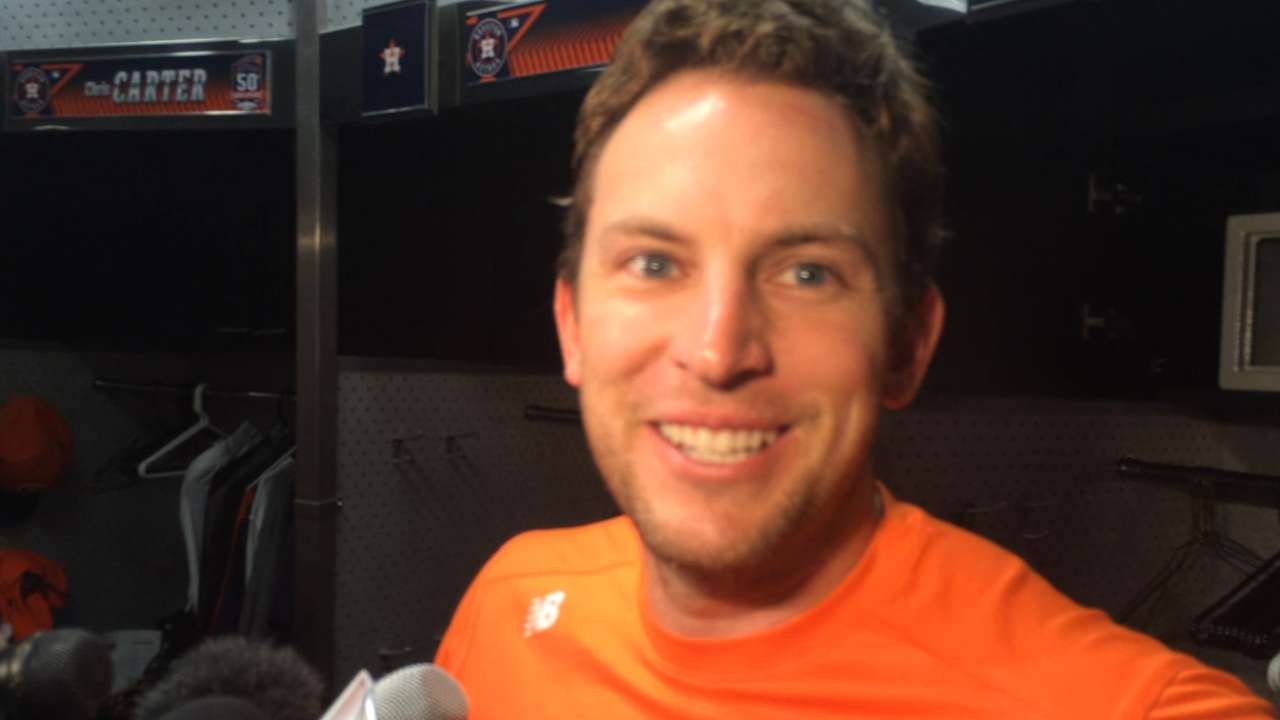 HOUSTON -- Every time the Astros played the Braves in Spring Training this year, slugger Evan Gattis routinely received a huge ovation from the Atlanta fans who grew to love him in his two years with the club. So when Astros fans were showering him with boos in a 5-1 loss to the Indians on Thursday afternoon at Minute Maid Park, Gattis noticed.
"I've never been booed by my own fans before," he said.
Gattis went 0-for-4 with four strikeouts for the second game in a row Thursday, giving him eight strikeouts in eight consecutive trips to the plate. Acquired in a trade with the Braves in January, Gattis is 0-for-11 in three games this season.
"It's embarrassing," he said. "I'm pretty sure I've never done [0-for-4 with four strikeouts] in my career before [Wednesday], and then two in a row. … Yeah, it's disappointing. I'm just a better hitter than what I've done so far this year."
Indeed, Gattis is a career .253 hitter with 43 homers and 117 RBIs in 213 career games with the Braves over the past two years. Entering this year, he had struck out 178 times in 723 at-bats.
"I never felt off during Spring Training, so it's hard to say," he said. "Maybe it's being amped up because they started counting. I had a good spring. I know that doesn't count. I wish it did right now. The only way is up for me."
Astros manager A.J. Hinch called Gattis' struggles a couple of bad days at work.
"We've all had them," Hinch said. "For him, when he's DHing, I think the hard part is getting over that being the only thing you're doing. You're out there to hit, and you love to hit. No doubt it's a couple of bad days at work."
The Astros have struck out 36 times through three games, including 13 on Wednesday and 16 on Thursday. Chris Carter struck out three times on Thursday for the Astros, who are hitting .096 (8-for-83) through three games.
"That's not going to be who we are as an offense," shortstop Jed Lowrie said. "I think they threw the ball really well, the starters particularly. The relievers were really effective, as well. I think there's a combination of maybe guys trying to do a little bit too much, trying to make an impression early on, and them coming in with some guys who have some great stuff."
Brian McTaggart is a reporter for MLB.com and writes an MLBlog, Tag's Lines. Follow @brianmctaggart on Twitter. This story was not subject to the approval of Major League Baseball or its clubs.