M. Upton eager for fresh start with Padres
Injured outfielder hoping to bounce back from two tough seasons in Atlanta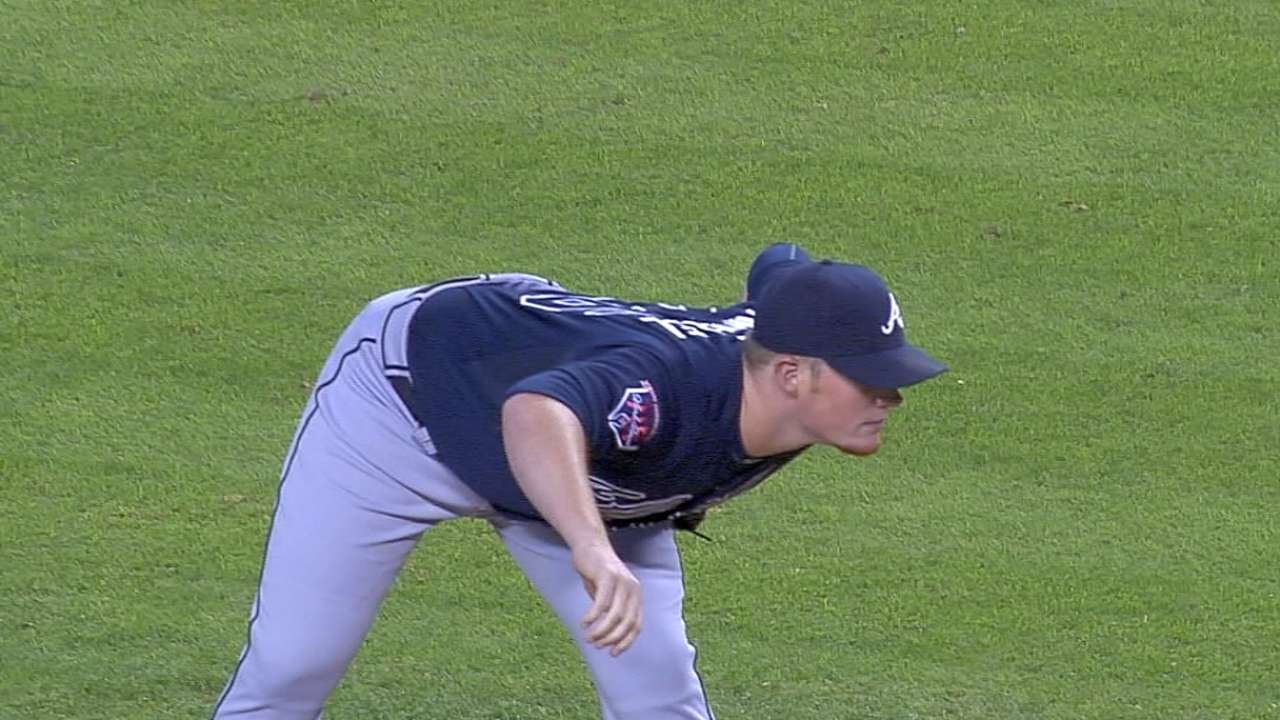 SAN DIEGO -- For no particular reason, the Padres gave new outfielder Melvin Upton Jr. a locker located on the other side of the home clubhouse from his brother Justin.
Upton, obtained on Sunday from the Braves in the deal that also landed closer Craig Kimbrel, was asked Thursday if he minded not being situated next to his younger brother.
"It might happen, eventually," Upton said. "But the last time we did, it didn't work out too well for me. So I might stay where I'm at."
Upton comes to San Diego looking for -- counting on -- a fresh start after two tumultuous seasons with the Braves, during which he got a chance to play next to his brother, but struggled offensively, hitting .184 in 2013 and .208 last season.
"Unfortunately, it happened the way it did for the Braves and on my side. I'll take the blame for that. I can't point the finger at anyone else," Upton said. "For me, it's done with, it's behind me. It's a fresh start, a clean slate. It's up to me."
Upton is on the disabled list with sesamoiditis in his left foot, a condition that began to trouble him in Spring Training. He'll head to Arizona and the team's Spring Training facility on Friday to continue his rehabilitation with the expectation that he'll begin running next week with baseball activities to soon follow.
Upton was examined by team doctors on Wednesday and met with manager Bud Black before Thursday's home opener at Petco Park for the first time.
There's a chance Upton could return to the big leagues in May after a Minor League rehabilitation stint to get some much-needed at-bats after missing essentially the entire Spring Training.
"I like where I'm at. There's no pain. It's a matter of gaining strength," he said. "I'm going on feel and [based on] how it feels, we'll progress from there."
As for being reunited with his brother, Justin, Melvin Upton said they each were excited after the deal -- but not as much as their parents.
"We're pretty laid-back guys, but we were excited. They [parents] were more excited than we were," Melvin Upton said. "They just have to make one stop."
Upton being on the disabled list gives the Padres time to sort out what they're going to do with him once he's healthy and ready to rejoin the 25-man roster. There are four outfielders on the roster now, and Upton is owed $46.35 million on his contract.
Corey Brock is a reporter for MLB.com. Keep track of @FollowThePadres on Twitter. This story was not subject to the approval of Major League Baseball or its clubs.