Cut nose ends Herrmann's season debut
Backup catcher passes concussion test after coming out of game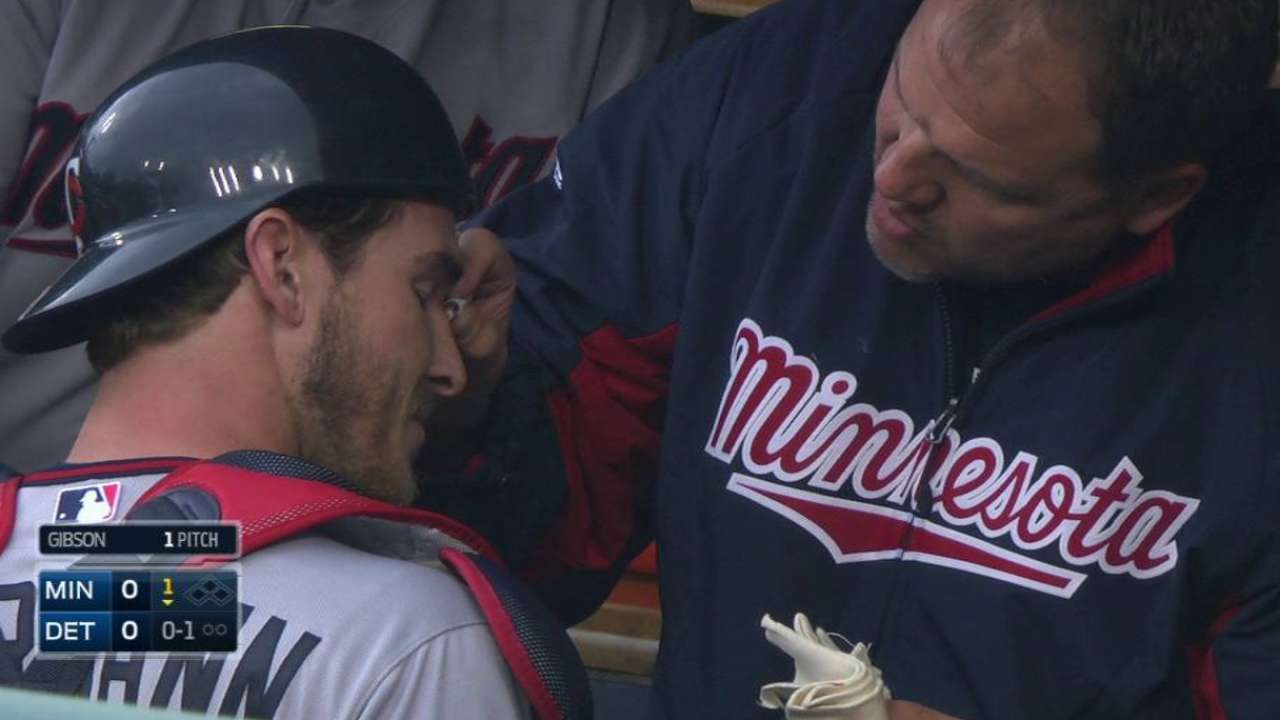 DETROIT -- Twins catcher Chris Herrmann's first start behind the plate in the Majors since 2013 was a short one on Thursday, as he exited after just two innings due to a cut suffered above his nose in the first inning.
Herrmann, making his first start for the Twins at catcher since Sept. 29, 2013, was hit in the mask on a foul tip on the first pitch of the bottom of the first inning with Anthony Gose at the plate. Herrmann went to the dugout for treatment, but he remained in the game.
Herrmann, though, was replaced by Kurt Suzuki as a pinch-hitter to lead off the third inning. Suzuki, who originally had the day off after being hit on the right thumb while catching on Wednesday, struck out looking in his first at-bat.
Herrmann underwent a concussion test after coming out of the game, but he passed it, said Twins general manager Terry Ryan.
"He was taken out for precautionary reasons," Ryan said. "He was just a little sore around the bridge of his nose. He's fine. He's day to day."
Herrmann, 27, won the backup catcher job in Spring Training over Josmil Pinto and Eric Fryer, as Pinto was sidelined by a concussion suffered in camp.
Rhett Bollinger is a reporter for MLB.com. Read his blog, Bollinger Beat, and follow him on Twitter @RhettBollinger. This story was not subject to the approval of Major League Baseball or its clubs.