Graveman hopes to use rough start as learning experience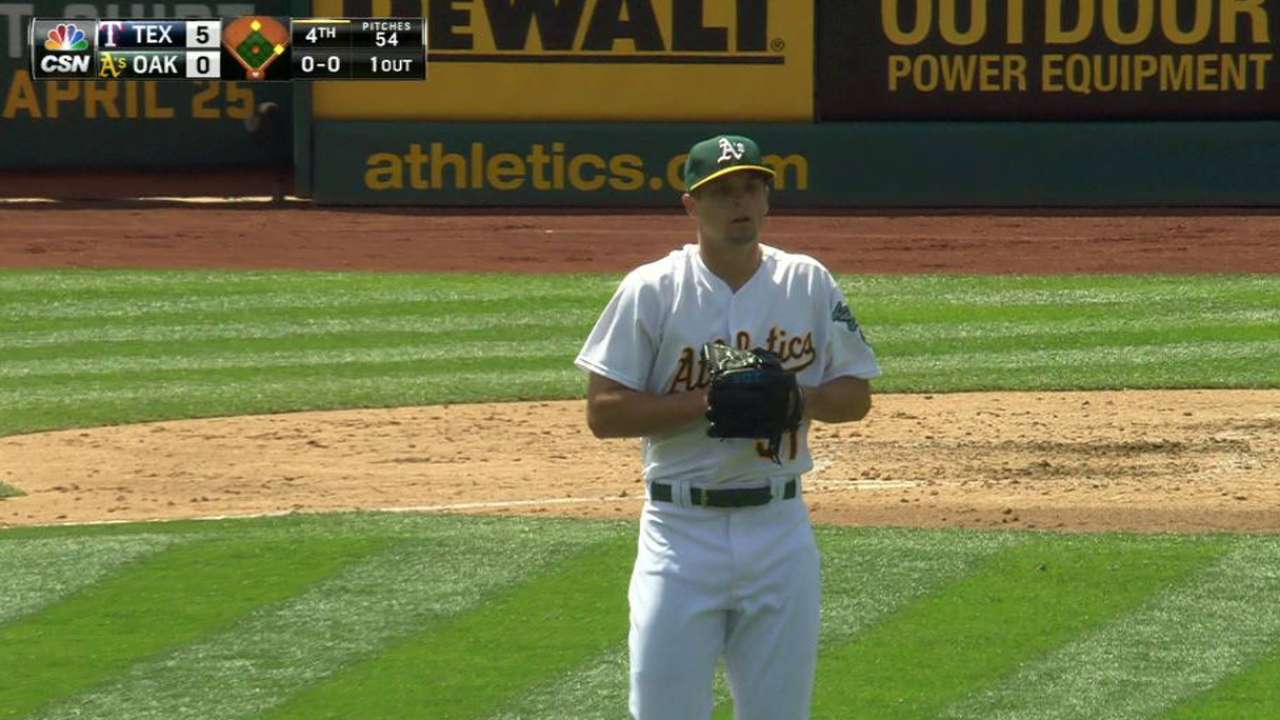 OAKLAND -- Kendall Graveman, following a sparkling spring showing, turned in a forgettable performance in his A's debut against the Rangers on Thursday but hopes to use it as a lesson.
The 24-year-old right-hander, making his first big league start after five relief appearances for the Blue Jays last year, was responsible for eight runs (seven earned) over just 3 1/3 innings in a 10-1 loss to Texas. Along the way, Graveman scattered seven hits, walked a batter and hit two more -- and made a costly throwing error on an attempted pickoff throw to second with none out in the first.
"We had a guy out, and that changes the inning," said Graveman, who allowed one earned run in 25 1/3 Spring Training innings. "I gotta make that play."
By the time he recorded his first out, three runs had already scored. Just as Graveman rushed his throw to second, he was hurrying his pitches to the plate, with little of his signature sink on display as he struggled to find his typical arm slot. As a result, most of his pitches were left up.
"I gotta stay on top of the baseball for my stuff to work," he said. "The arm slot was down a little bit. Makes it easier on hitters when I'm throwing the ball east and west, instead of north-and-south sink. That's on me, and I have to do a better job of that, noticing it earlier."
"I just think he was on fast-forward today and couldn't slow himself down," said catcher Stephen Vogt. "We're not worried about him. Today's a blip on the screen. He's going to be a great pitcher for us.
"For a guy that's a sinkerball-type pitcher, he's gotta have that depth, and when he's rushing, he can't have that depth. He was kind of pushing that ball, and it was staying up for the most part. That being said, those guys had some unbelievable swings today."
Closer Tyler Clippard, who made his A's debut in the ninth simply to get his work in -- despite a nine-run deficit -- also stood in support of Graveman.
"The way he threw the ball in spring, I thought he was the best pitcher in the world," said Clippard. "But you know what? For a young guy, I'm sure there was a lot of adrenaline for him. These outings happen, so it's not too worrisome. He showed us what he's all about in spring, so we definitely like him on our team."
Jane Lee is a reporter for MLB.com. This story was not subject to the approval of Major League Baseball or its clubs.