After stellar spring, Walker ready to show he belongs in bigs
Mariners righty firmly in rotation, makes season debut Friday in Oakland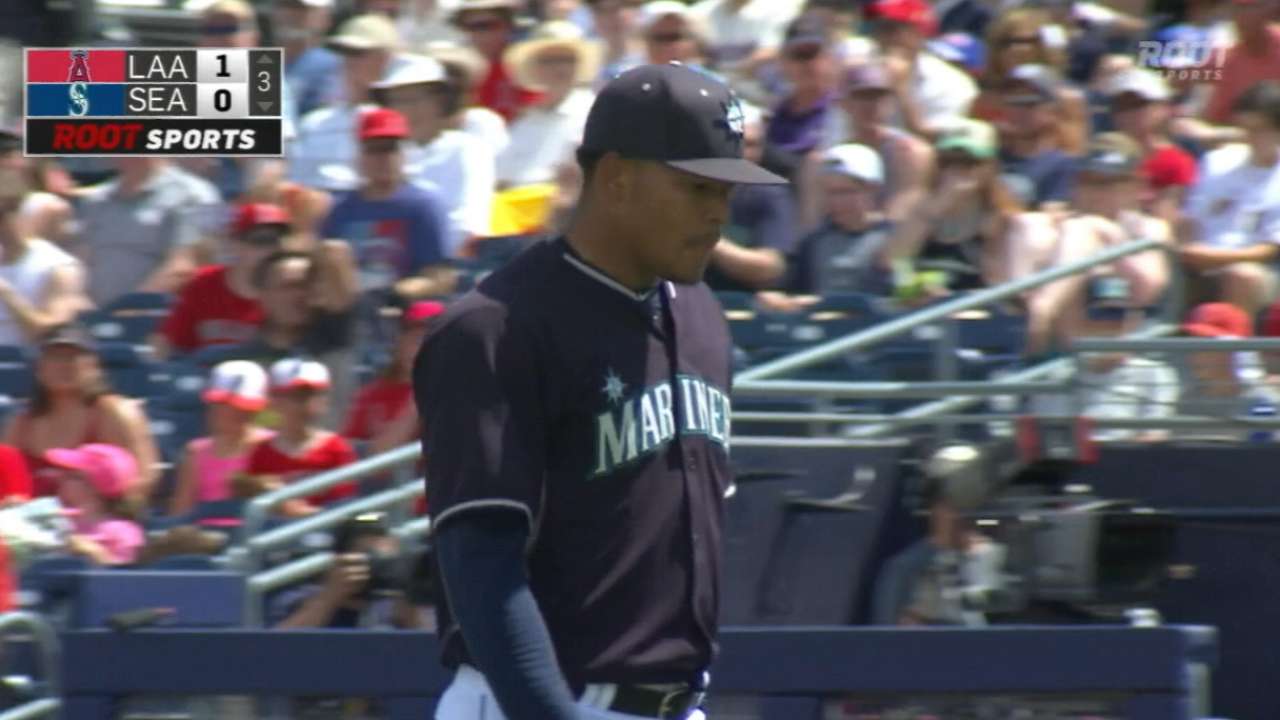 SEATTLE -- Taijuan Walker looked like the pitcher everyone has been waiting for this spring, dominating Cactus League play in such impressive fashion that he commanded his way into the Mariners' rotation as the No. 4 starter.
Now the 22-year-old has the chance to show if that overpowering April translates into the regular season when he debuts Friday as Seattle opens its first road trip of 2015 in Oakland in a 7:07 p.m. PT contest at O.Co Coliseum.
The promising right-hander has pitched in 11 games in short stints with the Mariners over the past two seasons, but this is the first time Walker made the Opening Day roster as a regular member of the rotation. After all the hype and chatter, his time is now. And Walker is ready for the journey to begin in full.
"This is definitely what I've been working for all my years in the Minor Leagues and stuff," Walker said. "I've had ups and downs, but I feel comfortable and I feel good now."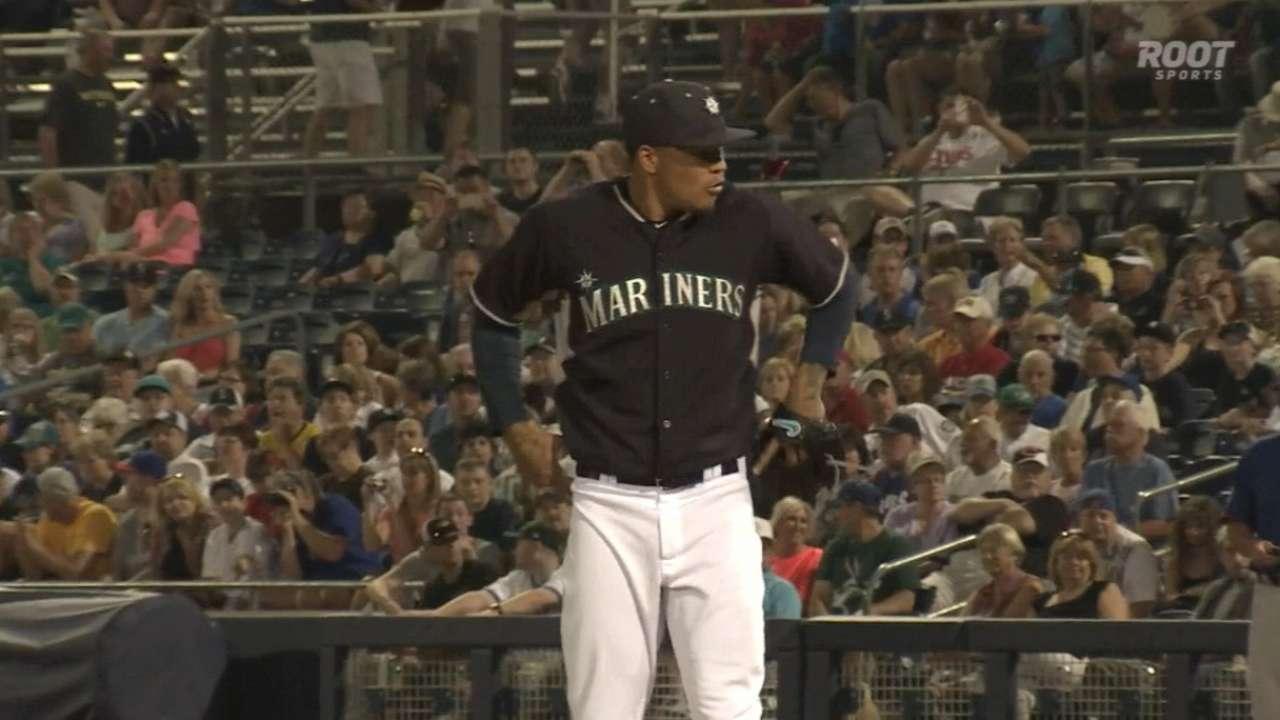 Good enough to have posted a 4-0 record and a 0.67 ERA in seven spring starts, allowing just 10 hits and five walks with 26 strikeouts in 27 innings. The 6-foot-4, 235-pounder seems to be mastering the art of pitching and not just throwing, that critical difference that comes only with time and experience.
And it doesn't hurt to have a guy like Felix Hernandez to watch and learn from as well.
"You notice he just fills up the strike zone," Walker said. "His biggest thing, he gets ahead. And especially if you can throw all your pitches for strikes, you can go out there and get hitters easier, because they have to sit on four different pitches."
Walker had a front-row seat for Hernandez's dominant Opening Day victory over the Angels. It was the youngster's first Opening Day in the Majors, and he soaked it all in.
"I had goosebumps the whole game," Walker said. "The crowd was insane. King's Court was going [crazy], Felix threw a beautiful game, [Dustin] Ackley hit a home run. It really doesn't get any better than that.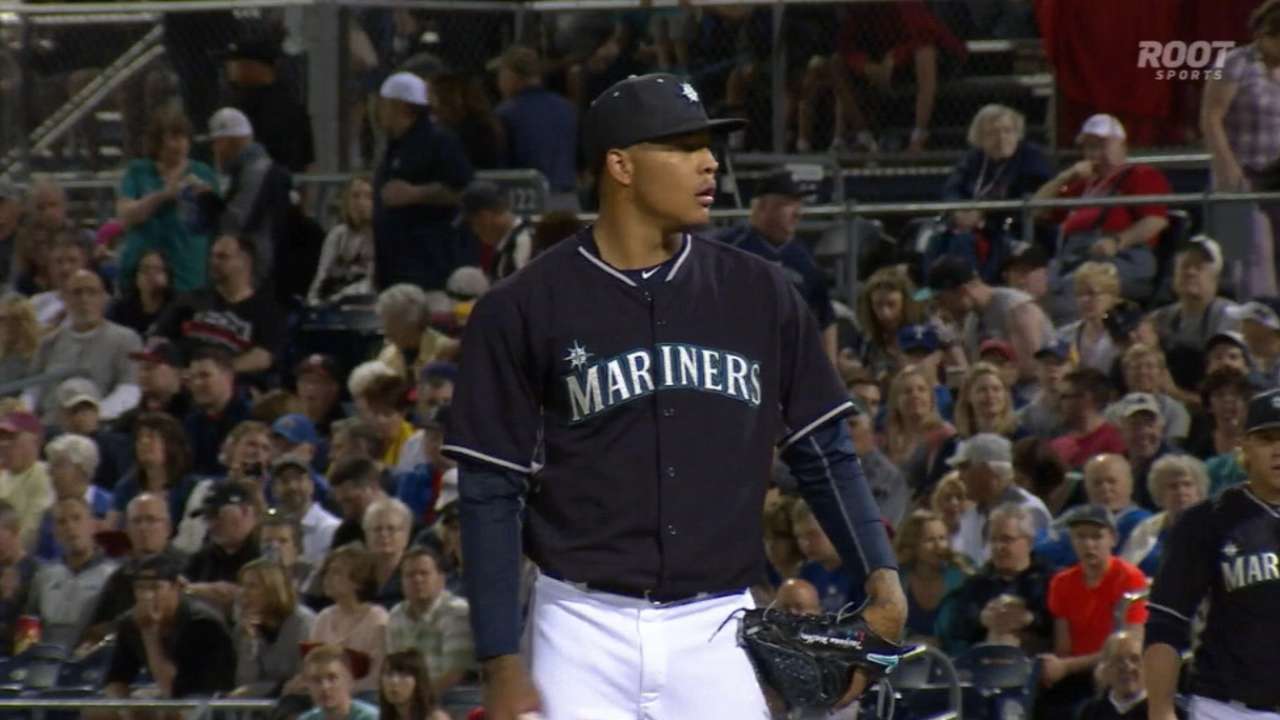 "I took it in, for sure. Just running down the red carpet, hearing my name called out and everyone cheering, getting to the line and looking up and seeing my family, it was just unbelievable."
Walker will make his first start on somewhat familiar ground in Oakland, about a six-hour drive from his hometown of Yucaipa, Calif. After a stop-and-start season when a shoulder injury and then an uneven performance led to spending most of 2014 in Triple-A, he got called up in September and met with manager Lloyd McClendon in the manager's office in Oakland, where Seattle was opening a three-game set.
McClendon has taken a tough-love approach with the talented youngster, and he challenged him again with his expectations for the final month. That evening, veteran Chris Young struggled early, was knocked out in the first inning and Walker got the call in long relief. He wound up throwing six innings of one-run ball against the A's to kick-start a strong September that set the stage for his emergence this spring.
"I definitely had to come up and prove myself," Walker said. "I talked to Lloyd before that game, and he was expecting a lot of me. That was a big game, and I think that was a turning point for me."
Now McClendon wants to see the same consistency and maturity that Walker has displayed since a complete-game four-hitter in Toronto in his final start of 2014. The Mariners have high hopes this season, and Walker could be a huge part of their plans if he stays on course.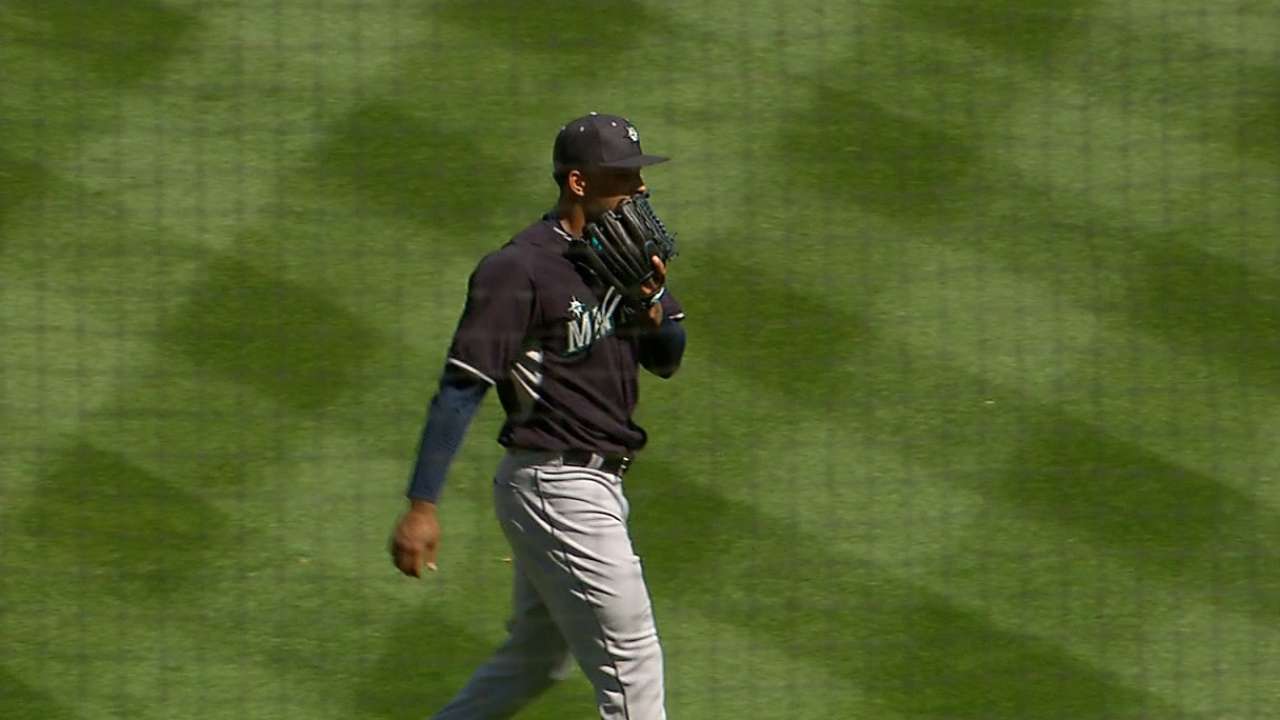 But Walker says the key now is to not overdo or overthink things. He's shown what he can do. Now he just has to do it on a regular basis.
"I'm just going to try to keep the same approach that I did in spring," Walker said. "I don't feel like I have to do more now that we're in the regular season. I'm just going to try to keep it the same, just go out there and attack hitters, not try to be too perfect."
And as Walker showed in spring, that's plenty good.
Greg Johns is a reporter for MLB.com. Follow him on Twitter @GregJohnsMLB as well as his Mariners Musings blog. This story was not subject to the approval of Major League Baseball or its clubs.