A.J. shows grit returning after hour-plus rain delay
Righty holds Reds scoreless until Votto's homer in sixth, fans seven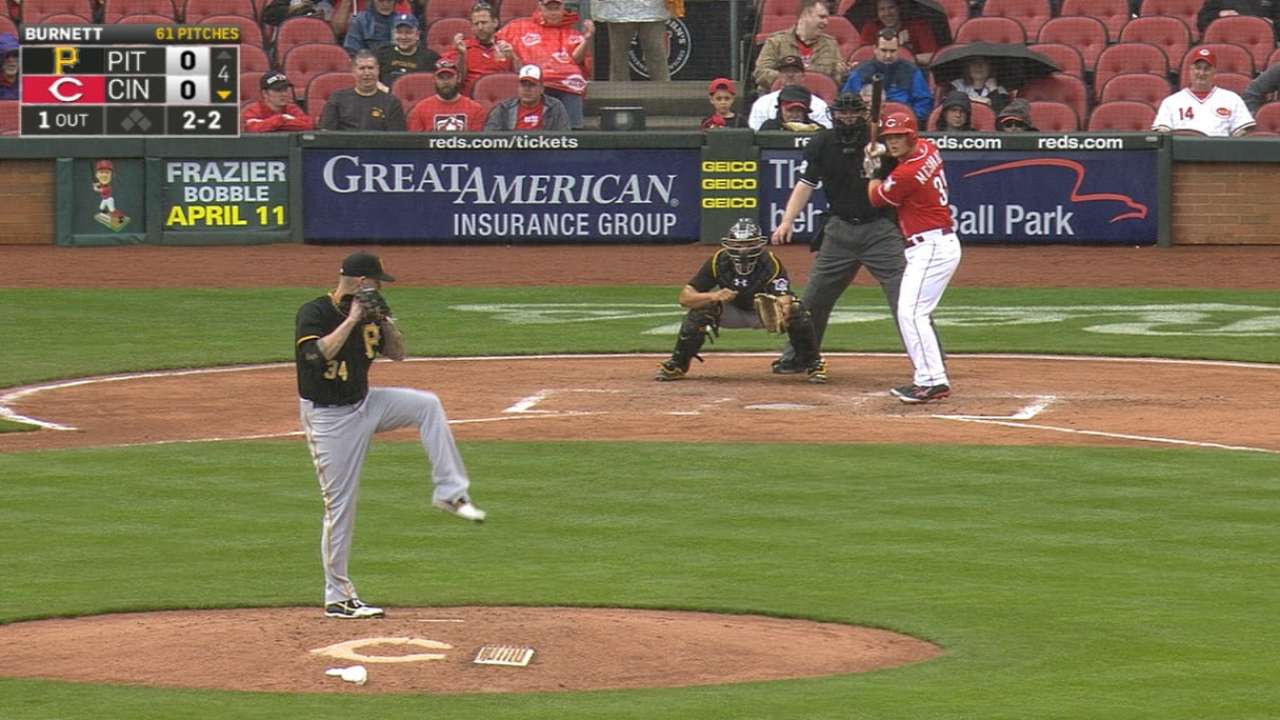 CINCINNATI -- A.J. Burnett returned to Pittsburgh because he wanted to hang around the Bucs. In any way imaginable.
During the long rain delay that pushed back the start of Wednesday night's game here, manager Clint Hurdle had given Burnett the option of returning to the team's dry hotel to rest up for his early Thursday afternoon start. He declined.
"All I'd do is lay in bed and watch the game," said Burnett, who stuck around for the 1:46 a.m. end of that game.
Burnett was on Great American Ball Park's mound early on Thursday, when, again, rain couldn't make him go away. He had three shutout innings on the board when storms lasting an hour and 14 minutes interrupted the game. When it resumed, so did Burnett.
"Oh, yeah. They asked me what I wanted to do," Burnett said of Hurdle and pitching coach Ray Searage. "I think they knew the answer before they asked. We talked about it."
"We knew he would want to play it out," Hurdle said. "Obviously, he could go -- and went. A heck of an effort from him today."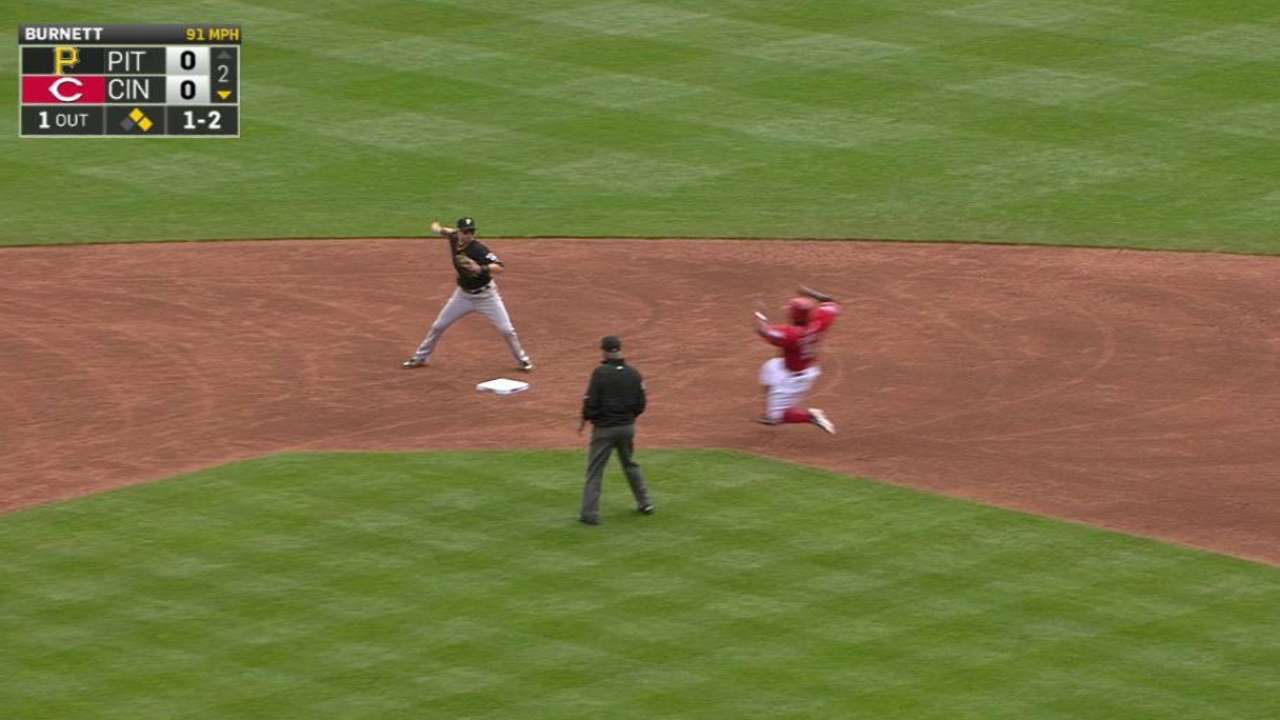 Another strong effort by the Bucs, however, led to another heck of a loss -- 3-2 on a ninth-inning line drive misplayed in right field by Gregory Polanco.
For that to be decisive, Burnett had to be burned on one of his few misfires, which he was on Joey Votto's game-tying two-run homer in the sixth.
"I felt pretty good. Maybe even better after the delay," Burnett said. "[To Votto], I wanted it down a little more. He's such a professional, smart hitter. You can second guess and say maybe I should've gone hard-and-in, but I think if that ball is down a little bit more, something different happens. He got just enough of it to get it over the wall."
"With the one exception of the breaking ball that stayed over the middle of the plate, A.J. pitched a heck of a ballgame," Hurdle said. "He had good command of his fastball. He gave us every opportunity to win that game."
Pitching with a healthy body, the effort was nothing like what had been typical in 2014 for Burnett, pitching with a hernia-encumbered body. Best of all, he said, he was back in colors he preferred.
"To wear the black and gold again, it felt right," Burnett said. "Would've been a lot better with six shutout [innings]."
Tom Singer is a reporter for MLB.com and writes an MLBlog Change for a Nickel. Follow him on Twitter @Tom_Singer. This story was not subject to the approval of Major League Baseball or its clubs.